RCBJ-Audible (Listen For Free)
Phoenix Theatre Ensemble Planning Classical Plays, Shakespeare & Music In Outdoor Venues In The Nyacks
By Tina Traster
Four years ago, actor/director Craig Smith and his family relocated from New York's East Village to the Village of Nyack. Over the years, the co-founder of the Phoenix Theatre Ensemble immersed himself in the local arts scene, reinforcing his belief that Nyack and Rockland County can benefit from a serious arts festival filled with classical theater, Shakespeare, and music.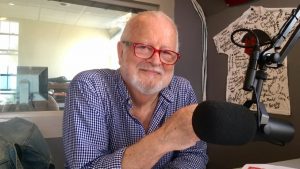 Smith last week unveiled an ambitious plan for the "Live Arts in Nyack Phoenix Festival," a five-weekend festival scattered village-wide in local outdoor venues. The festival, scheduled for mid-September through mid-October, will be held at the Marydell Center in Upper Nyack and the Edward Hopper House Museum and Study Center's garden.
"This is a three-and-a-half-year saga," said Smith. "We collaborated with the Mayor of Nyack, village trustees, state officials. We wanted to know if there was interest, and the answer was 'yes'".
The festival will put on three classic plays: The Skin of our Teeth by Thornton Wilder, The Importance of Being Earnest by Oscar Wilde, and The Harmfulness of Tobacco by Anton Chekov. Also on tap are outdoor performances from the Rockland Symphony Orchestra and Children's Shakespeare Theater. Festival planners are creating a self-guided audio-enhanced historical and cultural walking tour through the village.

Smith estimates at least 1,500 attendees from the tri-state area, who could potentially spend up to $500,000 on meals, entertainment, and lodging.
Based on a poll of 2,000 arts enthusiasts, nearly 58 percent outside of Rockland County, 76 percent said they're likely to attend the festival, according to the Brockport Research Institute. Some 86 percent said they'd shop in Nyack; 96 percent told researchers they'd dine in Nyack, and nearly 40 percent planned to stay overnight.
"We will market the hell out of this festival," said Nyack Mayor Don Hammond. "This is a great idea."
Smith says he's looking for local businesses countywide to buy sponsorships, create co-promotional opportunities, even to bid on contracts for festival work.
The festival organizer said his theater company and its board have pledged $100,000; with another $50,000 in committed grants. Smith anticipates ticket sales will bring in $50,000. Based on these projections, Smith said he needs to raise at least another $50,000, bringing the total to at least $250,000.
"But $300,000 would be better," he added.
The arts festival, Smith believes, will piggyback on the many cultural offerings in Nyack, which is known for a concentration of artists, writers, and musicians. The Phoenix Theatre Ensemble is known for telling and re-interpreting great stories of the classical canon.
Drawing a hoped for 1,500 people to the Village over the course of the festival would stimulate the local economy, which is still undergoing an uneven pandemic recovery. Festival goers are likely to spend money in restaurants, shops, hotels, on personal services, and other discretionary spending categories.
"The County is excited to be able to help the Phoenix Theater Ensemble promote this new performing arts festival through our Tourism Grant program," said Lucy Redzeposki, Rockland County's Director of Economic Development and Tourism. "While we don't have specific data on the economic impact of festivals, we can safely assume that with added visitors comes added revenue. The Phoenix Festival being planned for this fall will showcase our county and attract visitors who will keep our economy growing."
The Ensemble's actors will perform the plays, but Craig is planning on integrating special programs from local nonprofits such as Rivertown Film, ArtsRock, the Nyack Library and more.
The event also will be a catalyst for part-time employment for sound engineers, carpenters, backstage crews, and supporting vendors.
The Phoenix Theatre Ensemble, a not-for-profit 501(c)3, was founded in 2004 by five long-time collaborators – Craig Smith,  Elise Stone,  Michael Surabian, Angela Madden, and Rachel Crowl. Smith and Stone married in 1989. The artists of the Phoenix believe in an ensemble-driven theater where actors, directors, playwrights, and designers collaborate in the creative process.
The theater is partly financed with grants from New York State of Opportunity, Council on the Arts, NYC Cultural Affairs, National Endowment for the Arts and Humanities New York.
David Mulkins wrote in the blog The LoDown, "Actor-Director Craig Smith was a founding member of the award-winning Jean Cocteau Repertory Company, which staged challenging productions of classic plays and lesser-known works by serious playwrights. Located inside the beautiful cast-iron former bank building turned Bouwerie Lane Theatre (330 Bowery), from 1974 to 2004, the company was one of the delights of off-off Broadway."