RCBJ-Audible (Listen For Free)
Stewart Leaves Role At Peekskill City Manager After Two Years
By Tina Traster
Andy Stewart, the one-time Town of Orangetown Supervisor, is stepping in as the newly appointed Village of Nyack Administrator. He will begin in mid-March at an annual salary of $140,000.
Stewart will replace Jim Politi, a former Nyack Village Administrator who recently returned to step into an interim role after James Slaughter left the post last month following a 16-month stint. Politi previously held the position for 11 years.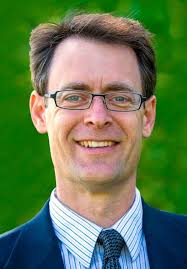 The incoming village administrator is winding up his post as Peekskill City Manager. He was hired by the northern Westchester city of about 25,000 residents two years ago.
"This is a good fit," said Stewart. "This is the kind of work I really enjoy doing and I'm looking forward to doing it in my home village."
Stewart, who served three terms as the elected supervisor of Orangetown from 2012 to 2017, did not run for a fourth term. Instead, he went on to serve as a senior vice president for research and analysis at the nonprofit Hudson Valley Pattern for Progress based in Newburgh.
Stewart, 56, has had a diverse career, working in both the nonprofit and municipal government sectors, as well as the educational field. He served as CEO of Keep Rockland Beautiful from 2001-2011, leading community cleanups, beautification, and educational efforts. He worked closely with volunteer groups, schools, and local governments to reduce blight and improve quality of life for area residents.
From 1995-2005, he was a lecturer in environmental policy at Rockland Community College, Vassar, Bard, Ramapo, and other area colleges.

"Following a competitive search and interview process, it became clear to me and the rest of the Village Board that Andy's wealth of experience in municipal management combined with his local knowledge and passion for Nyack make him an outstanding choice for Village Administrator," said Village Mayor Don Hammond. "I am very excited to nominate him for Village Board approval and look forward to working together."
Stewart, who will draw on his experience from running Peekskill, said he's looking forward to getting deeper into the weeds of day-to-day administration of municipal government.
"It's fundamentally municipal management but the scale is different," said Stewart. "Nyack is more granular. There's more opportunity for hands-on – less time behind a computer."
Stewart draws some parallels between the two municipalities, however.
"Both are riverfront towns with aging infrastructure, both have a place-based identity, people value historic buildings and streetscapes," said Stewart. "And both have a strong connection to the New York City market and tourism."
Stewart moved to Nyack in 1995, where he and his wife Rachel Grob, a Rockland native, raised their family. Stewart, a New Hampshire native, has Bachelor of Arts from Wesleyan University, and a Ph.D. in Geography from Rutgers University. He completed programs from both the Pace University Land Use Leadership Alliance and Leadership Rockland.
The incoming administrator has served on the Orangetown Planning Board, Nyack Parking Authority, chaired the Rockland County Water Quality Committee.
Stewart is involved in the Rockland County Taskforce on Water Resources Management; he co-chairs the committee on Drought Planning; he's a member of the Blauvelt Lions Club, the Sparkill Watershed Alliance, the Nyack and Pearl River Chambers of Commerce, and the Nyack Boat Club.