RCBJ-Audible (Listen For Free)
Bottle Sauce Company Relocated From Passaic, NJ To Valley Cottage In December
By Tina Traster
The secret sauce of the successful American immigrant story usually combines a vision for the future, a driving perseverance, and a dash of good luck. In the case of the Bronx River Bottling Company, the path to success has been all of these, including quite literally, the secret sauce.
Bronx River Bottling, which relocated from Passaic, New Jersey in December to an industrial complex at 10 Ford Products Road in Valley Cottage, sells all kinds of sauce condiments including Asian, braising, Mediterranean, and hot sauces under the Iron Chef label. The company has been peddling sauces for 15 years, and today has distribution at supermarkets, gourmet shops, and wholesale clubs like BJ's Wholesale Club. But the family's manufacturing history stretches back five generations to immigrants who came to American shores seven decades ago via France.
"My grandfather left Russia because of the pogroms," said Tami Bezborodko. "My father, Joseph, was born in France but he fled Europe during World War II."
Joseph Bezborodko, who came to New York with a dream, and a family lineage of manufacturing, made home furnishings in New York City in the 1940s. Only recently, due to a stroke, he handed the reins of the evolved company to his wife Rivka and their daughter Tami, making this the first time in history the company is being led by women.
The mother-daughter team has done quite a bit over the past three years, including breaking off its piece of the company from a larger family-run entity, incorporating Bronx River Bottling Company anew, and relocating to Rockland County because it was seeking a new space and a more eager workforce than the one it had in New Jersey.

Bronx River Bottling was originally founded as a licensor of the Food Network's Iron Chef.
"We made a deal to license Iron Chef for kitchen appliances, but we wanted to add more categories, including sauces," said Bezborodko. "Our line of sauces, especially our Asian marinades, were really successful. That's what really launched our business."
The sauces didn't appear on Iron Chef episodes, but the Iron Chef name recognition opened the door to widespread distribution. Bronx River Bottling capitalized on the momentum, augmenting its sales with instore demos.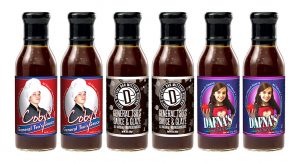 "We were selling a product that made cooking easy," said Bezborodko. The sauces dovetailed with a time when home cooking shows were being gobbled up and people were taking a greater interest in cooking at home.
Prior to 2019, the company was still diversified, selling sauces and home furnishings. But the desire to focus on sauces, break from other family members who had a different vision for the future, led to the search for a new facility.
Bezborodko said she scoured locations in Westchester and New Jersey and ultimately found the 15,000 square-foot one-story facility the company's leasing in an industrial zone. The move took place during the pandemic, with a $200,000 buildout at times delayed because of COVID complications and slowdowns.
But Bezborodko said she is saving at least 10 percent on rent and is thrilled with the Rockland County workforce. The company has 22 full-time employees.
"People in Rockland are willing to work, to work hard," she said. "We've had a great experience with staffing."
Looking ahead, Bronx River Bottling plans to expand its line. Most of its distribution is in supermarkets but the company has been growing its co-packing, or private label, business.
"A lot of people are looking for co-packing because of labor shortage issues," said Bezborodko.
COVID has stimulated a surge of interest in home cooking. Bronx River Bottling says there is strong demand from supermarkets for their product, though they are hopeful restaurants too will bounce back.
In the meantime, Bezborodko is looking forward to steering the company, along with her mother, through another generation. The pair are seeking certification from the Women Business Enterprise National Council.
"We are poised for the next phase," she said. "We incorporated during the pandemic. We didn't qualify for PPP or other incentives. It was a nightmare, but we bootstrapped and got the company up and running. Now we feel the positive energy. We're focused on growing our sales, opening more shelf space in stores. We're feeling optimistic."