RCBJ-Audible (Listen For Free)
County Legislature Delays Rockland County Code Enforcement Office
The Rockland County Legislature is in the process of creating an Office of Building & Codes to comply with New York state's takeover of Spring Valley's lax and corrupt safety and building code enforcement. But the legislature failed to vote this week on budgeting the office, which will cause a delay in hiring inspectors and a director to run operations.
The state has ordered the County to begin its work effective Feb. 14.

There weren't enough votes to consider the items as new business. Twelve votes are needed to waive the legislature's rules and consider items that are not vetted via the committee process as new business (13 of the 17 legislators were present via WebEx or in person when these new items were brought up; they had been submitted to the legislature about an hour before the meeting).
The Legislature voted 14-0 to adopt the new law that creates an Office of Buildings and Codes and grants authority for the office to operate. However, only 10 lawmakers were willing to waive the rules and approve additional resolutions covering funding and personnel.
Four resolutions outlining the logistics of the new office were proposed, including funding appropriations, confirmation of a director, and an agreement to allow the county to use certain Spring Valley Village inspectors, vehicles, computers, and software.
However, legislature officials said Wednesday, the resolutions, which had not been submitted to the Legislature in time for a review through the committee process, did not receive the 12 votes necessary to waive the rules and consider them under new business.
The New York State Department announced the takeover of the village's code enforcement — after years of requests by local fire officials — the day after the Rockland County District Attorney's Office announced the indictments of the head of Spring Valley's building department and its assistant building inspector on accusations they falsified inspection reports for the Evergreen Home. Six people face charges in connection with the fire that destroyed the century-old former hotel.
State officials ordered Rockland to assume administration and enforcement of the State Uniform Fire Prevention and Building Code and the State Energy Conservation Construction Code within the Village of Spring Valley.
Votes on the resolutions are now expected to take place during a special meeting of the Legislature on Tuesday. County Executive Ed Day said he was taking steps to make sure the department is funded and operational by Feb. 14, when the state has ordered the county to start enforcing building and safety codes in the village.
---
Arena STEM Chooses New Jersey Over Palisades Center
Arena STEM, an indoor amusement center that was slated to open at the Palisades Center prior to the pandemic, has opened its first permanent U.S. location at the Westfield Garden Plaza mall in Paramus. Arena stem, which is a science-driven fun center that offers classes, activities and merch, leased 20,000 square feet of the former J.C. Penney space.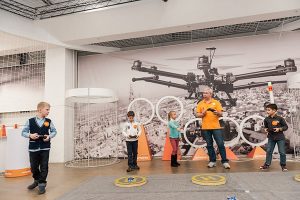 Arena, looking to open additional stores across the nation, according to CoStar.
Arena founded its first location in Moscow. The business was slated to open at the Palisades Center mall, which has been working to shake up its retail offerings, particularly with entertainment-oriented tenants as big box companies and department stores struggle.
Arena's Paramus location is a hybrid education, entertainment, and retail center. The company says it's a place where children, youths and their families can receive drone training and learn about robotics and computer coding. The company's retail selection includes a variety of smart toys, construction sets and hobby-grade models, including those with artificial intelligence and machine learning.
The new site at Garden State Plaza includes a new virtual reality pavilion, a state-of-the-art DJI RoboMaster Battlefield, an expanded drone field, a larger aqua zone and a renovated on-road car drift track. Arena also has dedicated classrooms, as well as a large room that can accommodate birthday parties and private events of up to 100 people.
---

STAC Students Build Weather Stations
St. Thomas Aquinas College (STAC) XLAB students built an outdoor weather station this past fall to provide data to the STAC community and local weather services. They also created a webpage and social media presence to display this data and raise awareness about weather changes and environmental stewardship.
STAC XLAB students have been assembling the weather station, and providing Build-It-Yourself videos for the local community.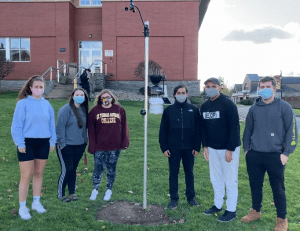 "We're hoping that this project will demonstrate to others that anyone can construct a weather station and communicate its data," said  Dean of the School of STEM, Dr. Bianca Wentzell. "We also want to convey the importance of understanding weather patterns that affect our everyday lives and how they are impacted by global climate change."
STAC XLAB students from different fields of study are collaborating on the project.
"Weather is something extremely important, especially today with global warming," said XLAB team member Brittany Lionarons. "We hope this project will shine a light on the study of weather and the issues of global warming."
The physical station is up and running. Visit Weather Over STAC: www.stac.edu/weather
Real-time weather report can be accessed at www.stac.edu/WOS.