RCBJ-Audible (Listen For Free)
LIDL Pays Benbrooke $4.5 Million To Buy Portion Of Strip Mall For Its 25,000 Square-foot Grocery Store
By Tina Traster
The tired Tappan Plaza strip mall on Route 303 in the Town of Orangetown is about to get a makeover – much like many flailing strip malls in Rockland County and beyond. In response to the rise of e-commerce, the disappearance of big box stores, and new customs formulated by COVID, retail strip malls are experiencing an era of reinvention and renaissance.
"Supermarkets are doing well," said George Ackerman, a principal with Benbrooke.
Tappan Plaza is poised for the construction of a LIDL supermarket, as well as a $3 million upgrade for its inline tenants. The White Plains-based Benbrooke Realty Investment Company, in collaboration with Chestnut Real Estate of Chattanooga, TN, bought the 58,000 square-foot strip center in 2019 for $7.2 million.
Last month, Benbrooke sold off a 2.5-acre parcel at the center to LUS, LIDL's American arm, for $4.5 million.
LIDL plans to demolish the former Bon Fahyr building and erect a 25,000 square foot supermarket at the northern end of the property. The building will be turned on a 90-degree angle, detached from the rest of the stores in the strip mall. Demolition is expected to begin in the spring.
The German based discount grocer Lidl is opening stores nationwide. There are several in New Jersey, Long Island and Staten Island. The chain broke into the American market in 2017 with plans to open 100 stores. The Rockland location will be its first foray in the Hudson Valley.

Lidl, founded in 1930, operates 10,000 stores across Europe and the U.S. Lidl, which is part of Schwarz Gruppe, established its American headquarters in Virginia in 2015.
Benbrooke is betting on having a supermarket anchor for its strip mall.
"Supermarkets are doing well," said George Ackerman, a principal with Benbrooke. "Grocery-anchored strip centers are a hot asset class. They are selling for high prices."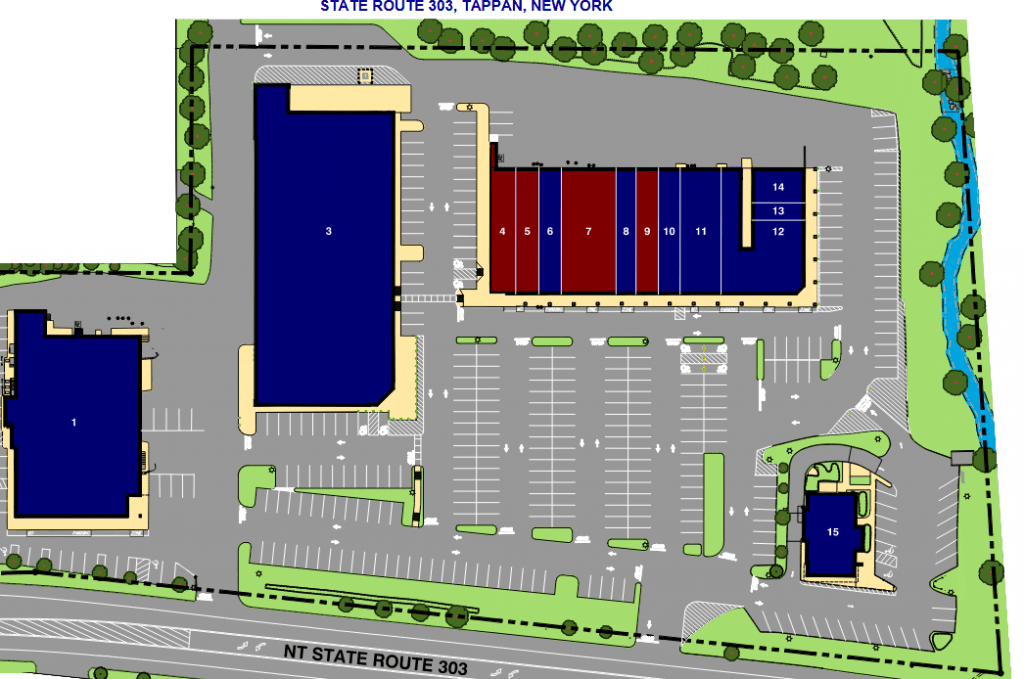 Ackerman said Benbrooke is so confident LIDL will generate foot traffic it is offering tenant leases with co-tenancy clauses that make LIDL's opening a condition of the terms.
"The Town Board is pleased to see a quality supermarket like LIDL move into it," said Town Supervisor Teresa Kenny. "It is a sign that the town is growing, and business is good. With the improvements planned to the property, this project will reinvigorate and bring new life to the Tappan shopping center."
The half-occupied shopping center will get a fresh look now that the complicated site plan approval for LIDL has finally moved toward completion after two years. Existing tenants include Retro Fitness and Wendy's. The $3 million capital improvement plan includes a new façade, upgraded doors, modern design elements, upgraded parking lot, and interior improvements.
"When we came in in 2019, we intended to do this swiftly," said Ackerman. "The LIDL site plan process was complicated, and of course COVID slowed us down."
Over the past two years, Benbrooke replaced the roof. It signed a leased with Mercato Roman Pizza. And the company had time to recalibrate its strategy as the retail world morphed and changed.
"We are at various stages of negotiations with prospective tenants – all of which are service tenants," said Ackerman. "We are not looking to be big-box 'susceptible'; we are attracting more independent eating establishments."
Like Benbrooke, at least two strip malls in Nanuet are seeking to reinvent themselves with a food-centric plan.
Responding to a shifting retail landscape, Brixmor Property Group, owner of Rockland Plaza on Route 59 in Nanuet, plans to change up the mix of tenants with an emphasis on food and a grocer. The REIT, which owns 400 retail centers nationwide, has told the Town of Clarkstown's Technical Advisory Committee (TAC) that it is has a prospective grocer slated for a 43,000-square-foot to-be-constructed space in the center. Brixmor is planning a shake-up on its site with the demolition of three buildings including the former Modell's and potentially razing the Nanuet Diner. A new vision would add a bevy of restaurants and food retailers to the center.
Fast food franchise Chick-fil-A is in negotiations to purchase the 58-80 Route 59 strip mall, a half-vacant shopping center that was once the home of HobbyTown USA owned by Bradley Cocks of Ashley LLC. The plan calls for razing all the buildings, which have eight tenants, and replacing them with Chick-fil-A and another fast-food operator.
In the cutthroat U.S. supermarket industry with razor-thin profit margins, Lidl stores are generally smaller, averaging 20,000 square feet with six aisles.  About 90 percent of the merchandise will be exclusive brands, according to the company. Among the offerings are certified fresh and frozen seafood, wines, fresh produce and baked goods and organic and gluten-free products. Lidl competes with traditional chains, like Kroger, and more specialized stores, such as Whole Foods Market, as more healthful eating moves to the mainstream. Big-box retailers, such as Walmart, are upping their grocery game too.