RCBJ-Audible (Listen For Free)
Community Is Stunned By Criminal Charges Of Animal-Loving President But Many Concur Shelter Management Is In Need Of Repair
By Tina Traster
By nearly all accounts, Debbie DiBernardo is a gentle soul with an unbridled love for animals. By day, the Rockland County native who has worked in purchasing, catering, and the animal world, is the head of circulation for the Haverstraw King's Daughter Public Library.
In her spare time, she has volunteered since 2015 to be the President of Hi-Tor Animal Care Shelter in Pomona, a nonprofit facility overseen by Rockland County and now supported financially by four of the county's towns, and through fundraising. Along the way, DiBernardo, 51, of Tomkins Cove, has formed many alliances with animal lovers but she's also clashed with former board members, staff, and volunteers at the county shelter.
Word of her indictment last week on 17 misdemeanors and one felony count sent shockwaves through the community, leaving many to remark the president might be many things but "she does not have a criminal bone in her body."
There is widespread consensus among Rockland County officials and residents alike that Hi-Tor's management has long been strained, with staff and volunteers finding it difficult to cope in a dilapidated and outdated shelter. But there have also been philosophical differences in how the shelter should be run, which have led to the recent spate of people coming and going, and a fair amount of infighting. The instability at the shelter has left it poised to potentially being taken over by Rockland Green, the former Rockland County Solid Waste Authority.
Many insiders say rising tensions among a former shelter manager, former volunteers, and former board members led to DiBernardo being charged for the intake of 17 kittens from a New Jersey rescue in 2020. The incident highlighted ongoing differences of opinion between DiBernardo, who was amenable to sheltering more kittens, and the former shelter manager, Victoria Kartis, who wanted to keep the numbers of animals in check. At the time, Hi-Tor was sheltering historically low numbers of animals, especially cats, and had no kittens.
As one board member said, "Kittens bring in a lot of money for the shelter."
The tension between DiBernardo and Kartis was not limited to the two women. DiBernardo typically enjoyed support from roughly half the board while the other half – including the former vice president Rich Yanitelli who was hoping to run Hi-Tor "as a business," and others who were focused on the woes of the shelter's overpopulation. Yanitelli unsuccessfully ran for DiBernardo's position and left shortly thereafter. A slate of board members he aligned with, including Steve Harris and Richard Glickel, also left around the same time.
The indictment alleges "DiBernardo on June 25 2020 directed the false entry of animal records into the business records of Hi-Tor Animal Care Inc related to the intake of seventeen animals at Hi-Tor Animal Shelter facility." It is unclear whether the accusations arise from written emails instructing Kartis to complete the intake, but some insiders say there are no written orders from DiBernardo to anyone in the shelter to register the kittens. Additionally, it is not the president's role to record the intake of animals. Kartis resigned in August 2020.
Kartis did not return calls seeking comment.
The indictment also says, "On July 1, 2020, as part of her submission of animal documentation to Rockland County Department of Health, as required by the County contract, the defendant filed an animal intake voucher containing false information."
Penalties for the 17 misdemeanor charges carry a possible jail sentence up to one year and a fine of up to $1,000 or twice the amount of the individual's gain from the crime. Penalty for a felony can be a jail term exceeding one year and fines up to $5,000.
"I feel bad for Debbie," said a former board member. "She doesn't have a mean bone in her body. She's all about the animals. This can't be a happy time for her."
Others acknowledged the dysfunctional environment at the shelter but added that the incident the president has been charged for hardly seems like it rises to criminal behavior.
"This is ridiculous," said one official who spoke on the condition of anonymity. "There is nothing to indicate that Debbie was trying to enrich herself."
Some say DiBernardo is a scapegoat of a group of disgruntled individuals who have left the shelter but may want to have a hand in its future, particularly if the shelter is taken under the auspices of Rockland Green. Others say some town officials, who've been dismayed with the operations at Hi-Tor, brought their concerns to the District Attorney's office.

Currently, fees paid by the towns and villages, except Orangetown, which found another arrangement for its animals, and Spring Valley, come through an assessment made by the county. The assessment per town is not based on how many animals the shelter deals with, according to a spokesman for the county executive. The municipal fees to Hi-Tor make up roughly 40 percent of the shelter's funding, with the balance coming from fundraising.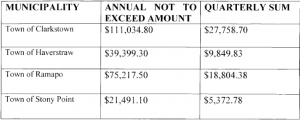 There is no doubt that DiBernardo made enemies, notably former board member Harris, and some former volunteers, especially Jessica Hyman Garcia, who posted a YouTube video and many Facebook comments deriding the shelter. DiBernardo and Garcia clashed mostly over a dog named Storm, which Garcia eventually adopted, but Garcia believed the shelter was "toxic" and says in her video "not only does the shelter not appreciate its volunteers, it treats them like the dog poo that's on the bottom of my shoe."
Several sources have confirmed that Garcia, along with Leigh Delia Capasso, also a former volunteer who clashed with DiBernardo, for many months undertook an email and Facebook campaign complaining about the shelter environment. Garcia believed the shelter had no policies and procedures and that the board was on the wrong track. Garcia, along with other former fellow volunteers, is said to have met with county officials and the town supervisors to voice her worries and had also alerted the District Attorney's office.
Shortly after concerned volunteers met with the supervisors, the Rockland County District Attorney's Office last August executed a search warrant at Hi-Tor. Insiders said the DA's office had taken computers and document files but did not investigate the state of the animals. There were currently more than 250 animals on site. The warrant said the DA's office is investigating "any and all records of Hi-Tor, files, documents, agreements, contracts, financial records, employees' records, bank documents, account statements, checks, tax docs, tax forms, 1099s, 501c3, notes, correspondence."
"I believe the DA's office was looking for financial impropriety, but they came up short," said one official who spoke off the record. "To save face, they had to bring some kind of charge."
For years, residents have witnessed the rollercoaster drama around Hi-Tor. In the year prior to DiBernardo taking the reins as president, the organization cycled through three presidents. For years, promises of a new shelter – which is now finally underway – dragged along with false starts and dashed hopes. County Executive Ed Day held a symbolic groundbreaking for the new shelter, which is expected to be built within two years.
DiBernardo inherited a difficult post, but the house of cards began to collapse in 2018 when former shelter manager Michael Sanducci was fired, and his colleague James Joseph quit in protest. The two former workers ultimately filed a lawsuit in State Supreme Court against members of Hi-Tor Animal Care Center's Board of Directors and the County of Rockland, which owns the land and building where the nonprofit shelter is located. The lawsuit, named former board member Steven Harris, who was accused of discrimination against Joseph, who is Black, and DiBernardo. The suit was ultimately settled for a sum of nearly $70,000, according to insiders.
Shortly after, the shelter had a ringworm outbreak among its cats, a highly contagious fungal infection. In response, Rockland County offered the Sain building at 18 New Hempstead Road in New City for emergency use by Hi-Tor.
As Hi-Tor attempted to recover, the shelter winnowed down its animal intake; it was refusing to take in kittens for many months, according to many who spoke on the condition of anonymity. Never had Hi Tor sheltered so few animals. In 2019, many took to Facebook to express frustration with Hi-Tor's policies, saying they were turning away animals and not taking in kittens, even in the height of the kitten breeding season. This was a departure from Hi-Tor's long-time positions, but many say a portion of the executive board was pushing for the shelter to become more manageable and economically viable.
While all the internal drama was playing out, another issue was bubbling up around Hi-Tor – a dissatisfaction among a few town supervisors over having to pay increased fees to the shelter due to a newly ratified intermunicipal agreement between the county and the towns.
In February 2021, the Town of Orangetown terminated its agreement with the county's animal shelter though it agreed to pay nearly $40,000 for its 2020 contract. Dissatisfied with Hi- Tor, the town signed an agreement with the Hudson Valley Humane Society to handle its stray dogs. For cats, the town kicks in $40 and residents pay $30 for spay/neuter. However, Orangetown pays 100 percent for ferals to be fixed. "Per our records, we had 22 vouchers for companion cats and 13 vouchers for community cats," said Town Supervisor Teresa Kenny.
Clarkstown Supervisor George Hoehmann through the years has been vocal over his displeasure over having to pay the Hi-Tor fees. Haverstraw Town Supervisor Howard Phillips has been instrumental in initiating a potential effort to have Hi-Tor brought under the auspices of Rockland Green, the former Rockland County Solid Waste Authority. Phillips is Board Chairman of the Rockland Green; the other four town supervisors are also listed as Rockland Green board members.
"We are waiting to see what goes on with the investigation," said Phillips. "And if the county and the legislature come knocking on the door (of Rockland Green), we will work with them."