RCBJ-Audible (Listen For Free)
WRCR Gets Green Light from FCC to go to 10,000 Watts
Rockland's reach has expanded exponentially. The FCC has greenlighted WRCR' 1700 AM's graduation to 10,000 watts, which will expand the AM station's reach beyond Rockland County.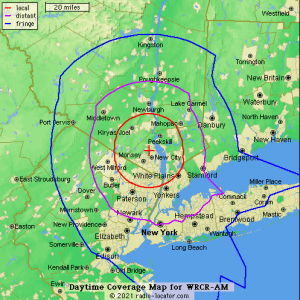 "The station remains committed to providing locally-produced, interactive programming for the community," said Station owner Alex Medakovich.
According to Medakovich, "the second phase of WRCR's transmitter facility upgrade, which began in 2019, has been completed. The site is now licensed by the FCC to operate at 10,000 watts at AM 1700, an increase from our former license which only permitted us to broadcast from 1300 AM at 500 watts. The move from AM 1300, which began in 2015, to AM 1700, with its 20-times more powerful signal, was phase one of this journey."
In other news, Rockland's sole broadcast radio station, specializing in news, information and entertainment for the Lower Hudson Valley and NYC suburbs, has launched "Stardust Memories," a music program airing 10-2P weekdays. It will feature a collection of favorites, melodies and standards from the "Great American Songbook," such as Frank Sinatra, Ella Fitzgerald, Nat "King" Cole and more. Dan Karcher, who spent 23 years with NYC's WBGO Jazz88, is the producer and host of the show.
"WRCR listeners have been searching for a place to find this classic collection of music for a long time, and WRCR is proud to make the past come alive on the air once again," said Kerry Potter, WRCR's Director of Business Development.
---
County Exec Ed Day Asks NY State Public Service Commission To Study Proposed Buyout of Suez Water NY
County Executive Ed Day has requested a review of a proposed acquisition of Suez Water NY by Veolia. Day wrote to the New York State Public Service Commission to request the PSC determine if the acquisition is in the best interests of Rockland County ratepayers.
"According to the 2017 "Drinking Water Systems in New York" Report by the Office of the New York State Comptroller, Suez Water NY's ratepayers pay some of the highest costs in New York for their water," Day wrote. "These rates must not be allowed to climb further as residents contend with the rising cost of living in New York due to myriad factors."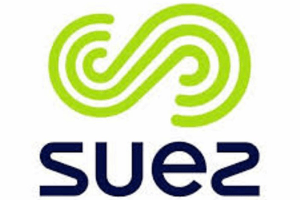 He also asked that the state Department of Public Service study the feasibility of municipalizing all or part of Suez Water NY's Rockland assets and operations.
But Day also raised specific concerns over the impact on municipal and school property tax bills, and the cost of future infrastructure improvements including the price tag of meeting PFOA/PFOS drinking water standards.
In 2020, SUEZ started work on a multi-year upgrade at its Lake DeForest Treatment Plant to address water quality issues, including taste and odor which emerged in 2019 due to a significant algae bloom in the reservoir. Ozone and powdered activated carbon are the treatments that are planned. The plant treats water from the 6-billion gallon reservoir that serves 100,000 customers in Rockland.
---

Nov. 14 Is Kick-off Event Of InnaVillage, A Nonprofit Supporting Local Neurodiverse Teens
InnaVillage, a new nonprofit organization that supports mental health awareness for neurodiverse teens and young adults across Rockland County, is holding a launch event on Nov. 14 at Garner Arts Center.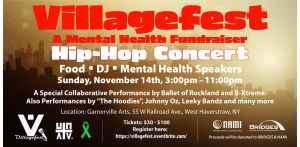 Created by 23-year-old mental health advocate Niko Rodriguez, the organization aims to help remove the stigma around mental health disorders and drive increased attention, funding, and resources to support young people facing mental health concerns. Rodriguez, a high-functioning autistic youth who has also been diagnosed with ADHD, anxiety disorder, processing disorder, and intermittent depression, chose the name, InnaVillage, because he believes, "it takes a village to fully support people like me."
InnaVillage's long-term goal is to create an inclusive, village-like space where young people with neurodiversity challenges can come together safely to connect and support one another through various activities and interests. Having such a place, Rodriguez explains, will also serve them therapeutically, while introducing them to vital mental health resources and building a community of acceptance and strength.
"At InnaVillage, we believe building relationships and utilizing interests that can help young people explore career paths and feed their souls is crucial to keeping them engaged and motivated to gain important life skills and invest in their own treatment and independence," he says.
InnaVillage is kick-off event, VillageFest 2021: A Mental Health Fundraiser," will be held on Sunday, November 14 from 3 – 11 at GARNER Arts Center at 55 W Railroad Ave in West Haverstraw, NY.