RCBJ-Audible (Listen For Free)
Construction Is Expected To Begin In Spring; Project Estimated To Take 14 Months
By Tina Traster
The shovel is in the ground. County and Hi Tor officials gathered Thursday to break ground on the new and long-awaited $8.3 million Rockland County Animal Shelter in Pomona.
The turning point for Hi Tor, a crowded and outdated facility, has been long anticipated by Hi Tor and the community at large.
"It brings me great pleasure and immense pride to be here today, moving this process one step closer to its completion," said County Executive Ed Day. "What was once nothing but a dream, will soon be a concrete reality.".
The new, state-of-the-art 14,000 square foot shelter, designed by Rauhaus Freedenfeld & Associates Architects, will replace the run-down, dilapidated 4,000 square-foot facility. The design is based on a professional needs assessment study that determined what was needed in a new and modern facility, said the county executive.
On October 20, the county published a Request for Bid for the construction for the new animal shelter building. The bidding period is open for six weeks before an applicant can be awarded.  The contract must go through the County Legislature's review process before a contract is signed.
A total of $8.3 million has been budgeted for the new shelter. Funding has been secured from the following sources: $472,578 from the Hi Tor Shelter Fund, $500,000 in grant funding from Assemblyman Ken Zebrowski, $500,000 in grant funding from the New York State Companion Animal Capital Fund, $6.9 million in Rockland County Capital Project Funding
Construction is expected to begin between April 15 and May 1, 2022. The project is expected to take 14 months.

Hi Tor has long been plagued by difficulties, given that it's been operating out of an outdated 1972 facility for almost 50 years. Attempts to get the shelter rebuilt lagged for nearly a decade.
In August, the Rockland County District Attorney's Office executed a search warrant at Hi Tor. Insiders said the DA's office took computers and document files but did not investigate the state of the animals. There are currently more than 250 animals on site.
The warrant said the DA's office is investigating "any and all records of Hi Tor, files, documents, agreements, contracts, financial records, employees' records, bank documents, account statements, checks, tax docs, tax forms, 1099s, 501c3, notes, correspondence."
Hi Tor is a private nonprofit that has been funded in part by donations but also relies on contributions by the county via town contracts. In February, the Town of Orangetown terminated its agreement with the county's only no-kill animal shelter though it agreed to pay nearly $40,000 for its 2020 contract. Dissatisfied with Hi Tor, the town has signed an agreement with the Hudson Valley Humane Society to handle its stray dogs, but not cats or any other animal.
Hi Tor Animal Care Center is a contracted agency and not part of Rockland County government. The organization performs vital services of animal shelter and care in Rockland County and is monitored by the Rockland County Department of Health, according to Day.
Haverstraw Supervisor Howard Phillips, who is Board Chairman of the Rockland County Solid Waste Management Authority, now known as Rockland Green, has said the authority has taken steps to bring Hi Tor under its control. He, along with Clarkstown Supervisor George Hoehmann have expressed displeasure over the running of Hi Tor, and the monetary obligations towns must meet to support the shelter.
Rockland Green has proposed a resolution proposing a local law to "expand the Authority's purposes, power and responsibilities to include animal management services, including providing services and operating facilities to protect and promote animal care and to protect public health and safety, including those in connection with the processing and disposal of animal waste; the disposal of dead wildlife removed from roadways following wildlife-vehicle collisions; the sheltering of stray, lost, abandoned or surrendered animals; providing animal control; and any other similar services."
The County legislature has received a copy of the resolution from Rockland Green but it has not moved into a committee for a discussion or a vote," said a legislature spokesman.
"Rockland County's animal shelter is about to get a new 'leash on life' and I couldn't be happier that we are finally breaking ground on this long-needed project," said Rockland County Legislature Majority Leader Jay Hood Jr.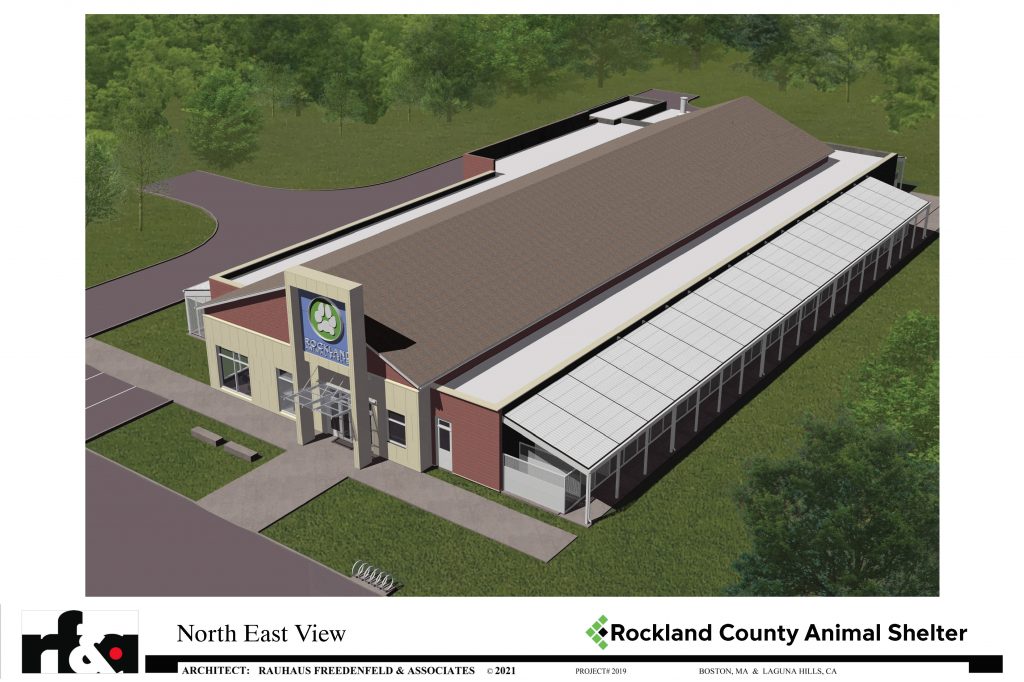 The New Animal Shelter
Visitors will enter under a colorful entry portal and through a vestibule into a public waiting area that is directly adjacent to many of the Shelter's services:
a readily available Pet Adoption Counseling Room
direct access to Adoptable Dogs
a visible Adoptable Cats Housing area with a large Cat Playroom
a Small Mammals and Exotic Pets Housing area
Located along the North and South sides of the shelter are the Stray/Surrender & Adoptable areas for dogs and cats, which consist of the following, respectively:
Stray & Surrender Dog Wards with a total of 12 indoor and covered outdoor interconnected runs
4 Adoptable Dog Housing Wards, containing a total of 32 indoor and covered outdoor interconnected runs
a Dog Bonding/Get-Acquainted Cubicle for each of the Adoptable Dog Wards
(12) 300 square-foot Exterior Play and Exercise Yards for dogs
(7) Indoor Cat Playrooms for Communal Cats — containing wonderful cat play structures including ramps, resting boxes, spiral stairs, and bridges — that are each connected to 7 Outdoor Cat Play Porches
(2) Cat Bonding/Get-Acquainted Rooms for potential adopters
a Quarantine/Feral Cat Ward with 6 Cat Condo Suites
The new shelter will have improved space to support staff functions and includes the following areas:
Temporary Dog Holding with 2 large cages and 2 runs
Temporary Cat Holding with 10 cages
separate Food Prep and Bathing Areas for dogs and cats
multiple Storage Areas
Administrative Areas and a Staff Break Room
The new Shelter will also contain a Veterinary Medical Area that contains the following:
a Central Treatment Room
a Pharmacy
a Diagnostic Lab
(1) Exam Room
and 1 Surgery Room for spay/neuter procedures
To the back of the Shelter, separated from public visitation as well as adoptable animal housing, are Quarantine and Isolation areas for dogs and cats that are accessible via the facility's Veterinary Medical Area. These areas contain the following:
a Quarantine Dog Ward with 2 indoor and covered outdoor interconnected runs
an Isolation Dog Ward with 2 indoor and covered outdoor interconnected runs
a General Isolation Cat Ward with 10 Cat Condo Suites
a Respiratory Isolation Cat Ward with 10 Cat Condo Suites