RCBJ-Audible (Listen For Free)
New Owners Of West Rock Indoor Sports & Entertainment Complex Ask Planning Board For Preliminary Approvals To Become Self-Storage Facility
The team that purchased the West Rock Indoor Sports & Entertainment Complex at 21 Pralle Lane in Nanuet appeared before the Clarkstown Planning Board last week for preliminary site approval to transform the property from a sports facility to a self-storage operation.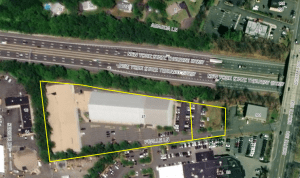 The applicant, Stephan Matri Jr. of 21 Pralle Owner LLC of Port Chester, wants to build a mezzanine level within the two large metal buildings – effectively adding a second level of around 70,000 square feet of usable space. The applicant wants to demolish the connector building and rebuild a fully enclosed interior loading area that would service both the metal buildings' "wings." The project also calls for a 1,000 square foot business office at the southwestern corner of the east wing.
The West Rock complex is comprised of two large metal buildings connected by a smaller frame building in the center.
The westerly side of the existing parking lot would be modified to provide access and turnaround for the interior loading area.
Planning Board Chairman Gil Heim raised the issue screening the property with trees, to hide the facility's visibility from the New York Thruway. A zoning variance is required for the floor area ratio (FAR): the maximum allowable FAR is 0.40 and the project proposes a FAR of 0.81 – twice as large.
The property is currently zoned LIO, which allows for "mini-warehouses" as-of-right.
Matri Jr. is a principal at the Greenwich, CT based The Renatus Group, a privately held real estate investment and development company that has acquired in excess of $500mm in real estate assets. Renatus' primary focus is the acquisition of value-add real estate consisting of income producing properties, development projects and non-performing commercial real estate debt in the New York Tri-State area, according to the website.
---
Rockland Opens $3.5 Million In CARES Act Fund Granting
Applications are now open for access to grants from federal CARES Act funding.
The county received $3,550,162 for preventing, preparing for and responding to the Covid-19 pandemic. The grants are available to small businesses for employee retention and operating costs and to nonprofits for activities and services benefiting individuals and communities affected by the pandemic, as well as to individuals in need of rent relief.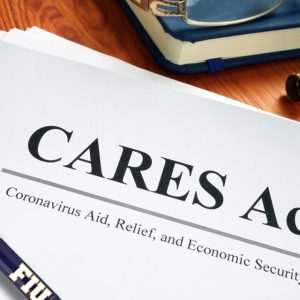 The Small Business Grant Relief Program will award minimum grants of $5,000 and maximum grants of $45,000 to allow businesses to keep operating and prevent closings and layoffs related to Covid-19 orders and policies.
The Nonprofit Public Services Program will support activities that prepare for, prevent and respond to difficulties related to the pandemic — specifically, those that benefit or assist low- and moderate-income populations.
The Rent Relief Grant Program will fund up to six months of past-due rent, along with six months of past-due utility bills if funding allows.
To qualify, applicants must be able to document a 30% income reduction since March 1, 2020 and total income must not exceed 80% of Rockland County's area median income, which is $66,850 for an individual, $76,400 for a two-person household and $95,450 for a four-person household. Residents of public housing are not eligible.
According to the county, federal requirements mandate that only certain areas of the county are eligible for CARES assistance. Those areas of eligibility are those that are a part of the 2019 HUD Action Plan Urban Consortium: the towns of Clarkstown, Haverstraw and Stony Point and the villages of Airmont, Chestnut Ridge, Grand View, Haverstraw, Hillburn, Kaser, Montebello, New Hempstead, Nyack, Piermont, Pomona, Sloatsburg, South Nyack, Spring Valley, Suffern, and West Haverstraw.
Recipients must be registered and located in these municipalities (in the case of businesses), serving county residents located in them (in the case of nonprofits) or be located in them (in the case of households).
---

Dominican College Receives Grants Totaling $6.4 Million
Dominican College has received two federal grants totaling $6.4 million from the U.S. Department of Education (ED) and the U.S. Department of Health and Human Services (HHS) Office of the National Coordinator for Health Information Technology (ONC).  These grants were secured to establish the STEM Opportunities for Hispanic and Low-Income Students (SOHLIS) Project and a Public Health Informatics & Technology Workforce Development Program (PHIT Workforce Program) that aim to increase the diversity of students entering these fields.
"As a Hispanic-serving institution, Dominican College is in a unique position to educate a diverse student body in high-demand fields and help contribute to a more diverse workforce," said Dominican College President Sr. Mary Eileen O'Brien, O.P, Ph.D. "These federal grants will enable us to establish comprehensive STEM and public health informatics technology programs, which will both go a long way in increasing educational and career opportunities for our students."
Dominican College was awarded a $4.5 million, five-year grant from ED to develop the SOHLIS Project.  This project will establish student services and curricular programs to increase Dominican College's STEM program enrollment, retention, degree completion, and career entry.  As part of this grant, Dominican College will partner with Rockland, Westchester, and Bergen Community Colleges to strengthen articulation agreements.
In addition, ONC awarded Dominican College a $1.9 million grant to develop and establish a PHIT Workforce Program which will include paid internships and career placement for students. The program will offer a PHIT concentration in the Health Sciences major and Information Technology major, as well as a PHIT minor and a PHIT certificate program. The PHIT Workforce Program is funded through the American Rescue Plan and aims to increase the number and diversity of students entering the field of public health informatics technology to improve public health reporting and address systematic health inequities.