RCBJ-Audible (Listen For Free)
Daniel & Trudy Regan Foundation Sponsoring Three-Day Art Exhibition At Regan Home In New City
By Tina Traster
Daniel Regan, a businessman, artist, and co-founder of the Daniel & Trudy Regan Foundation, knew how hard artists had been hit by the pandemic. Many, who had befriended the artist and philanthropist over the years, called to say they were having trouble meeting rent on their studios. Others who worked on Broadway saw work dry up. Isolation was something everyone grappled with.
So Regan, 87, and energetic as a man half his age, conceived of an idea that would inspire artists to bring their work together through a three-day exhibition. Art Reborn: 100 Mannequins Exhibition and Celebration, (actually 140 mannequins) will take place at 29 Woodland Road in New City from October 8-10, from 11 to 7. The art will be displayed both inside the Regan's house and strewn throughout their one-acre property. Wine and desserts will be served at the event, which is free and open to the public.
"I wasn't interested in handing out charity; I wanted to give the artists something to feed their mind," said Regan. "Something to transcribe culturally, to express their feelings, to reflect what they were going through during COVID."
Regan, who had seen outdoor exhibits of painted cows, thought why not mannequins from closing and bankrupted stores? Metaphorically, it seemed a perfect canvas to express the moment. The art curator shelled out $15,000 to purchase raw mannequins from Modell's and Lord & Taylor.
"I thought of where they were first," said Regan. "They came out of stores that died due to bankruptcy and financial trouble. This was a way to bring them back to life. I saw them as a vehicle to convey the atmosphere of the artists' community, their economics, what they saw was going on."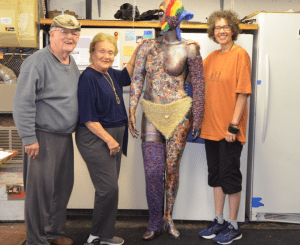 Some 80 artists from Rockland County and the tri-state area are participating in the show including members of  Garnerville Arts Center, Rockland Center for the Arts (RoCA), and the Pelham Art Center. Artists participating in the event include Sherry Camhy, Lonna Kelly, and Barry Mason. Rockland participants include Bill Batson, Cass McVety, Kris Campbell, Charlotte Mouquin.
None of their art will be on sale but Regan says their work will be promoted via the mannequins. The mannequins have been "dressed" with paint, metals, stained glass, LED lights — all mediums. Regan says he expects at least 1,000 visitors.
Although the Regans have traversed the world, been to hundreds of museums and have taken in all kind of art in their 67 years of marriage, Dan Regan speaks breathlessly about the art that has been created for the exhibition. After it's over, he's hoping to create a traveling show for the exhibition.
Art has played a central role in the life of the Regans, who created their charitable foundation in 1990, and have worked with artists and organizations worldwide including the Dali Lama. The Bronx-born real estate magnate built his fortune building 80 affordable housing projects for three decades in the tri-state area. His wife Trudy, a collage artist and curator for the Whitney Museum for 25 years, was an elementary school teacher who founded Living Arts Seminars a traveling arts program to supplement lost programs from schools, after she lost her full-time teaching job. The couple relocated to New City in the 1980s, where they raised two sons.
Photography and painting played a significant role in Don Regan's life, serving as an antidote to the high pressures of real estate. The self-taught street and portrait photographer used art to express his creativity, but also to tell stories. He was particularly interested in homeless and disadvantaged people.
"My wife and I came from nothing," said Regan. "We strived, we have security, and now everything we do is about giving back to the community, to the artists."
Over the past two years, Regan has also used art to stimulate his wife's mind because she is suffering from dementia. He gets up every day at the break of dawn to write or create art; then he takes Trudy to a museum or an exhibition to keep her engaged.
"As a caretaker, I'm learning to live with the day to day," said Regan. "It's been very frustrating. I've built 80 housing projects, but I can't help my own wife." Still, when surrounded by art, as they are on their daily jaunts to galleries or now, surrounded by a sea of mannequins, the Regans are at home.
The three-day exhibition will also include a presentation by the Capri Cosmetology Learning Centers, which will present a history of hairstyles from the caveman era, Jacqueline Kennedy, to contemporary urban styles. Various artists will also showcase their talents in contemporary dance, hip hop dance, and music.