RCBJ-Audible (Listen For Free)
Sloatsburg Food Pantry Relocates To Suffern And Undertakes $200,000 Renovation Project To Meet Growing Hunger Needs
The Sloatsburg Food Pantry has relocated to All Souls Community Church in Suffern and is undertaking a $200,000 renovation project to build an indoor client choice pantry, work area and install walk-in refrigeration / freezer space to guarantee safe and adequate storage of fresh food. The pantry is seeking community support to fund the renovation and continue their work.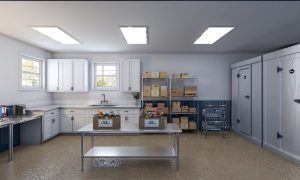 Businesses are invited to sponsor the Breaking Ground for Hope campaign with sponsorship levels of $5,000 for Platinum, $3,000 for Gold, $1,000 for Silver and $500 for Bronze. Recognition will be given during Giving Tuesday on November 30, 2021.
The COVID-19 pandemic has had a strong impact on feeding programs. Food pantries, such as the Sloatsburg Food Pantry, have seen triple the number of families and quadrupled the amount of food purchased from pre-pandemic numbers. The Sloatsburg Food Pantry is the only food pantry in Western Ramapo providing nourishing life sustaining food to the most vulnerable neighbors including children and senior citizens. Throughout the pandemic, it remained open, distributing to families via drive-thru and deliveries.
Each month, the pantry distributes 30,000 pounds of non-perishable foods as well as an additional 12,000 pounds of meat, fresh fruits, vegetables, dairy and bread to over 660 families, approximately 2,400 individuals.
---
Rockland REIT Buys Long Island Apartment Complex For $138 Million
Suffern-based Castle Lanterra Properties, a national real estate investment firm active in the multifamily real estate throughout the United States, has acquired two Long Island apartment communities for $138 million.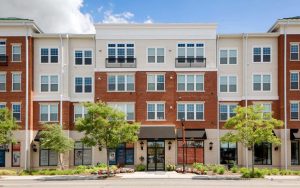 The company has acquired 303 Main Street in Hempstead (pictured top) and 130 Hempstead Avenue in West Hempstead, both owned by Hartford, CT-based UBS Realty Investors.
Both buildings were developed by Mill Creek Residential Trust, now based in Boca Raton, FL.
The 150-apartment West Hempstead property, adjacent to the West Hempstead LIRR station, was developed in 2012 on the site that previously housed the Courtesy Hotel. It was sold to UBS in 2013.  Eleven years remain on its PILOT agreement. UBS paid $70.25 for the property. Castle is paying $69 million.
The 166-apartmtent Hempstead Village property, known as Metro 303, was built in 2011 and sold to UBS in 2014. Castle Lanterra is paying $69 million for the property. UBS paid $73.75 million.
The Town of Hempstead Industrial Development Agency (IDA) approved the transfer of PILOT agreements to Castle Lanterra.
---
Consumer Price in New York-New Jersey Region Tick Up In August
Prices in the New York-Newark-Jersey City area, as measured by the Consumer Price Index for All Urban Consumers (CPI-U), ticked up 0.1 percent in August after inching down 0.1 percent in July, the U.S. Bureau of Labor Statistics reported today. Chief Regional Economist Martin Kohli noted that the August increase was largely attributable to higher prices for energy. (Data in this report are not seasonally adjusted. Accordingly, month-to-month changes may reflect seasonal influences.)
Over-the-year, the CPI-U advanced 3.7 percent. (See chart 1 and table A.) The index for all items less food and energy increased 2.6 percent over the year. Energy prices jumped 21.7 percent, driven by an increase in the price of gasoline. Food prices rose 3.8 percent.
Food
Food prices rose 0.5 percent in August. Prices for food at home increased 0.4 percent, with four of the six grocery categories recording increases. Candy and chewing gum, as well as snacks, were among the groceries with higher August prices. Prices for food away from home rose 0.6 percent.
From August 2020 to August 2021, food prices rose 3.8 percent. Prices for food away from home increased 5.1 percent, while prices for food at home advanced 2.7 percent.
Energy
The energy index rose 2.1 percent over the month, with a 2.9-percent increase in household energy prices. The increase was primarily due to higher prices for electricity (4.8 percent). Prices for natural gas rose 0.8 percent. Gasoline prices increased 0.9 percent, the smallest of a string of nine consecutive increases.
Energy prices climbed 21.7 percent over the year, largely due to a 42.3-percent jump in gasoline prices. Household energy prices advanced 10.2 percent, the fastest pace in over four years. Electricity prices were 8.2 percent higher than one year earlier, and natural gas prices were 10.4 percent higher.
All items less food and energy
The index for all items less food and energy inched down 0.1 percent in August. Among the items with price decreases were shelter (-0.3 percent) and recreation (-0.3 percent). A seasonal price increase for apparel (5.6 percent), along with higher prices for education and communication (0.9 percent) and for new vehicles (1.8 percent), largely offset declining components.
Over the year, the index for all items less food and energy rose 2.6 percent. Price increases for shelter (1.4 percent) and for new and used motor vehicles (11.5 percent) contributed to the rise.