RCBJ-Audible (Listen For Free)
New City Library Planning Building Expansion

The New City Library, which hopes to expand its building, will present its plans to the Town of Clarkstown's Technical Advisory Committee on Wednesday. The library is proposing a 2,884 square foot addition to its 22,547 square foot building located on nearly six acres on North Main Street.
The property is located on PO (Professional Office zone, which allows for public buildings) zoned land east of North Main Street and north of the intersection of Squadron Blvd and North Main Street in New City.
The plan proposes the elimination of nine parking spots and a new traffic pattern. There is also a proposed drainage area where a rain garden might be constructed.
Construction is slated to occur in two phases: Phase I would include the building addition and landscaping. Phase II would address the parking lot and drainage.
---
Clarkstown Planning Board Greenlights Schimpf Farm
The Clarkstown Planning Board on Wednesday granted final approval for a special permit to a developer who wants to build a senior housing complex on the former Schimpf Farm in West Nyack despite concerns from neighboring residents and members of the Rockland County Department of Planning. The vote was 4-2 in favor of the special permit.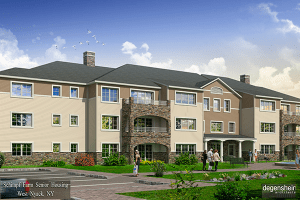 The applicant was seeking a special permit to build a senior housing development on the 8.5-acre, R-22 zoned land on the former Schimpf Farm site, located on the southeast corner of Parrott Road and Germonds Road. The project calls for an approximately 169,000 square foot senior housing complex with 127 units of 55-plus senior housing, a 5,500 square foot clubhouse, and 216 parking spaces. The plan also includes patios and barbeque areas, a community garden, and walking paths throughout the site.
The plan, that had been pending before the town since 2014 in a series of iterations, did not need any variances or planning board waivers.
The site is zoned R-22, or single-family housing. However, in 2014, Clarkstown amended its zoning code to allow for a total of 700 units of senior citizen housing town-wide, subject to a raft of conditions including that development does not cause traffic congestion, does not adversely affect the character of, or property values in the area, and that it does not negatively impact water supply, waste disposal, or any other public health and safety issues.
Clarkstown, in its last Comprehensive Plan, identified the Schimpf parcel as an ideal site for senior housing.
Several residents, including CUPON, have spoken out against the project, voicing objection to its scope, density, and the likelihood of causing additional traffic headaches on Germonds and Parrott Roads.
---
St. Thomas Aquinas College and Rockland Community College Launch Student Engagement and Housing Strategic Partnership
St. Thomas Aquinas College (STAC) and Rockland Community College (RCC) have formed a student engagement and housing strategic partnership allowing students to advance their education and career opportunities through the "STAC Tracks" program. In fall 2021, students enrolled at RCC can continue earning an associate degree at RCC, while living on and being a part of campus life at STAC. They also will have access to streamlined transfer pathways for completing their bachelor's and master's degrees.
As an extension of the already existing "STAC Tracks" partnership between the two institutions, which creates financial assistance and seamless transfer pathways for RCC graduates into STAC, students who are pursuing an associate degree at RCC will be able to take advantage of the on-campus experience, including dining on campus, participating in clubs and health and wellness activities, and participate as a member of the STAC community outside the classroom.
RCC students who enroll under this unique program will have access to the STAC Student Career Services office, Kraus Fitness Center, Lougheed Library, and other services typically reserved for STAC students. Students enrolled in the program will also have their application and deposit fees waived if they continue their education at STAC, and have access to early academic advising from the College's Student Success team.
Students enrolled at RCC and others who are interested in learning more should contact Dr. LaToya Blount, Interim Executive Director for Student Engagement and College Life, at lblount@sunyrockland.edu or (845) 574-4729 by September 7, 2021.