RCBJ-Audible (Listen For Free)
Jack Of Fades Is A Pre-School Labor Day Event To Get Kids' Noses In Books
By Tina Traster
Nathalie Riobe-Taylor's heart is hurting. Kids today, especially black and brown youth from less privileged homes, are just not reading books. And the implications of illiteracy are dire, given that reading proficiency is a building block to lifelong success.
So Riobe-Taylor, who is president of For Our Kids NY INC, a nonprofit that promotes supplemental education, as well as the mother of three tweens, has organized Jack of Fades, a pre-school event that combines reading, a free barbershop haircut, and yes, video games. With a note of irony, Riobe-Taylor admits that gaming is part of the pitch, but the heart of the experience is aimed at getting boys in the barber's chair with books in their hands.
Jack of Fades, scheduled for Sunday and Monday over the Labor Day Weekend, will take place at four barbershops in Rockland County:  At Classic Cutz in Spring Valley on Sunday from 10 to 1 pm, at Riquil and Flaco in Haverstraw on Monday at 11, and at Yogi's Plus on Monday in Nyack at 3 pm.
"What excites young men are video games," said Riobe-Taylor. "But we need to get young men excited about reading."
Literacy is the basic building block for academic studies and for a lifetime of self-support. Literacy is the foundation for all other learning endeavors.
On national tests in 2019, only 18 percent of black 4th-graders scored proficient or above in reading; the figure for white 4th-graders was 45 percent. For 8th graders, the percentages were 15 and 42 percent. More than half of white students fail to meet the proficiency bar. But the figures for black students are deeply sobering. These statistics portend greater struggles in high school, lower college attendance and graduation rates, a higher likelihood of incarceration, and generally bleaker futures.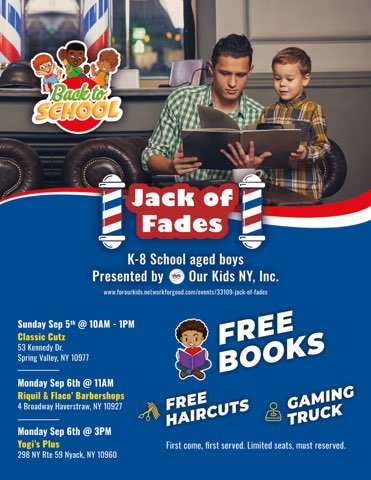 Research shows that kids who come from homes where reading was a priority, and they were read to by their parents, perform better academically throughout their lives. The National Center for Education Statistics reports that kindergarten students who are read frequently to at home are more likely to count to 20, write their own names, and read (or pretend to read).
Our Kids NY Inc. coordinated with nearly a dozen local sponsors to give away 200 free haircuts to kids attending kindergarten through 8th grade. The organization has hired Fleet Entertainment, a New Jersey company, to provide gaming from a truck that will be parked outside the barbershops. Boys coming for a snip can game but once they land in the barber's chair, they will be expected to read books such as Becoming Mohammad Ali, Who Was King Tut?, Schomburg: The Man Who built the library and Who is Pele?
Kids will be able to take the books home.
"We have picked books in which the characters or authors look like the majority of our kids," said Riobe-Taylor. "One of the issues with reading deficiency is that most children at a certain point stop reading because they are not identifying with the characters or the stories. Their culture is just not there."
Riobe-Taylor founded For Our Kids NY INC in 2016. She believes community organizations need to offer supplemental education to keep children stimulated and challenged. Her organization has put on more than 30 events over the past year.
Jack of Fades, Riobe-Taylor said, has a dual purpose. To get kids psyched about reading, but also to pair young black men with older men who can be role models. She's hoping the event inspires other barbers to pair a haircut with reading.
"Books are everything," said Riobe-Taylor. "You can get lost in a book. They are empowering. It doesn't matter what you read. Just read."