RCBJ-Audible (Listen For Free)
RCBJ Talks With Sloatsburg Mayor Peter Akey About Grants, Growth & A Greater Vision For Rockland's Rural Corner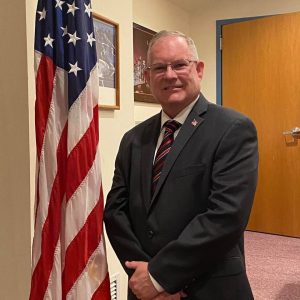 Q. Big picture, can you tell us about the transformation going on in Sloatsburg?
A. The revitalization in the Village of Sloatsburg has its roots in the efforts and work of many people who acted to preserve Sloatsburg's rustic appeal and its history while continuing to cultivate village green space and parkland. From Eugene Kuykendall (now deceased) to former Mayor Carl Wright and Harmony Hall Curator Geoff Welch to our own Thomas F. Bollatto, Jr — these folks helped give us many of the assets we are now working with.
You can say much of what we've accomplished started with a crosswalk, coffeeshop and craft beer.
The idea over the past few years has been to work with what we have and develop a vital village center. The focus centered on improving the business district by making it more pedestrian-friendly – all while increasing parking and retaining green space.
David Pereyra, via SloatsburgVillage.com and Explore Harriman (along with Alexandria Evans), and later as part of the Sloatsburg Revitalization Committee, was instrumental in helping to re-imagine the business district as a walkable pedestrian corridor that would provide safe passage across Route 17 and connect the business district, historic site, parks. This advocacy for a crosswalk at the local library evolved into the Complete Streets Project.
Sloatsburg is an authentic trail town. We built on the village's natural position as a gateway to Harriman State Park. We gathered a team of people and organizations to put the wheels in motion and played off each other's successes until that momentum created real change.
Explore Harriman, Beautify Sloatsburg, Harmony Hall, and the Sloatsburg Chamber were points of collaboration. These groups worked together, but, more importantly, many of the people involved were cross members of the groups as well as members of the business community.
Q. Do you believe Mike Bruno jump-started the change and if so, please elaborate? 
A. Michael Bruno was part of the early conversations about connecting the sister communities of Sloatsburg/Tuxedo. Connecting the Route 17 corridor as a unique gateway to key NYS parks was a driver. Michael had a very creative idea of what he wanted to do, which was focused at the time in Tuxedo. But Sloatsburg had a group of properties in the business corridor that allowed him to eventually create the Valley Rock Inn & Mountain campus. Valley Rock represents Sloatsburg's transformation — key historical properties, green space, walkability and proximity to the parks.
Explore Harriman helped supply the narrative, the Revitalization Committee led the effort in organizing and advocating for the Complete Streets Project and Mill Street Park. Michael's investment was certainly an essential ingredient. He went big which encouraged others to invest too. It's hard to express the Valley Rock halo effect. The whole village benefits from Valley Rock Inn.
Seven Lakes Station has also been an amazing attraction and success. Martijn Mollet and Jamie Lovelace (the owners) were part of Beautify Sloatsburg.
Q. Let's talk about housing. Sloatsburg, as I understand it, is marketing itself more widely as a village for quality-of-life living. More urban folks are migrating there. What did you see during the pandemic?
A. The Sloatsburg real estate market heated up with the pandemic. The idea of a trail town, the surrounding parks, our schools, access to transportation hubs, the improvements we've been working on, the Valley Rock Inn — all of these things were drivers of people looking to relocate this past year and a half. Sloatsburg offers a semi-rural lifestyle and is surrounded by green space. Sloatsburg did experience an influx of new residents during the pandemic as people sought the kind of lifestyle we offer.
Q. Please talk about the recent tourism granting for Harmony Hall, Chamber. Tourism is one of Sloatsburg's greatest assets, what with Harriman Park, natural beauty, nature's playground. But what is driving this effort now more than ever?
A. The Explore Harriman campaign has promoted Sloatsburg (and Suffern) as Rockland County's key connection to Harriman State Park. Sloatsburg is positioned as a gateway to the parks. County Executive Ed Day and Tourism Director Lucy Redzeposki have had a hand in supporting the effort, as well as Sloatsburg's economic revitalization. Our improvement campaign provides the county the opportunity to leverage.
Explore Harriman promotes Sloatsburg and Suffern and the Route 17 corridor as western Rockland County's gateway to the parks. The Chamber of Commerce is a partner that helps grow the effort.
Harmony Hall has been building the Highlands Bluegrass Festival for more than a decade and is now a signature Rockland County event. The Bluegrass Festival draws people to Rockland County from across the Hudson Valley, northern New Jersey and even greater New York City. It's a relaxing day with music set on the Great Lawn at Harmony Hall.
Q. What is the village's greatest challenge at this point? What are its weaknesses and what vision do you have to strengthen those weaknesses?
A. The greatest challenge at this point is the completion of the road improvements. It's been a long journey, but when all is done, we will have our beautiful semi-rural rustic village back.
The Sloatsburg Train Station along Mill Street (popular with city visitors) allowed the village to focus on our business district and smart transit. This area contains our commuter and visitor parking and most of our restaurants are along Route 17 in the business district.
Also, having a New Jersey Transit (MTA) station anchoring our pedestrian corridor is important. Many residents take the train (and bus) into New York City.
The Complete Streets Project, which will hopefully be completed by the fall, will pull everything together. The NYDOT partnered with the village through a series of public workshops to re-imagine our "Main Street" with new crosswalks, sidewalks and middle turn lanes.
Probably the main weakness is that our main street is a state highway. We control no part of the roadway except for the Town of Ramapo Police Department patrolling Route 17.