RCBJ-Audible (Listen For Free)
New Pairing Gives Festival On August 16-19 Added Assets Of Restaurant, Bar & Hotel Accommodations
By Tina Traster
It is the perfect meet-cute, in Hollywood terms. A local film festival and a hotel in a state of renewal partner up in a post-pandemic world frothing for excitement, culture, and a touch of glamour after a year of lockdowns and ZOOM overload.
Welcome to the 9th Annual Nyack Film Festival 2021, taking place for the first time in the newly branded Hotel Nyack, a Hyatt "Joie de Vivre" signature line.
How this came about is a combination of good timing, shared vision for local tourism, and mutually-compatible needs. All the ingredients of a meet-cute "romance." In Jan. 2020, festival producer and owner of Rockland World Radio Richard Quinn decided not to renew his lease at 142 Main Street, home to the Nyack Village Theater and the venue for his annual film festival.
"It was a good theater for art, music, films, and the annual Edgar Allen Poe reading," said Quinn who was ready for a change. Turned out to be fortunate timing with onset of the pandemic and subsequent lockdowns starting in March.
"Had I signed a new lease, it would have been a fateful decision," said Quinn. "I would have had an empty studio."
As it turned out, Quinn, pre-pandemic, was itching for change. "I was tired of tap dancing for the landlord after 20 years," he said. "I became more interested in putting on events but freeing myself from the burden of rent."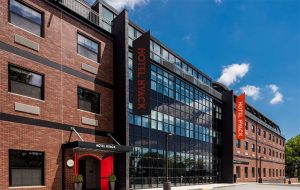 That desire led Quinn to knock on Hotel Nyack's door. For more than three years, the struggling hotel, formerly the Time Hotel Nyack, had been mired in financial scandal, bankruptcy, change in ownership and the loss of BVs Grill. The hotel once promised to be a game-changer for Nyack, bringing a boutique vibe to the village, attracting hip urbanites to the Hudson Valley.
But chaos engulfing the hotel and its management precluded the property from fulfilling its promise to work symbiotically with the Village and the county at large in any meaningful way.
Quinn said he'd approached the hotel about his film for some time prior to the Hyatt takeover but found a revolving door of general managers and obstacles at every turn to organizing an event.
"I pitched the film festival to the hotel in early 2021, while Hyatt management was preparing to take over, and they said it sounds wonderful," Quinn said. "I got a great response from their team. They wanted to work with the community and a theater event was perfect for the hotel."
"Partnering with the 9th Annual Nyack Film Festival helps foster our mission of working and embracing the Nyack community," said Linda Ferone, director of sales/marketing for Hotel Nyack.
The four-night Nyack Film Festival 2021 will take place August 16-19 in the hotel's ground-floor ballroom. The new location allows the festival to expand exponentially – accommodating seating of 150 compared to the 49 at the Nyack Village Boutique theater. Also, the hotel venue steps up the festival's accoutrements with an onsite bar and restaurant for attendees and rooms to rent, given that 44 films from the nation, UK and Australia will be screened.
To grow the festival, Quinn this year sought submissions on the largest online platform, FilmFreeway.com, rather than solely relying on social media posts and press releases.
Film festivals bring new blood to a town or village. Filmmakers, casts, crews, friends, and families congregate in the location to celebrate and share what is often a debut screening for independent filmmakers. Successful, well-honed festivals rely on the support and coordination of local businesses. Festival producers typically depend on sponsorships and participation from food, hotel, and hospitality vendors to tie the event with the location and its unique assets. Most festivals last several days, bringing festival goers for at least a night or more. Festivals like Cannes, Tribeca and Sundance have been transformational for economic development.
Quinn admits there's more work to do to engage the Nyack and regional business community going forward.
"We're already laying the groundwork for the 10th Annual film festival, which will be even bigger and better," he said, "but we need more cooperation and local business partnerships."
Quinn, a media maven, knows how to put on a show but "it's not my natural instinct to ask businesses for sponsorships." For now, he doesn't have a sales team but vows to pursue these dollars more diligently next year as he prepares for a 10th year gala at Hotel Nyack if all goes as well as expected.