RCBJ-Audible (Listen For Free)
College Responds To Calls For Racial Justice Awareness & Education
By Tina Traster
Remember your first day on a new job?
For Ken Daly, day one helming St. Thomas Aquinas College (STAC) began at the height of a worldwide pandemic health crisis and in the aftermath of a brutal policing incident that sent the nation into paroxysms over a renewed and urgent call for racial justice.
He was ready.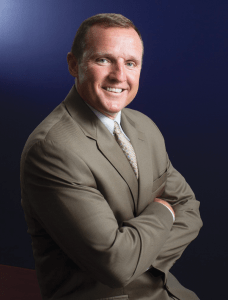 Daly, who became STAC's ninth president on July 1st, has had a 30-year career in clean energy with National Grid, and its predecessor companies KeySpan and Brooklyn Union. At the heart of Daly's achievements are emergency planning and crisis management, skills honed through events like Superstorm Sandy. Skills that will be sorely needed to navigate an uncertain future shaped by COVID-19 and national discord.
From day one, Daly has gathered his thoughts around a dawning era for academia, taking into consideration what needs to be changed, and initiating early and bold steps so the college can grow and evolve. On Friday, STAC closed on a $7 million purchase of the 12-acre Camp Venture property at 230 Route 340 in Sparkill, a strategic parcel situated adjacent to the college. The lease-back deal enlarges the STAC campus physically by 20 percent but allows Camp Venture to continue its mission on the site. Paul Adler of Rand Commercial was the broker on both sides of the deal.
"We are committed to making investments in new faculty, new programs and new facilities," said Daly, adding the purchase came at time of record-low interest rates. There are no immediate plans for the acquisition, he added.
In a long conversation with Rockland County Business Journal, Daly opined on the need to prepare students more pragmatically for a post-pandemic world. He said the college is reviewing its curriculum, as well as its policies around race relations. Last month, the college launched a Center for Social Justice; and the School of Arts and Sciences added a new minor in Human Rights and Social Justice. The 18-credit course for Human Rights and Social Justice "nurtures in students a spirit of civic engagement and global awareness of issues related to human rights and social justice."
Enrollment at the independent liberal arts college, which has roughly 2,000 part-time and full-time students, fell about 3 percent in the 2020-2021 academic year, but housing declined by 20 percent. Daly said the college maintained its staff, avoiding layoffs, though faculty agreed to a one-year pay freeze. The college has used stimulus monies to put COVID-safety and mitigation measures in place, and to administer more than 8,000 COVID tests in the past year.
Daly is confident students are hankering to return to campus. But year-to-date, the volume of applications is down 20 percent as of late March. However, he believes COVID disruptions have caused a lag in the application process, and it will pick up throughout the spring. Students this year do not need SAT scores for admission.
While navigating these administrative challenges, Daly is laser-focused on analyzing curriculum for a post COVID world.
"The harsh reality of COVID has shown us that the earlier a student can develop a plan, the better," he said. "Colleges have always been focused on educating. But we must do an equal job in focusing on preparing students because the stakes are so high, as we've seen this past year."
Daly plans to round out the college curriculum with a greater emphasis on teaching skills such as Excel, data analytics, team building and leadership. The college is in the process of setting up a physical center for "experiential learning," a large open, high-tech space where students and prospective employers can meet and exchange ideas. STAC Your Future on March 22-30 will bring more than 50 area businesses for a career forum.
And this summer, STAC will pay students $1,000 – you read that correctly – to participate in a two-week Boot Camp aimed at sharpening business skills.
"We are concerned that there will be fewer internships for students this summer because of COVID," said Daly, who is using Boot Camp as a stop-gap measure. The college president is also exploring "co-ops," in which students earn a semester's worth of academic credits in return for full-time work experience.
COVID, amongst its devastation, has shown the importance of healthcare, which will by all accounts, emerge as a much more diverse field. Daly intends to broaden opportunities for education that prepares students for these disciplines. When asked how COVID might impact the School of Hospitality, the president, thinking outside the box, said students who may have been focused on hotels and restaurants could pivot in the short term to learn how food service works in hospitals or healthcare settings like assisted living facilities.
Daly, whose professional background included human resources and environmental sustainability, understands how fundamental it is to bridge the racial divide. The newly-formed Social Justice & Equity Forum, a group of faculty, alumni, board members, and students who are meeting regularly to talk, has been eye opening. The college president, who attends these meetings, says the group talks about voter registration, the first African American/Asian Vice President Kamala Harris, policing, LBGT rights, and more.
"We are making a serious commitment to be a diverse community," Daly said, pointing out that 40 percent of students are people of color. "We want students to tell us how they feel, share their experience, let us know the resources they need."