RCBJ-Audible (Listen For Free)
Nyack College New Owner Buys Former Pace University Campus For $11.75 Million
The new owner of Nyack College in the Village of South Nyack, the Viznitz Yeshiva congregation, has purchased the former Pace University campus in Westchester County's Briarcliff Manor for $11.75 million.
The Ramapo-based Khal Torath Chiam of Rockland, which bought Nyack College last year for $45.5 million, purchased the 37-acre campus from the nonprofit Research Center on Natural Conservation.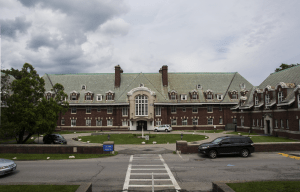 It is unclear what plan the congregation has for the property, but the group has been seeking to consolidate its yeshivas across the state. For the South Nyack campus, the yeshiva plans to operate schools for 250-college level students and 250 high-school students.
The Village of South Nyack last week filed a suit against Yeshiva Viznitz, which bought the Nyack College campus last year for $45.5 million, alleging the new occupant is using the property without proper permitting, has failed to conduct safety inspections, and has not resolved open code violations.
The suit, filed in Rockland Supreme Court against Yeshiva Viztnitz Dkhal Torath Chaim, Inc., is aimed at compelling the new owners to comply with the village and county codes and New York State Law.
The Village, which is in the process of dissolution and becoming part of the Town of Orangetown, claims the congregation represented that upon acquiring the property, it would seek special use permits where necessary and would address the outstanding violations.
---
RCC Culinary Arts Center to Offer 8-Week Series of Free Cooking and Nutrition Classes for Food Insecure Individuals and Families
Rockland Community College (RCC) is hosting an 8-week series of free cooking and nutrition classes for food insecure individuals or families. Up to two members from a family may attend. The classes will take place at RCC's Hospitality and Culinary Arts Center located at 70 Main Street in Nyack. Participants will learn how to purchase and prepare delicious and nutritious food, and gain skills and confidence in preparing healthy food.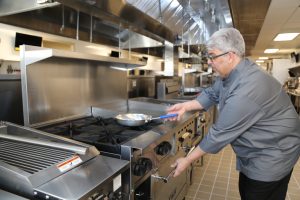 Classes will start on Monday, March 22 and run from 9:30 to 11:30 am, and continue each Monday through May 10. The classes are free and open to food insecure RCC students and the public, and the food is included. Children age 14 and older may attend with an adult.
Expert instructors will help participants gain skills and confidence in the Culinary Art Center's classroom kitchen, which features ten workstations with state-of-the-art equipment, as well as a teaching station equipped with audio and video technology so that students can easily hear and see exactly what the steps are for each lesson.
This class is made possible by a grant from Orange & Rockland Utilities. For more information, email Mark Davidoff at mdavidoff@sunyrockland.edu or call 845-875-7571.
---
Arena STEM, Education & Entertainment Center, Pulls Out Of Palisades Center Deal
Arena STEM, a new and innovative retail-entertainment concept that planned to open in the Palisades Center last June, has backed out of the deal, according to a source close to the mall.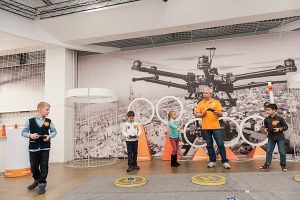 The concept center, focused on activities in technical science, sports, and creative hobbies, had taken a 10-year lease on 12,240 square feet on the third floor close to the food court.
Its owners had said, "We're putting entertainment, education and retail under one roof, but the key thing is the experience. Arena STEM is designed for families to come and participate in activities, learning, take master classes, participate in 3D modeling. It's all about having an experience with friends and families."
The year-long pandemic has suppressed the ability for entertainment companies to thrive. Even with the vaccine and virus cases on the decline, it is too soon to forecast when life will truly return to a pre-COVID-19 normal.
The partners, Russian emigres who opened their first Arena STEM in Moscow (but have since closed it) say the concept promotes hands-on interaction in science, technology, engineering and mathematics for "children 5 to 85 years old."