RCBJ-Audible (Listen For Free)
Farina Caffe Spins Grandma's Recipes Into Modern Offerings
By Tina Traster
Farina Caffe, the newest bakery/café to open in Nyack, is the realization of a life-long dream for pastry chef Daniela Buglione and the family who believed in her every step of the way.
Buglione, who grew up baking and cooking alongside her grandmother, Dominga La Nonna, in Uruguay, has put in her 10,000 hours – probably more – to get to this point. She has done so amid the coronavirus pandemic, which has both its advantages and disadvantages – but Buglione is indefatigable.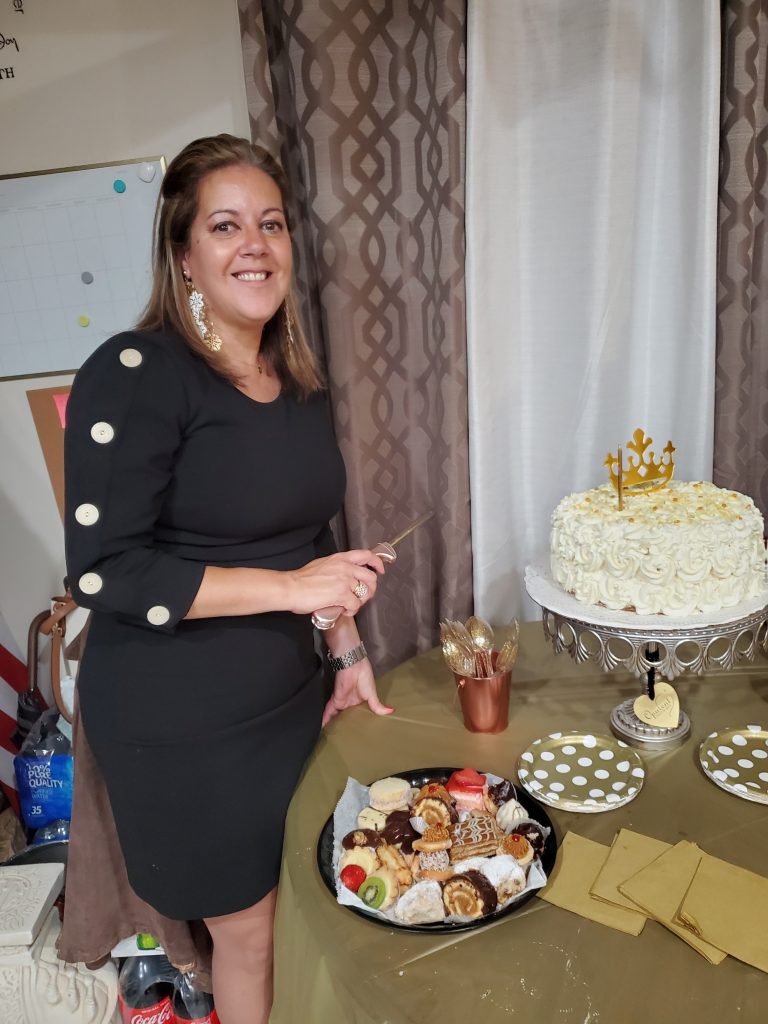 Daniela and her husband Fabian, who live in Valley Cottage, met as architecture students, married, emigrated to New Jersey, had two kids. Daniela's version of the American Dream meant she got up at 3 a.m. every morning to work at a bakery/café in New Jersey for seven years. Meanwhile, Fabian, who works in the camera security business, supported his wife's calling by getting the kids fed and off to school.
Call it the seven-year itch – Daniela, 46, wanted to steer her own destiny. She dreamed of taking Dominga's recipes, and everything else she'd learned along the way, to make a place for herself.
Prior to the pandemic, the couple began searching for a location.
"We wanted to be in Nyack," said Fabian. "At the time, there were maybe five or six locations. It was tight. Competitive. But we really wanted to be in Nyack because we have friends here and the village is the central hub of the food industry in the county."
The couple nearly leased the former Hartell's space on North Broadway in Upper Nyack
But by late summer, the blistering reality of the pandemic's impact on retail and restaurant tenants changed the calculus.
"Now there were close to 30 properties available," said Fabian, adding the former Pie Lady spot still seemed perfect for bakery goods plus a robust café.
The Bugliones signed a five-year lease with "flexible terms and reasonable rent."
TALI Plaza of Nyack, LLC at 117-125 Main Street is poised for revival.
Wilson Bermeo, who owns two Spring Valley supermarkets, plans to open Nyack Fresh Market at the long-darkened Riverspace theater this summer, pending approvals from the village's Architectural Review Board. The Nyack market will be a full-scale supermarket selling produce, deli, meat, fish, bakery, dairy, and household items. A Vietnamese restaurant is also due to open soon.
Farina, which means flour in Italian, serves homemade bread, quiches, croissants, Tres Leches Cake, cupcakes, Cubano Sandwiches–all infused with flavors of Argentine, Uruguayan, and Italian cooking – based on the couple's heritage.
All the baking is done on site. Everything is home-made, down to the filling cream on pastries.
"People are tired of fillings bought from distributors," said Fabian. "They want to go back to grandma's flavors."
Buglione's Farina, which also sells Italian baguettes, acknowledges his French competitor up the road, the long-standing Didier Dumas but says his offerings like bizcochos, Spanish tortilla, Pasqualina, and Cubano sandwiches show off Latino culinary and baking – a good complement to his neighbor.
The bakery is licensed to seat 20 but with 50 percent capacity mandates from Gov. Andrew Cuomo, and people worried about in-restaurant dining, take out now dominates the early days of the business. Farina offers Uber, DoorDash and Doorhub.
"The response has been great so far," said Fabian. "We're working hard to deal with the impact of Covid. But the reception has been a pleasant surprise."
Meanwhile, Fabian, who has worked hard over the years to help build a financial down payment for Farina, says he is glad to have been an architect in making his wife's dreams come to life.
"I believe in her so much," he said. "I felt a bit guilty through the years. She sacrificed so much. I always wanted her to have her very own place. Now she does."