Anchor Trading Embodies The American Dream Of Rising Through The Ranks With Hard Work And Determination
By Tina Traster
Sean Magee is living proof the American Dream is still a thing. A Congers resident, who dreamed of  becoming a police officer or firefighter, returned from active duty in the United States Navy in the Gulf War. Soon after, he landed a temp gig moving boxes for the Rockland barter company, Active International. Using grit and determination the Navy taught him, Magee scaled the ranks at Active, ultimately becoming vice president of enterprise sales. From there he spent seven years at Sherwood Trading, and in late 2015 he hung out his own shingle.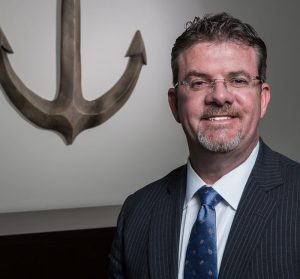 It's been a meteoric rise for the New City-based Anchor Trading  that was born with a hope and a prayer – and a robust contact list. Magee, 48, founder and CEO, and co-founder Michael Lista, plumbed their contacts and used prior experience to build a multi-million dollar company that has landed on Inc. Magazine's annual list of the fastest growing privately-held companies in the U.S.
New City-based Anchor Trading offers a barter service for advertisers with under-performing assets; it ranked 19 out of 5,000 on the list. The company has seen a three-year growth of 11,311 percent.
"The companies on this year's Inc. 5000 come from nearly every realm of business," Inc. editor-in-chief Scott Omelianuk said. "From health and software to media and hospitality, the 2020 list proves that no matter the sector, incredible growth is based on the foundations of tenacity and opportunism."
Inc.'s released list highlights the most successful independent small businesses in the United States.
"What the Navy taught me is to persevere with actions versus words," said Magee, whose company makes hiring veterans a priority. Nearly 30 percent of the staff of 50 have served. The entrepreneur served onboard the U.S.S. Thorn (DD-988) in support of Operations Desert Shield and Desert Storm.
In 2008, Sean left Active International to join Sherwood Trading Group. As Executive Vice President for Sherwood, Sean was responsible for the day-to-day sales operations and asset disposition for all corporate clients.
Anchor Trading, a direct competitor of Active International, purchases under-performing assets, retail and capital equipment. Multinational companies in turn receive credit to buy advertising or media space. Simply put, "clients are using under-performing assets to pay for advertising," McGee explained.
For example, say a coffee company experiments with a flavored coffee but it's a flop. Anchor Trading will buy up unused cases of the product, liquidate the cases for wholesale value, and pay the coffee company a credit, which it uses to purchase media.
It is the esprit de corps that defines Anchor's young but rising business. The CEO says veterans who've been challenged in the toughest circumstances tend to be nimble and action-oriented. We have a saying – "embrace the suck" – which means when a situation isn't ideal the best thing you can do is embrace it. That has been a useful mindset during the coronavirus pandemic, which has forced nearly every company to think on its feet, pivot when necessary, and view the future through a new set of eyes.
Anchor Trading, though, had an advantage from the outset: Magee, like a good soldier, had a contingency plan in place for the company. "I lived through Desert Storm," he said. "I have a fear of the unknown."
As a result, the company didn't miss a beat operationally (employees were deployed at home before Gov. Andrew Cuomo's shutdown) and no layoffs have been necessary. Instead, the sales force doubled down and focused on companies with supply chain disruptions with inventory gluts, like retail and restaurants. They also seized on an increased demand for digital advertising.
"There's no MBA that could have taught anyone how to navigate the pandemic but the beauty of our company is that it is independent," said Magee. "We have one of the most important things a company can have – flexibility."
Anchor Trading is one of four Hudson Valley companies ranked in the top 600 on the annual Inc. 5000 list, the most prestigious ranking of the nation's fastest-growing private companies.
Middletown's Detailing Connect placed 91. The automotive detailing business, founded in 2015, has grown by 3,693 percent in the past three years.
Inc. Magazine ranked Macan Deve Engineers 479. The White Plains business offers architectural, engineering, owner representation and construction management services. Under Donna Hager's leadership, the business has seen a 3-year growth of 956 percent.
Stronger U, a personalized nutrition coaching program out of Newburgh, ranked 567 on the prestigious annual list. Since 2015, Stronger U has helped over 40,000 members. Over the past three years, the Orange County business grew 829 percent.
Read More: 4 Hudson Valley Companies Named as One of Fastest-Growing in U.S. | https://hudsonvalleypost.com/4-hudson-valley-companies-named-as-one-of-fastest-growing-in-u-s/?utm_source=tsmclip&utm_medium=referral