Rockland Entrepreneur's Digital Post Office Company Grows 50 Percent Over Past Two Months
By Tina Traster
The pandemic has taught us how to rethink the normal course of our daily life. We Zoom meetings, adapt our schedules, and wear masks, gloves, and social distance when we venture out, including a trip to the post office.
One Rockland County entrepreneur has given us a virtual postal option that eliminates the need to physically go to the office or to the post office to collect our mail. Jeff Milgram's Montebello-based iPostal1 is a postal platform made for a post-pandemic world: users view images of what's in their digital mailbox via an app on their desktop or phone. Then, depending on what you deem important, mail or packages can be forwarded, opened and scanned, scheduled for pickup, recycled or shredded.
"People have gotten a taste of the digital world during the pandemic," said Milgram. "Once they were separated from accessing their mail they realized they need a more efficient system. We expect ipostal1 will become a popular way to receive your mail."
iPostal1 is already servicing 200,000 customers through 1,000 retail pack-and-ship stores, co-working spaces, and serviced office suites. Customers pay $9.99 a month to set up a digital mailbox with a mailing address at partner locations.
As Rockland County, along with the Hudson Valley and the New York City region, begins re-opening up this week, people will begin to flow back to work. Working conditions are likely to remain strained and limited until a vaccine is developed. More people may continue to work from home part-time or full time. Some will simply want to avoid too much contact. Digital solutions will continue to be our go-to for the new normal.
IPostal1 has already seen a surge in interest, with a 50 percent rise in new sign-ups in the past two months.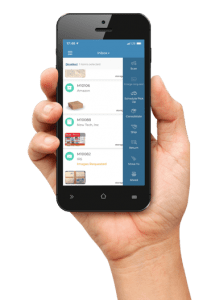 "We expect the pace to continue and for the company to grow faster now than it would have if it had not been for the pandemic," said the CEO. "The first thing that became apparent to workers in March is that they went home and realized that they did not have access to the mail at their offices. We started to get call asking for help. People needed their checks, statements, bills."
Milgram understands only too well how important pivots are in business. In 2007 he founded an international mail forwarding company at a time when global commerce was beginning to burgeon. Manufacturers the world over shipped goods to a warehouse off Route 303 in Valley Cottage. But in 2017, he sold the business.
"We saw the big companies getting into that space," said Milgram. "We knew it would be difficult to compete."
Milgram left with the most important asset in hand: technology. A software designer, the entrepreneur had the technology skills and the vision to innovate a new industry. "It took two years to repurpose our software and repackage our concept in a whole new way," he said. Now iPostal1 has eight full-time programmers, consultants and marketing teams worldwide.
IPostal1's proprietary software gives mail or business centers the option of offering its clients a digital mailbox service, optional phone and fax number, and remote mail and package management. It is perceived as a value add-on for co-working companies that split the revenue with ipostal1.
Milgram touts the services at a better alternative than a P.O box, particularly for home-based businesses. A business can use an ipostal1 address to register a business, which is not an option with a United State P.O. box.
The company is also targeting travelers, ex-pats, RV'ers, and vacationers who want virtual control of their mail and packages. Digital mail also solves the pesky problem of porch pirates who snatch packages when people are not at home.
Any new technology takes a leap of faith. Long ago, we had to adapt to using the Internet, handing off credit cards, revealing personal data on web portals. It took time to evolve and trust the system. The same may be said about feeling comfortable that the contents of our mail will be secure and protected by digital mailboxes but as early adapter spread the word, iPostal1 will likely grow exponentially and become a valuable tool in navigating a world where we are more open to embracing digital solutions.