Broadcasting Love In A Big Way On The Lawn Has Made Two Entrepreneurs Very Busy
By Tina Traster
The coronavirus pandemic put the kibosh on gatherings and group events, making it difficult to celebrate special occasions. But the economic bust for party planners, event spaces, and tent rentals has inadvertently been a boom for CB Yardgrams, a small business run by two West Nyack entrepreneurs who've dramatically stepped up production due to high demand.
Yardgrams makes signs. Well, not really signs but muscular displays of love in the shape of large lawn letters splashed curbside for all the world to see. They shout out birthdays, anniversaries, graduations. One client even had a sign asking his betrothed to marry him. Hopefully she said yes.
Pamela O'Leary and Denise Karamitsos – working moms with a full plate – launched Yardgrams three years ago after O'Leary surprised her 13-year-old daughter with a giant lawn broadcast. "It was middle school, a rough time," said O'Leary. "I wanted to do something special for her birthday."
O'Leary said the idea came to her while she was in Texas – a place where out-sized is a cultural flex. "I had never seen anything like that around here," she added.
One sign led to another, mostly for kids' birthdays, often erected as a surprise. The displays typically span 24 inches high by 19-feet wide, costing between $100 and $150. The colorful letters, made with corrugated plastic, are fixed to wires, and the displays are custom decorated with symbols that personify the celebrant.
The signs advertise themselves, so CB Yardgrams grew organically. Neighbors would see the sign and call the company saying 'I've got to do that for my kid too.' Eventually, customers were ordering displays for graduations, anniversaries, promotions. Squeezing orders in and around full-time jobs – O'Leary is a teacher, Karamitsos works in finance – the hands-on pair were making the displays, setting them up at night on lawns, and returning the following day to fold down the sign and pick them up. All from their home-based basements and garages. The two were humming along, erecting about two signs a day.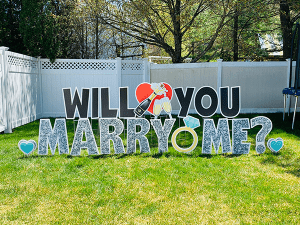 Then we were put on lockdown and people we're scrambling to show love in fresh ways. Signs hailing front-line workers popped up everywhere. People have draped banners and put up home-made signs throughout the county, cheering people on to remain tough and strong. Humans have a natural desire to communicate – we've done so since we lived in caves. CB Yardgrams just does it bigger, which perhaps explains the deluge of demand the company has grappled with.
"Now we're delivering 10 signs a day," said O'Leary. "We're doing everything we can to meet demand. "Our husbands have come on board. We're just trying to get through every day."
In May, overwhelmed with orders, they posted a message on their Facebook page saying "We are not able to respond to any new bookings or inquiries at this point." The pair said they couldn't field the number of calls and emails and messengers posts that were coming in for signs. But they got busy, scrambling for supplies, revamping a website to take orders (they previously relied on Facebook) and contemplating what it might look like to take the company to the next level with new hires.
For now, the duo are swept up in the spirit of spreading joy at a time when we've been so compromised and have experienced profound sadness. Drive by someone's lawn with a Yardgram, and try not to smile. I dare you.