New Jersey Shaking Crab Franchisee Opens Second Location On Route 59
By Tina Traster
It's a judgement-free zone. A way to let go and have fun. A place where cell phones have no place.
Sounds like an ashram, no? Uh, no. This is Kevin Duong talking about the concept of Shaking Crab, the Cajun-Asian New England Fusion chain he and his partner are opening in Rockland County in the spring. The quick-growing chain, which will site its first Hudson Valley location on Route 59 in Nanuet, is all about the messy, hands-on experience of eating boiled seafood from plastic bags that are brought to the table. Patrons are given bibs and plastic gloves to share a feast of hot crabs, shrimps, lobsters, and sides of potatoes, sweet potato fried, and corn that are spilled out on the table.
You'd have to be crazy to reach for your cell – which is the point.
"We want people to get back into the experience of sharing a meal," said Duong. "The food is the experience. You have to dig in with your hands."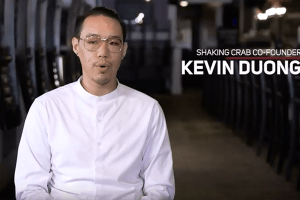 Back in 2015, Duong and his silent partner, opened their first Shaking Crab in Newton Massachusetts. The pair were interested in the concept of fish or seafood boils, which steal from Cajun and coastal cuisines. The tradition of the Cajun seafood boil has roots with the Acadians, French settlers who emigrated to Canada's Maritime provinces in the early 1600s. Living off the land and sea was their way of life, and that included making hearty one-pot meals with local lobsters, clams, salmon, cod, and other North Atlantic fish.
These feasts vary depending on the location and what's in season but usually involve making large, simmering pots of shrimp, crab, or crawfish mixed with sliced cobs of corn, new potatoes, and andouille sausage, all slow-cooked in a spicy broth known as "the boil". The cooking is done on high-powered propane burners with 20- to 40-gallon pots. The key to properly seasoned seafood is the soak time, which may range from 15 minutes for shrimp, to 30 minutes for crawfish, to an hour for crabs.
The cooked ingredients are then strewn across a table covered with butcher paper or newspaper, with bowls to toss the shells. Other than mallets to crack the crab shells, this a feast to enjoy with your hands, followed by licking your fingers clean.
"A seafood boil feels like summer at the beach," said Duong. The act of sharing food and hot dripping juices and hitting mallets creates an intimate experience that allows people to lose their inhibitions and relive the pleasurable abandon of childhood where the rules of etiquette don't necessarily apply. Like breaking open the Crayola box when you're an adult.
Shaking Crab is set to open in spring, initially serving dinner only. Shaking Crab is a chain with five locations in the greater Boston area, three in New York City. However, the company franchised its first restaurant in 2017 in Clifton, N.J., and the Clifton franchisee will be the operator of the Rockland location.
Duong said Shaking Crab is in the process of opening restaurants — some part of the chain, other franchises,  in New Hampshire, Rhode Island, Philadelphia, and in Hell's Kitchen.
"We hope to open 10 to 15 more stores in 2020," Duong said.