Rockland Markets, Restaurants Serving Aqua-cultured Steelhead Trout
By Tina Traster
If you're having dinner at 8 North Broadway in Nyack or perusing the fish counter at Fairway in Nanuet, you might consider the Rainbow Trout. While choosing it, you may understandably daydream a burly guy in waders waiting patiently for the trout to bite in the Little Beaverkill River in Sullivan County, NY.
It's an all-American, idyllic image but the fish you'll be eating has in fact been grown on 120 acres in a 160,000-square-foot indoor aquaculture facility on a land-locked farm in Hudson New York where steelhead trout is produced.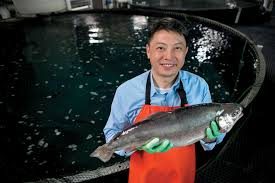 Hudson Valley Fisheries is John Ng's brainchild – the Hudson Valley's only fish farm that produces nearly 50,000 pounds weekly of nutrient-rich steelhead grown in 10-foot-deep tanks, swimming against an artificial tide of 59-degree Fahrenheit water.
Ng has built upon a family fortune in the recycling business to open an innovative aquaculture business two hours north of Rockland County in Hudson, New York. Ng's father came to the U.S. in 1979 with $500 in his pocket and an appetite for the American dream. "Like a good Asian son," Ng says, "I was supposed to be a doctor. But life has a way of derailing you."
Blame it on the sushi. An avowed fish lover, Ng got wind of aquaculture during a sushi meal with a friend. One thing lead to another and five years ago, Ng's family invested in the large warehouse. Funded by family money, Ng's been able to transform the building into North America's largest land-based commercial-scale steelhead farm that uses a recirculating aquaculture system (RAS) technology and eco-sensitive practices to produce antioxidant-rich steelhead.
The worldwide seafood industry is often blamed for unsustainable food production. A 2016 report from the Food and Agriculture Organization of the United Nations found one-third of wild fisheries are overfished and 58% are fully fished. Fish farms have been found to cause a host of environmental damages, including polluting natural waters with industrial waste and antibiotics and allowing fish to escape and disrupt ecosystems.
At full capacity, Hudson Valley Fisheries would produce more than 2 million pounds of steelhead annually. Yet a large aquaculture operation like this has a limited footprint on the natural environment: RAS facilities are land-locked and bio-secure, closed off from the ecosystem as much as possible. Besides the steelhead harvested for consumption, Hudson Valley Fisheries' main output is extracted solid waste, which is composted in greenhouses behind the facility, planning for future vegetable production.
A member of the Salmonidae family, Hudson Valley Fisheries' steelhead grows from U.S.-sourced eggs into full-side 6.5-lbs in 16 months. The operation, a Startup New York company, serves New York City and Boston wholesale markets.
"This is the freshest steelhead available in the industry."
Hudson Valley Fisheries also serves the Culinary Institute of America, as both a vendor and teaching aquaculture to students. Cornell Cooperative Extension, SUNY Cobleskill and Columbia County Community College also use Hudson Valley Fisheries' onsite classes.
8 North Broadway's Chef Constantine Kalandranis, who also owns 273 Kitchen in Harrison, says New York steelhead's characters of natural oil and firm flesh are used in raw tartars, cured gravlax, taramasalita and a host of grilled and pan-roasted preparations. "I feel great about working with a protein that has been on the endangered wild list and is now available from the Hudson Valley."
Ng, whose first harvestable crop was available in 2018, says he expects the company to be profitable within a year. He is planning a hemp farm on his vast acreage. Ng may not have become a doctor but he's certainly inherited his father's desire to innovate.
"This is the freshest steelhead available in the industry," said Keith Moore, director of Meat & Seafood at Fairway Market.