Co-Working Is Taking Off In Rockland
By Tina Traster
Office vacancy rates in the lower Hudson Valley and Bergen County are hovering above 21% but Office Evolution, a work-share space in Pearl River's #1 Blue Hill Plaza, is doubling its capacity this fall. The office-sharing franchise, which opened last June, is riding a rising tide in the way professionals seek a place to work. Rather than being locked into long-term leases or isolated behind the doors of a lonely suite, professionals and entrepreneurs are choosing to partake in an office culture that is flexible, social, and networking-friendly.
For now, Office Evolution and Regus in Suffern, are the two principal office-sharing concepts in the county but it won't be long before additional, and more diverse co-working entities begin to pop up. Developers, for one, are eyeing co-working as alternatives to building straightforward office space because the way we work is changing. Millennials, in particular, are more likely to be part of the "gig" economy, meaning they piece their income together through a variety of enterprises. They may need space to hold a meeting or a quiet place to work when they are not plugged in at Starbucks. Entrepreneurs are seeking spaces that don't tie them down with long leases or add-on costs. Today's economy requires business owners to be agile and responsive to change.
"There are a lot of people out there, and more every day, who are not working in a traditional job structure."
What Office Evolution has figured out in less than a year is that there is demand for even smaller spaces than the ones they're offering now. When the company takes over an additional 7,000-square-feet of space this October, it will create offices smaller than 60 square feet that will rent for $600 monthly. Right now, the company's smallest space, is nearly 70 square feet and rents for $679 a month.
The new space, like the existing offices, will be located on the ground floor of #1 Blue Hill Plaza, but will not be contiguous.
Franchisee Joy Wezner says the current space is at 80% capacity.
Nineteen of Office Evolution's 24 offices are leased to 16 companies — mostly professionals including attorneys, financial planners, CPAs. There is also a car service, cleaning company, and handy man/construction business. Two offices are used for hourly rentals on a daily basis. Some business owners are "virtual clients" who sign up to utilize phone and mailing services, or to have a physical address in the county.
Co-working spaces are more affordable than traditional working spaces like offices and corporate headquarters when you factor in costs associated with long-term leases, furnishing, WiFi, electricity, water, A/V gear, printer, office supplies, and others. Most co-working spaces have at least one receptionist or office manager.
"There are a lot of people out there, and more every day, who are not working in a traditional job structure, said Wezner. "This is a growing business model."
A 2018 Global co-working survey found on average that most co-working spaces plan to expand their locations by 70%. Some 27% plan to add more space and desks at the same location, while 8% plan to move to a larger site. At least 37% intend to open another location.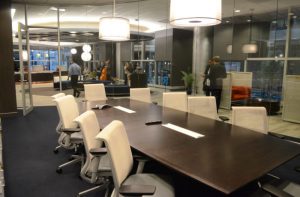 WeWork, one of the biggest co-working spaces in the United States, opened in 2008 and has since grown from one set of rented desks to a global chain of 221 offices valued at more than $20 billion. WeWork is largely an urban co-working model while Office Evolution, Regus, and Serendipity Labs have locations in suburban towns, including Westchester and Bergen counties. Regus has an office in Suffern.
Serendipity Labs was founded in 2011, a year after the launch of WeWork. In 2017, the company secured $11.3 million from investors for 125 locations. Serendipity Labs offers workplace memberships that include full-time and part-time co-working, private offices, workstations, and team rooms.
Wezner opened Rockland County's first Office Evolution, which has 62 franchises across 25 states and 18 more in various stages of development.  Wezner, who has the Rockland/New Jersey territory, is contemplating a second location in Montclair, which is undergoing a building boom.