Co-sharing Office Space Comes To Rockland's Blue Hill Plaza
By Tina Traster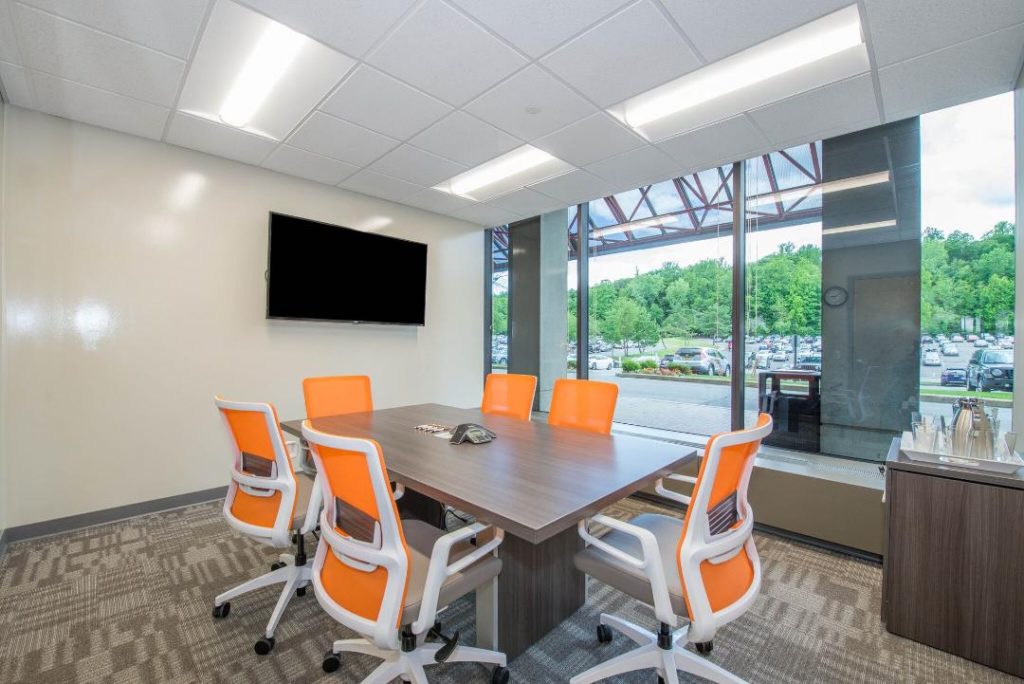 The way we work is changing. More than one in three U.S. workers does some form of freelance work, earning more than $1 trillion annually, according to the Freelancer's Union. By 2027, it will rise to more than half of all workers.
Independent business people are fueling the success of shared or "coworking" spaces. Coworking spaces are essentially for-rent office spaces, available for individuals or small companies to use as they would any other office. In exchange for a membership fee, the worker gets access to an infrastructure, workspace, colleagues and a coffee maker.
WeWork, one of the biggest coworking spaces in the United States, opened in 2008 and has since grown from one set of rented desks to a global chain of 221 offices valued at more than $20 billion. The company has more than 200,000 members, a number that the company expects to double to 400,000 by the end of 2018.
Other co-sharing companies are gaining ground in the market sector.
"Working alone is lonely," said Hemmeter.
In June, owner Joy Wezner opened Rockland County's first Office Evolution, which has 60 franchises across 25 states. It is located on the main level of 1 Blue Hill Plaza in Pearl River. The 7,000-square-foot-facility, with 26 private offices, is 45% leased. Two offices are set aside for daily use. The per-hour fee to rent an office is $35. Monthly leases range from $729 to $2000. Dedicated desks in open areas cost $350 per month. Office Evolution offers private offices, team space, virtual offices, drop-in spaces. There are monthly and long-term leases.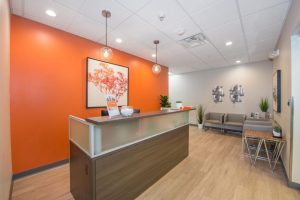 Office Evolution's main competition in Rockland County is Regus in Woodcliff Lake, NJ.
Office Evolution provides a welcome front-desk staff, professional phone answering, digital mail, printing, scanning, and faxing. Clients have 24/7 access to the premises. The latest, and most alluring add-on, is access to health insurance through TriNet. Blue Hill Plaza has a security desk, childcare facility, a café, post office, hairdresser, oil changes, and bus service.
Presently, 99% of office space nationally is traditional, meaning it's leased to one client," said Mark Hemmeter, Office Evolution Founder and CEO. "Over the next two decades, we are going to see a shift to co-working space
Co-working provides self-employed people, or those working remotely for companies, access to infrastructure and social capital. Studies show those who are co-working report a rise in income as well as better mental and physical spirits.
"Working alone is lonely," said Hemmeter.
Coworking spaces are making freelancing a more viable business model and have helped enable the rise of the so-called "digital nomad." Creating an inexpensive office has changed the model for startups, particularly digital entrepreneurs who don't need manufacturing space or retail shelves. "Co-working is the future," said Wezner. "The Internet has changed the way we work."
Startups are a natural candidate for shared office space. Leasing temporary offices of a coworking facility keeps overhead low while giving entrepreneurs the flexibility to expand at their own pace. Instead of looking for a new lease every time their workforce grows or contracts, they can simply change their monthly membership.
Office Evolution sites its franchises in suburban location, particularly where there is a large concentration of home-based businesses. There are more than 31,000 home-based businesses in Rockland County.
"We look at a one-mile-square area for the right target market," said Hemmeter. "Our demographics are 35 and older, married, suburban, who owns a business."
Small businesses make up 47% of coworking tenants. Wezner says tenants include attorneys, accountants, insurance agents, mortgage brokers, financial planners, coaches, and other entrepreneurs.
An Office Evolution franchise fee is $39,500 but it costs between $400,000 to $500,000 for the buildout. Franchisees pay royalties of 7.5% on revenue.
Office Evolution franchisees are awarded a territory for a five-mile radius. Hemmeter says a second Rockland County franchise is being considered for Spring Valley. If a franchisee doesn't open a second location every 12 months they lose the territory. Wezner's territory includes Northern New Jersey."We plan on adding 50 locations a year," said Hemmeter. "We will have 300 locations by 2023."
RATES
Day Office Rates for members: $20 per hour, nonmembers: $40. (Can be billed in 15-minute increments)
Conference Room (8 person) $30 member/$60 nonmember
Conference Room (6 person) $25 member/$50 nonmember
Private Offices (can be month-to month or longer term agreement) start at $729/month
Dedicated Desk $349/month
Office Evolution, 1 Blue Hill Plaza, Pearl River. (845) 474-8272