Company With Recent History Of Buying and Improving Boutique Hotels Bid $18.5 Million For The Time Hotel
By Tina Traster
Juniper Time LLC, a company affiliated with IMH Financial Corporation, successfully bid $18.5 at auction last week to buy The Time Hotel of Nyack.
So who is IMH?
The privately-held Scottsdale, Arizona-based real estate investment and finance company focuses on investments in commercial, hospitality, industrial and residential real estate and mortgages secured by such assets.
"The Company intends to continue to expand its hospitality footprint through the acquisition or management of other luxury boutique hotels."
The company suffered a big blow during the mortgage crisis, but since 2008 has been trying to reinvent itself from a mortgage lender to a hospitality property investor. The company has sustained itself through the sale of the collateral on defaulted loans, sale of investment properties, and new private offerings.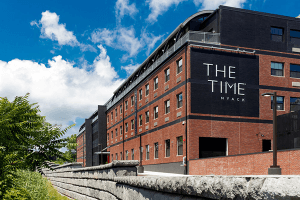 In its third quarter 2018 investment statement (10Q), the company wrote: "The Company intends to continue to expand its hospitality footprint through the acquisition or management of other luxury boutique hotels. We believe that our well-established hospitality management team can replicate the success we achieved at our Sedona hotels through the strategic expansion of our hospitality business model."
According to that same filing, nearly 75% of the company's $8 million in operating revenue is generated from its hospitality and entertainment operations. Related expenses exceeded $9 million, while the company showed an operating loss of nearly $3.5 million in that sector.
It is unclear as to whether IMH, if it ultimately acquires The Time Hotel, will rebrand the Nyack property and operate a boutique hotel. Or whether the hotel will be re-sold.
IMH has a proven track record of operating unique, luxury properties in Sedona, Arizona.
On March 29, 2013, IMH Financial Corporation, bought both L'Auberge de Sedona and the Orchards Inn, 28 residential lots in a 38-lot scenic canyon subdivision abutting the National Forest, as well as other related assets.
The luxurious 88-room L'Auberge and the adjacent 70-room Orchards Inn are situated in Uptown Sedona. The properties include 158 guestrooms, two restaurants and 5,000 sq. ft. of meeting space. Since 2015, more than $14 million has been invested into the properties, focusing on the guestrooms and refreshing the two restaurants.
L'Auberge has earned an award-winning reputation and has collected multiple industry accolades over the years, regularly achieving an elevated ranking in the hospitality sector's elite.
In February 2017, IMH sold L'Auberge de Sedona, Orchards Inn Sedona and 89 Agave Cantina to an affiliate of Diamond Rock Hospitality Company for $97 million.
Eight months later, in October 2017, IMH bought MacArthur Place Hotel and Spa in Sedona for $36 million. The 150-year-old Victorian had 64 rooms, a spa, and a western-themed steakhouse, Saddles.
Lawrence Bain, chairman and CEO of IMH, had said at the time of the purchase, "The historical significance and provenance of MacArthur Place are precisely the attributes we seek when acquiring a boutique property and we look forward to investing our future efforts into building on what [the owner] has created, bringing the hotel to a five-star level experience as we have done in Sedona."
IMH is transforming the hotel with a major renovation set to cost nearly $20 million. Celebrity chef and Food Network star Geoffrey Zakarian has partnered with Sonoma's historic MacArthur Place Hotel & Spa.
Beyond its total culinary overhaul, MacArthur Place is undergoing renovations that include the rooms, landscaping, barn, event center and other public spaces. Once that stage is complete, the spa, fitness area and pool will also be transformed.
The Time Hotel was forced into bankruptcy last July. The hotel group is $45 million in debt, including a nearly $19 million loan from Bank Hapoalim, a $10 million loan partially secured by a mortgage against the hotel, and more than $362,000 in property taxes. Additionally, unsecured creditors claim the hotel owes them for breach of contract and unpaid services.
The $18.5 million Juniper Times bid for The Time Hotel satisfies the first mortgage on the hotel but does not cover creditors' claims.
Howard Dean, one of the original developers of the hotel's group EMC Hotels and Resorts LLC said the group of investors and builders who founded the hotel, intend to submit a reorganization proposal by March 25.
The fate of the hotel won't be settled until a court hearing before United States Bankruptcy Judge Robert D. Drain on March 25th in White Plains.