Java Love Is Considering A Location Near New Jersey Transit And The Sheldon
By Tina Traster
A Montclair, New Jersey coffee roaster with a Sullivan County outpost, is considering opening a location in Suffern.
Java Love Coffee Roasting Company, which is due to appear before the Suffern town planning board Wednesday night, is considering leasing the former Capital One Bank building at 50 Lafayette Avenue. But first, the coffee roaster needs a change-of-use permit and site plan approval.
The roaster's location in the heart of Suffern is close to the NJ Transit train station and steps from The Sheldon, a 91-unit rental apartment building with upscale amenities targeted to millennials due to open in March. Millennials make up the largest group of coffee drinkers, consuming 44% of coffee in the US.
Java Love is asking for a change of use from a bank to a coffee/retail shop. The planning board is awaiting the village building inspector's assessment on the change of use request. Town Village Attorney Rob Magrino said he does not expect the applicant will need any variances but the issue will be vetted at Wednesday's planning board meeting.
Suffern Village Mayor Ed Markunas  is optimistic the application will be approved. "We want it here," said Markunas. "It will be a great asset."
Java Love first opened in 2011 in the historic Beekman Mill in Kaunenoga Lake, a mile from the location of the 1969 Woodstock Festival. It was founded by two Montclair residents, Jodie Thorz Dawson, and Kristine Petrik. The partners later expanded their business to Montclair, opening locations on Bellevue Avenue and Church Street. Java Love is a neighborhood staple – serving everyone from soccer dads to business folks to commuters.
Roasters are popping up nationally, often moving into older industrial buildings.
Java Love's beans are locally roasted in small batches and their commitment to using fresh, organic ingredients from coffee to food adds to their cache. Java Love works with local, organic farms to use fresh ingredients for pastries, cookies and vegan bars.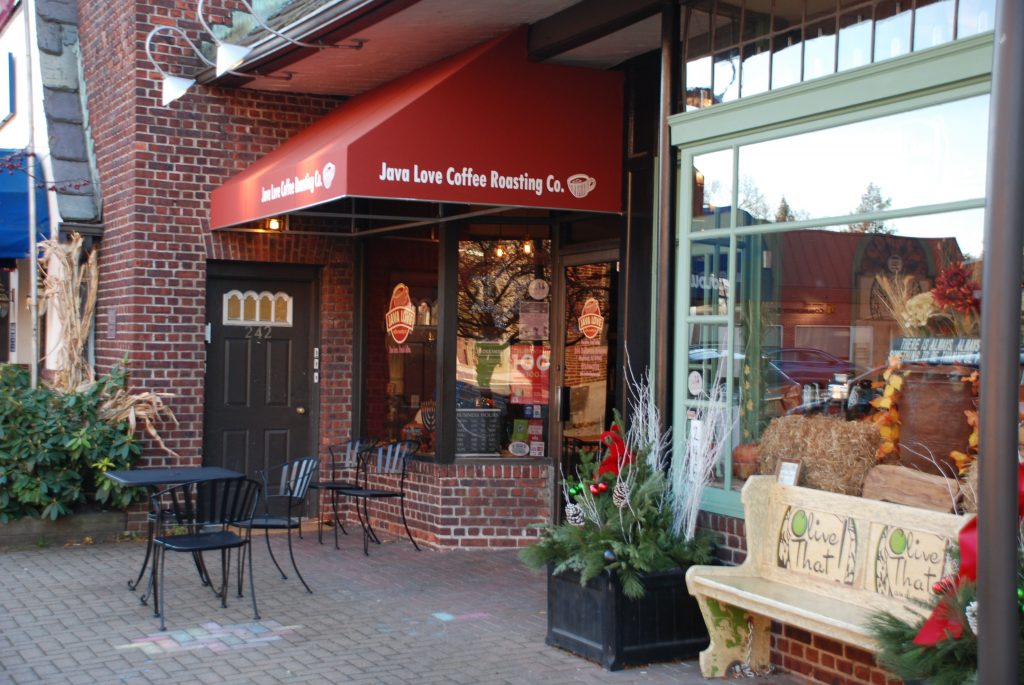 Restaurants and stores in New Jersey and the Hudson Valley wholesale the roaster's beans.
Roasters are popping up nationally, often moving into older industrial buildings. Java Love's choice to potentially lease the 2,300-square-foot bank building with drive-thru is a good example of adaptive reuse. Bank buildings everywhere are being vacated due to a shrinking need for retail banking, which is being replaced by automation and online banking.
Consumers seek out coffee roasters for the fresh, flavorful, and aromatic coffee, which the roasting process provides to the coffee bean.  The vast majority of coffee is roasted commercially on a large scale, but small-scale commercial roasting has grown significantly with the trend toward single-origin coffees served at specialty shops.
Another Rockland roaster is Stack Street Coffee, named for the smoke tower at the center. Stack Street Coffee's owner Yehuda Reich has leased 16,000 square feet for production, warehouse and offices at the Garner Historic District. For now, Reich is focused on wholesale but he intends to open a café and offer tours of the plant and the roasting process.