Jake Rosenberg is a New Rainmaker in the Networking Realm
By Tina Traster
Jake Rosenberg, an Internet wunderkind who left school after 10th grade, believes the "greatest human crisis is untapped potential." That is the adage he promotes to those who engage his digital marketing agency, hire him for professional coaching business, come to his networking events, and listen to his podcast, The Power Entrepreneur.
Clearly he lives by the same motto.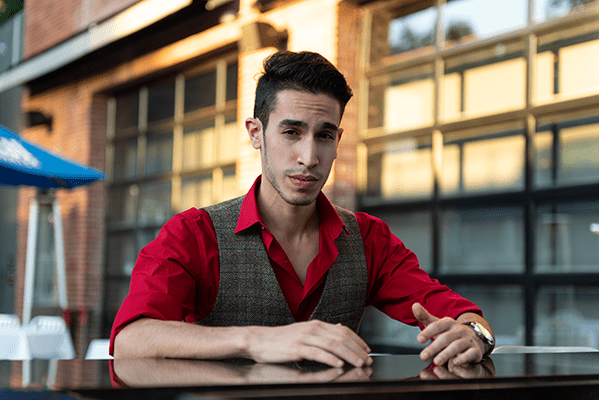 Rosenberg juggles an impressive raft of business offerings. He is Chief Excitement Officer at The J Design Company, a Suffern-based digital marketing agency he founded in 2012. The company is an outgrowth of his early teen years when he wanted to know everything about how the Internet worked. While other kids were playing sports, Rosenberg was designing websites.
His hobby gained attention when he founded a "severe storm watch website" that caught like wildfire, including coverage on Hurricane Sandy. Knowing he had a knack for driving traffic to websites, he set out to do that for others with the J Design Company, which he runs from his home. His services include marketing and digital brand management, social media marketing, and website design and development.
"We are a nonprofit that helps cancer families make ends meet," said Michael Pariser, president of the LSC Fund. "Jake designed our website but he did so with a design that encapsulates the essence of our mission. Anyone can design a website but because he understood the spirit of our organization he created something that is simple but profound."
Eager to spread his wings, Rosenberg has moved into professional coaching and he organizes motivational career forums. This year, he and his colleague Jacob Busani founded The Power Entrepreneur, which puts on monthly networking events. The network is open to anyone. Entry to networking events, which have been held to date at Keller Williams in New City and Marquis Home Care in Spring Valley, costs between $10 and $20. Rosenberg believes networking events are the lifeblood for business people, especially when there is an opportunity to learn from notable speaker with proven track records. He wants these forums to be open and accessible to everyone. This is not a club with members or membership fees. Guest speakers have included a top sales trainer David Stern, and the certified coach and trainer John Maxwell, author of "Are You For Real?"
"We're seeing crowds of 20 to 50 people," says Rosenberg, who reaps no profit from this endeavor.
"I'm a small business owner and I find it so difficult to focus," said Ari Abramowitz, president of Nevut, a nonprofit that helps soldiers transition to civilian life. "Because of the Power Entrepreneur seminars I've attended, I've learned to focus on programs and development. This has improved cash flow in a short period of time."

The Power Entrepreneur podcast guests who've appeared on his 20 to 45-minute co-hosted podcast include Canadian Influencer Evan Carmichael, business coach Maurice Stein, software developer Ephraim Arnstein of BitBean,, and international public speaking coach Eli Blatt. Rosenberg has not monetized the podcast, which streams on Apple, Google, Spotify, Anchor, and other platforms but he says you can't put a price on having a voice of authority. It's a platform builder that works to raise his profile.
Like many millennial entrepreneurs, Rosenberg's career-building path is a combination of capitalism and karma. He learned at an early age to trust his instincts. Though he grew up in a religious Jewish home, he was exposed to the notion that one goes to school, to college and then retires. "Dropping out of school does seem radical but I never felt the school system did me any justice," he said. "I taught myself a lot of things. I still do. I align myself with others who've achieved success. That's a great way to learn.