Westchester's Wallauers Takes Over Modern Paint In Nanuet
By Tina Traster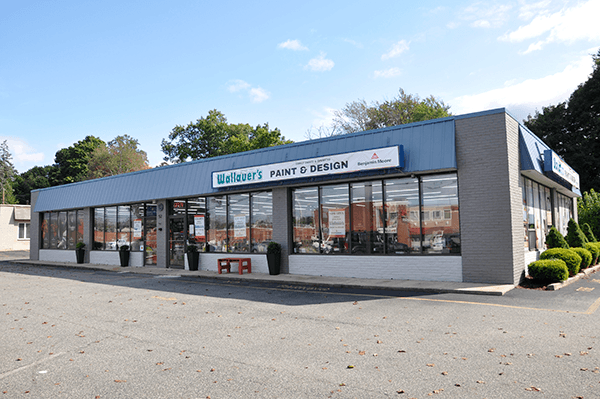 Anyone who's been around a while, especially contractors, remembers Paley Paint. Even when the store was sold to Modern Paint in 2013, people still thought of the Paley name. Now, another giant in the paint industry has opened at 52 College Road in Nanuet, and it's betting on its reputation for personal service to make its mark in Rockland.
Wallauer Paint & Design, a 98-year-old, fourth-generation family business founded in New Rochelle, now counts 17 stores: 14 in Westchester, 2 in Putnam, and its first in Rockland. All 17 locations are full service Benjamin Moore paint stores, providing contractors and consumers with a full line of products, sundries and paint equipment and repair services. They also offer job site deliveries and expert color consultations.
The company recently purchased six of Modern Paint's eight stores, noting that it was a strategic move because Modern Paint was an outlet for Benjamin Moore paint. "This was a strategic opportunity for us, not only to own a greater share of the Westchester market, but to jump across the river," said Ed Klein, Wallauer's Chief Operating Officer. The company bought Modern Paints assets, including inventory and receivables.
"There are not that many brands that have the discipline to sell its product through purely independent channels."
In 2013, Benjamin Moore, a Berkshire Hathaway company owned by Warren Buffet, closed its own corporate stores. Only about 6,000 family-owned stores nationwide carry the brand. Klein, who once worked for Benjamin Moore, says Benjamin Moore does not sell through big boxes or chains. "There are not that many brands that have the discipline to sell its product through purely independent channels." Both Beckerle and Ace Hardware in Spring Valley carry the brand.
Benjamin Moore paint, Klein added, sells at a 10% premium compared to other brands but painters like it because of its superior quality and two coats or less are generally needed.

Klein is confident that Wallauer's buying power, large distribution network, and its outside sales force will help the Rockland store take off.  "We have four outside reps focused on contractors, including a new hire, Alex Sirena, to service painting contractors in Rockland."
Wallauer, headquartered in White Plains, is also poised to capture more than just the paint market. The business sells Hunter Douglas window fashions, decorative hardware, designer wallpaper, fabrics, and offers design services.
The new store has been given a facelift and remerchandised from "top to bottom," Klein said. "We have tripled the paint and design inventory, eliminated the hardware department, and hired a designer.
"Our point of differentiation is our knowledgeable people and the combination of being a full-service paint, decor and hardware destination," says Wallauer president Bob Duncan Jr. While the Duncans are proud that Wallauer's is family owned, Donna Duncan, great granddaughter of the founder, says she has no illusions about what that means. "I'm not sure being family owned really matters to the customers but being in business for almost 100 years should mean something to them."
Klein says many Wallauer employees have been with the company for decades. He stresses the collective knowledge and expertise is unmatched in the age of big boxes, where service is not a top priority. Bottom line is that Rockland County has been an underserved market. "People are spending money on their homes," he said. "A paint job is the cheapest way to improve your homes. This is the perfect time to be in the county."