VCAH Offers a Soothing Alternative to Medical Care
By Tina Traster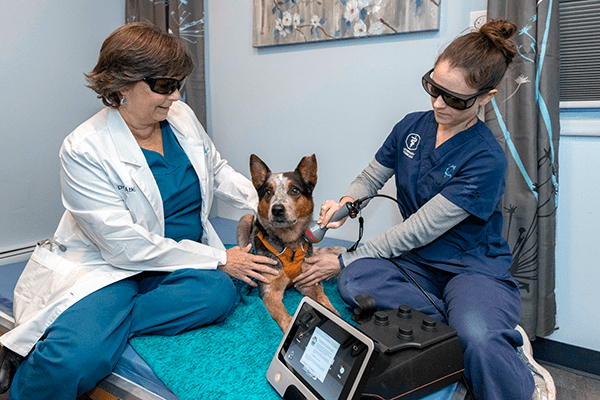 Valley Cottage Animal Hospital completed a recent expansion this past summer but they've done more than add space. In a departure from the frenetic, stressful hospital environment, Harmony Pet Wellness Center is a spa-like environment that is far less taxing on both the furry patients and the pet parents who bring them for medical treatment.
Veterinarian Diane Tortorice, one of four VCAH partners, tore a page from human wellness centers popping up nationwide that are physically and operationally designed to soothe nerves. Everything from paint colors, textures, fabrics, music and aromas are used to promote a feeling of calm.
At Harmony Center, salt lamps create a soft ambiance, music is curated for different spaces, the walls are lined with glass mosaic tiles, the wood-and-granite reception desk evokes the feeling of a hotel. There's a comfort station with coffee and bottled water. A cat exam begins with a spritz of a feline-friendly hormone blend, which calms stressed cats by replicating the hormone they emit from their chins when they rub against you. Both dogs and cats are seen here but are kept separate.
Tortorice is not aware of other veterinary hospitals creating zen-like centers but she's extrapolating from the success wellness centers are having. "Harmony Center is an alternative to the hospital, where there are dogs barking, phones ringing, and lots of foot traffic."
Harmony Center is located across the parking lot in a separate 1,800-square-foot space the hospital has rented for five years with a renewable lease from InterCounty Alarm. The center, with three exam rooms, brings the VCAH total to nine. A dental suite is also part of the center. Acupuncture, therapy laser and integrated medicine are on the "menu". In one room, there's a fold-up table that's 12 inches off the floor where pet parents can sit with their animals during an acupuncture treatment.
we asked ourselves whether it makes sense to do the same thing or is this an opportunity to provide something different?"
Apart from x-rays, nearly every procedure can be performed at the center. Appointments are spaced in 30-minute intervals. All the doctors do shifts, and there is a four-to-one ratio of staff-to-patient. It doesn't cost anything additional to use Harmony Center though its hours are more limited than the hospital's. For now, current employees are working in the center.
Creating the center was based on instinct rather than a proven strategy in the veterinarian business.  VCAH partners believe it will be a strategic value-added service. Based on early feedback, the principals sense this will be a home run for them and replicated elsewhere.
With a slower pace and more attention, the partners have considered that the center may not pay for itself in the short-run. However, they do believe the good experience will generate a buzz that will bring new clients to their door. "I believe we will recoup our investment within 18 months," Tortorice added.
A traditional expansion might have been a safe bet but the veterinarian mused "we asked ourselves whether it makes sense to do the same thing or is this an opportunity to provide something different?" They chose the road less traveled. Very zen!
Harmony Center, 200 Route 303, Valley Cottage, NY 10989 | Hours 8 to 4 | (845) 268-9263 | valleycottageanimalhospital.com