The Pie Lady Is Ready for Its Next Act
By Tina Traster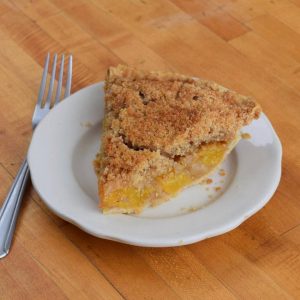 Wil Tyler's business education began in his mother's kitchen. Deborah Tyler, aka "The Pie Lady, not only taught her son to bake, she showed him what entrepreneurial persistence looks like. Those lessons are paying off as Tyler, and his sister Bri Tyler, scale up the beloved Nyack pie institution with a relocation that doubles their space.
The Pie Lady, which had its baking, retailing, and cafe located in a small cluster of buildings on Highland Avenue in Upper Nyack, has already relocated most of its baking operations up the street to 530 North Highland. Its retail cafe is slated to move into 125 Main Street in Tali Plaza in Nyack in early 2019, the site of the former Subway. The expansion will double the company's footprint, and raise their rent by 25%.
Tyler says the business is ready for its next phase and he believes the investment makes sense. On Highland Avenue, the Pie Lady was a destination for pie aficionados from near and far, and a popular Nyack high school student hangout but the Main Street location in the village has greater visibility, exponentially more foot traffic, and parking in the Riverspace parking lot.
"We have confidence in downtown Nyack," said Tyler. "The community connects with what we do. They've nurtured us. They see us as one of their own."
Churning out 500 pies a week, The Pie Lady has grown up organically from home-based business to farmers' markets to a slow retail build-out. In 1995, Deborah sold pies from a bedroom in the Tylers' house that was converted to a professional kitchen. She was doing something right: the media landed at her door, including the New York Times. Sales were brisk at several Hudson Valley farmers' markets. The Pie Lady not only needed a baker – it needed someone to field calls and do the books. Tyler had not been prepared for her success. Burnt out and exhausted, Deborah closed down the business in 2000, and moved upstate. In those intervening years, young Tyler graduated high school and worked in a New Jersey company that designed and manufactured interiors for retail space. But he wanted back in the kitchen and he believed in the reincarnation of The Pie Lady.
"I had to learn how to bake," said Tyler. "I had to convince my mom to come back and help me."

In 2010, The Pie Lady moved into a 350-square-foot space to sell pies. Two years later, the company expanded at the same location with another 700-square-feet. In 2014, they added another 850-square-feet to create a cafe in the same shopping complex but in a separate building.
"It felt meant to be," said Tyler. "I didn't want to leave Nyack. This is the place that gave us our local celebrity."
Tyler learned a thing or two about retail leasing early on. "Most landlords didn't want to hear from us when we were starting out," said Tyler. "We would call around, it was hard to find a broker. We needed a small space; brokers want to work with chains, or more sophisticated businesses."
But karma intervened, and The Pie Lady found its home in a space that had previously been used by its landlord to sell antiques. "It had been vacant for a long time and the antiques business was declining," said Tyler. "She was motivated to rent the space, and we've always been grateful."
Even in its second iteration hunting for retail space, Tyler met with similiar resistance. "We would call and leave messages for all these developments in Rockland and Westchester, and nobody would call us back. The landlords want Starbucks and Panera.
Tyler was inching closer to signing a lease in Westchester when he got a surprise call one day from a broker who said a deal at 125 Main Street had fallen through and the space was available.
"It felt meant to be," said Tyler. "I didn't want to leave Nyack. This is the place that gave us our local celebrity."
At the new location, there will seating for 16. The company will continue to keep its offering focused on its core strengths: pies (based on what's in season), muffins, ice cream, and coffee. Now 34 years old, and in business with his sister, Tyler believes he has the ingredients for success under his belt: Don't try to grow in leaps and bounds. Take a step, and take the time to let it take hold before taking the next step. Bottom line: Grow a business organically.
The Pie Lady, 125 Main Street, Nyack, NY 10960 | (845) 535-3290 | pielady.com