RCBJ-Audible (Listen For Free)
Questions Persist About When Rockland Green CARES & Four Legs Good Cat Rescue/Shelter Consultant Knew About Rabid Kitten and When School, Shelter Workers and Community Were Informed
By Tina Traster
A seemingly innocent gesture by a local cat rescue that sent a tiny kitten to a residential school for emotionally and behaviorally challenged children to be fostered has shown that tighter protocols are needed at Rockland Green CARES after the month-old unvaccinated feral kitten had to be euthanized and was later diagnosed with rabies.
Students and faculty at the Summit School in Upper Nyack are scrambling to understand how Four Legs Good under RG CARES, which runs the former Hi Tor Animal Shelter, sent a compromised kitten with a visible gash on its side to a school to be bottle-fed and fostered by children who would handle and snuggle the feral kitten.
Parents of the school's residents, as well as the community, are confused and upset, wondering how something like this could happen. There is also a question of who knew what and when, because it appears RG CARES and Four Legs Good knew about the rabid kitten several days before informing the students and faculty who'd been exposed and began receiving rabies vaccinations.
"This neo-natal kitten was way too young to be sent to a school to be handled by children or teens."
"I don't know what she was thinking," said a source who has spent years in the cat rescue world, referring to Nixie Gueits, who runs the cat rescue Four Legs Good, and who was hired in September as a consultant to run RG CARES under Rockland Green (former Solid Waste Authority) through the end of December. "This neo-natal kitten was way too young to be sent to a school to be handled by children or teens."
Gueits and other RG CARES employees since late September have been posting desperate calls for fosters on Facebook. Fosters and foster networks are typically vetted for appropriateness by rescue groups or shelters, particularly because bottle-fed kittens need round-the-clock attention and are vulnerable for the first three months of their lives, especially because they are unvaccinated for rabies. On October 25, shelter manager Michael Sanducci wrote on Facebook: "We need some emergency kitten fosters……If you are available please reach out ASAP !"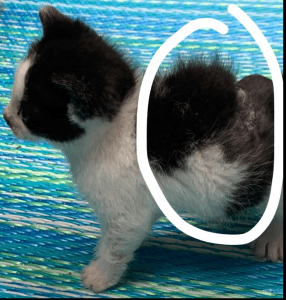 Kittens cannot be vaccinated against rabies until they are 12 weeks old, which means RG CARES and Four Legs Good took a risk by exposing youngsters to the feral kitten.
Add to that, the black-and-white kitten, that arrived at the school without a name, had been at the animal shelter first, which has had a new outbreak of panleukopenia (distemper) and is housing at least 15 cats with ringworm. One Summit School student said the kitten "stumbled around," and in the last few days, was unable to walk. Students recall the school had previously fostered cats but never any as young as a month-old kitten.
Students at the school were aware the kitten was injured as soon as it arrived and took photographs that have been posted on social media.
According to reports, the kitten, along with two others of similar age, arrived at the Summit School wounded and weak in and around October 26. Sometime within the next five to six days, the kitten was brought to Veterinary Emergency Group (VEG) in Nanuet, and euthanized. From there, the cat was sent to the New York Department of Health, where it was confirmed that the kitten was infected with rabies. The Center for Disease Control has also been notified of this exposure, which is said to be the largest exposure incident in New York State because the Summit School has a teacher, staff and student population of more than 150, and RG CARES shelter employees have also been impacted.

It remains unclear when exactly Gueits and the shelter learned about the diagnosis, but texts obtained by RCBJ show Gueits knew there was a problem on Wednesday, Nov. 1st. But it wasn't until Tuesday Nov. 7th that students and faculty began taking the painful inoculations at Good Samaritan Hospital and Nyack Montefiore Hospital.
On Wednesday Nov 1, an interested party who exchanged texts with Gueits on another matter was told by the RG CARES consultant she was "dealing with a kitten that tested positive for rabies." When asked if it was the same kitten that was being fostered at The Summit School, Gueits responded "Yes, that's the kitten. I had no idea it would be exposed to so many." RCBJ has been provided the text exchange for verification.

It is unclear as to whether Summit School management had been informed as soon as Gueits knew but school President Deborah Dolan in a statement to the press said, "Several weeks ago we continued an established partnership with Four Legs Good Animal Shelter and made the decision to foster three of their kittens. The kittens were medically cleared to be fostered."
Dolan would not answer any other specific questions on timing or notification.
On his weekly WRCR radio segment last Thursday, Nov. 9, Howard Phillips, who is Chairman of Rockland Green, and who has been spearheading the takeover of animal management in the county, told listeners new protocols are needed; he ambiguously shifted blame to the veterinarian for the debacle without any specific detail. A week earlier Gueits attended Rockland Green's monthly public meeting where she told Phillips and the Rockland Green board, comprised of every town supervisor and other public officials, everything at the shelter was running smoothly and made no mention of the rabies incident.

Unanswered questions about a lack of protocols, as well as the timeline, raise alarm over safety and judgment; meanwhile students are suffering from the trauma of the kitten's death, as well as the fallout of having to be vaccinated against rabies. Students and faculty last week ailed with arm pain and other side effects after the first of three injections. Many missed classes or work. They will be subjected to three more rounds before being completely inoculated.
The series of shots is the only known way to prevent a rabies infection from taking hold — rabies itself is considered universally fatal once symptoms begin.
The first step in the multi-part rabies treatment includes two drugs: a rabies vaccine and a shot called rabies immunoglobulin. The latter medicine is an antibody made from human donors' blood and essentially prompts the immune system to fight off the rabies virus until the vaccine kicks in. Then, patients receive three more vaccine shots over the course of the next few weeks.
The Centers for Disease Control says that, across the country, a course of rabies immunoglobulin and four doses of vaccine typically ranges in cost from $1,200 to $6,500 per person. According to the Centers for Disease Control, about 55,000 people annually undergo treatment.
Rockland County has declined to comment on what this event might cost the county, though one insider said New York State picks up the tab. RCBJ is still awaiting a response from the New York Department of Health about who absorbs the steep costly mishap — potentially adding up to more than $500,000.
The school fosters animals through its Summit School's Pets for Purpose Animal Care Program. Dolan said, "The Summit School's Pets for Purpose Animal Care Program is a vital and vibrant part of our community that brings undeniable joy, happiness, security and comfort to our students and staff."  But this lapse in judgment has parents upset and reeling, according to at least one student who communicated with RCBJ, and has asked to remain anonymous.
The rash of feral kittens born on the county's streets is a long-term problem that over years and years has worsened because Rockland's officials have been unwilling to put any legislative muscle or relevant funding into wide-ranging Trap Neuter Vaccinate Return (TNVR) programs that reduce feral populations and limit the spread of rabies. The burden has typically fallen to underfunded cat rescue groups and individuals who try their best to intervene but in other towns and cities nationwide, successful TNVR programs involve enabling legislation, organized programs, and adequate government funding.
The number of those who believe they might have been exposed continues to climb, as they count both the school (which has nearly 200 people including faculty and staff), as well as RG CARES' shelter workers, who say they learned about the rabies diagnosis at the same time Summit School began sending its students and staff for vaccinations.

---