RCBJ-Audible (Listen For Free)
Developer Gabe Alexander Still Needs To Negotiate A PILOT Agreement With Town And School District
REAL ESTATE NEWS
More than four years after plans were originally submitted to the Town of Haverstraw, and almost two years since long-time tenants were evicted, the Oak Tree Lane apartment complex has cleared most of its final hurdles to break ground next year.
With a raft of financial benefits provided by Rockland County's Industrial Development Agency (IDA), developer Gavriel (Gabe) Alexander only has to negotiate the terms of a PILOT (Payment In Lieu Of Taxes) agreement with the town and school district before moving ahead with his plans to build a 228-unit market rate multi-family housing development on the former Oak Tree Bungalow Colony behind the Shoprite on Route 202 in Garnerville.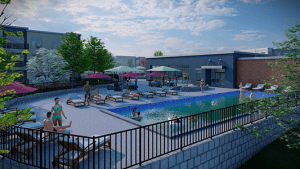 The project, approved by the Town of Haverstraw, will contain a mix of studio, one and two-bedrooms totaling 228 apartments in four buildings and a 10,000 square foot, one-story community center with outdoor pool, gym, multipurpose room, offices, restroom, and display kitchen. A playground and dog park are planned as well as 471 parking spaces. Access will be from Rosman Road.
First proposed in 2019, the town attempted to rezone the property from RG and R-15 to OT-18 —  a move the County Planning Department declared "illegal spot zoning." Illegal spot zoning is when a town creates a unique zone to benefit a single property owner rather than rezone land as part of a comprehensive plan. Even the zone name – OT for Oak Tree — revealed the intent to spot zone. The RG and R-15  zoning would have allowed six dwelling units per acre.  Instead, the town created LA-17 a new zone for properties exceeding ten acres, which allows 17 units per acre multi-family "luxury" housing. The LA-17 zone does not require any accommodation for affordable units.
The Oak Tree Lane Bungalow Colony, formerly the Birchwood Bungalow Colony, was built by Jack Greenberg of New City and Suffern. In 1965, Greenberg unsuccessfully tried to fight a change of zoning for the parcels where the ShopRite sits today from residential to commercial. In 1965, Greenberg lamented he "would be unable to charge the current $1,250 summer rental if people are going to have to look at trucks from their vacation rental," according to historic newspaper archives.
All the original 55 bungalows and other structures on the site will be demolished.
This marks the second time a developer is taking advantage of the new LA-17 zoning. A portion of the town-owned Letchworth Village was rezoned from R-120 (4-acre single family lots) to LA-17 in anticipation of a sale to New Jersey-based BNE Real Estate, which is proposing to build 300 units of luxury apartments on the 22-acre site.
The Rockland County IDA has approved a financial package to Alexander including a $556,500 mortgage tax exemption and a $3,350,000 sales tax exemption. The developer still needs to negotiate a PILOT agreement with both the town and the local school district.
Alexander is an experienced developer in Rockland County. His firm constructed the Pavion Apartment complex on a former cosmetics factory site in Nyack; he recently purchased the 225-unit Mountainside Apartments in Garnerville, and plans to redevelop Camp Merockdim into senior housing in Clarkstown. He also has extensive warehouse and land holdings in Orangetown.
In its application with the IDA, Alexander said he plans to spend about $70 million to develop the project, including construction, infrastructure, and soft costs.
In an analysis by Beckmann Appraisals in 2020, and based on an estimated assessment of $13.7 million (an average of $60,000 per unit), the increased tax benefit to the school district and town is more than $1 million.
Alexander had commissioned various studies as part of his presentation to the town, including a cost-benefit analysis, economic impact and tax analysis, anticipated water usage. The developer also commissioned a Phase I Archaeological Investigation to look for historic artifacts in the soil as well as studying maps dating back to the early 1800s to determine prior uses and look for archaeological remains, cemetery sites and other abandoned uses at the property.
In the fall of 2021, Alexander sent eviction notices to tenants stating each must leave their bungalows by November 30, 2021, despite New York's then-existing eviction moratorium that ran through January 15, 2022. Alexander offered tenants cash payments, relocation assistance, and credit counseling to help them find housing in Rockland's tight housing market. Most of the tenants, about 50, had already relocated, with 18 still needing assistance in finding new housing. The property is now completely vacant and Oak Tree Lane access fenced off.
---