RCBJ-Audible (Listen For Free)
Skoufis Secures Commitment from Woodbury Common to Pay Full Property Taxes on Retail Expansion
Senator James Skoufis (D-Orange County) has negotiated an agreement with Woodbury Common to forgo a payment in lieu of taxes (PILOT) program from the Orange County IDA; the outlet mall will, instead, pay full property taxes on their proposed retail expansion.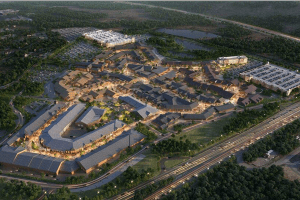 Senator Skoufis' support for the expansion was contingent on this concession, which also includes a requirement to use local construction labor. The project is expected to create 770 new permanent jobs as well as over 1600 construction jobs on-site.
After Woodbury Common initially expressed interest in applying for property tax breaks from the Orange County IDA, Senator Skoufis intervened with the outlet mall's executive team. He also garnered support from Woodbury Town Supervisor Tom Burke and Village Mayor Andrew Giacomazza.
Woodbury Common is on the cusp of a $250 million expansion, though it still needs a raft of approvals. Simon Property Group, the owner, plans to add new retail stores, eateries, a hotel and a second parking garage as part of an ongoing effort to expand the shopping destination that sits near the junction of Routes 6, 17 and the New York State Thruway.
Woodbury Common, just north of Rockland County, is a strong draw for regional shoppers and tourists from New York, New Jersey, and beyond.
"I want to thank Woodbury Common for coming to the table and engaging in a professional, intelligent discussion on incentives," said Skoufis. "For every tax dollar that's generated from this retail expansion, that's one less dollar that has to come from local residents to fund our municipalities and schools, making this agreement a major win for the community. This is what smart economic development looks like."
The Woodbury Common expansion has been in the making for five years. The proposal envisions an additional 155,000 square feet of retail and restaurant space, a parking deck with more than 3,000 spaces, a 200-room hotel, additional storage space for tenant merchants and more walkways, improved crosswalks, enhanced wayfinding, a children's play area and improved landscaping.
---
Former Nevele Resort Sells For $5 Million To New York City-Based Developer Somerset Partners
The former Nevele Resort, an iconic Catskills staple that's long been shuttered, sold for $5 million to 1100 Arrow LLC and developers New York City's Somerset Partners, who plan to raze the one-time Borscht Belt hotel and construct a hotel and 126-unit housing development.
The deal, which closed late last month, completes the purchase from Star Nevele Owner LLC, which bought the two-parcel site totaling 497.5 acres in 2018 for $27.92 million.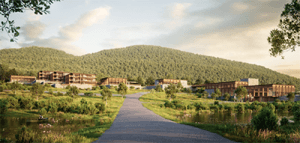 Officials and area residents are cheering the sale and hoping the project will breathe life into the region and create jobs.
Under the plan, developers expect to construct a 68-room main lodge hotel, a 60-room condo hotel, and 10 rooms in ledge cottages. There would also be 46 units of single-family homes, 44 units of townhouses, and 36 units of multi-family village estates.
The Nevele's 10-story building known as the Presidential tower because it hosted President Lyndon Johnson in 1966, will be demolished.
The developers say the former 18-hole golf course will be transformed "into a low maintenance landscape with focused native planting, areas of passive wilderness, (and) selective botanic display and cultivation gardens."
The site was last used in July 2009 as the Nevele Grande, a combination of the former Nevele and Fallsview hotels that had 100 employees when it closed.
---
London-Based InterContinental Hotel Eyes Lodging/Conference Center Concept in Dutchess But Town Residents Have Formed An Opposition Group
Is the go-go hotel boom peppering the Catskills edging east to Dutchess County?
The InterContinental Hotel Group is eyeing the town of Clinton for its luxury brand Sixth Senses, which would be its first U.S. property. But a group of neighbors, who call themselves Stop Six Senses, are already pushing back.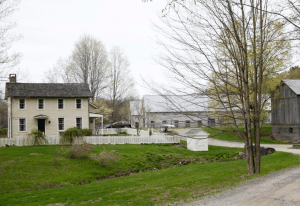 The proposed project would include a 40,000 square-foot spa and a batch of large cabins on 236 acres at 2450 Route 9G. Some 8.2 acres of the proposed project lie in the town of Hyde Park. Local activists opposing the project say it does not conform with the town's comprehensive plan, it's out of scale and character with the rural setting, and would negatively impact local businesses, increase traffic, and add noise pollution. Residents also say the proposed project is an environmental threat to wetlands, vernal pools and biodiversity on the site.
The property, purchased in late 2022, previously had a "low key conference center" called The Dutchess, a 10-room barn and adjoining house. The London-based hospitality company has also acquired five other local properties in Rhinebeck and Hyde Park.
Six Senses said it is building a "conference center." Clinton zoning only permits a "hotel" in the hamlet by special permit, but the property is outside the hamlet. Local activists are hoping zoning – and the definition of what is a conference center – will serve as the town's best weapon in opposing the project.
---