RCBJ-Audible (Listen For Free)
NOTE: This is Ari Rosenblum's second column in a series for RCBJ. Rosenblum, Chief Executive Officer of the Jewish Federation and Foundation of Rockland County, is hoping to create common understanding and foster a sense of shared purpose through the work he does.
Sukkot Is Celebrated With Temporary Shelters That Serve To Bring Family & Community Together
By Ari Rosenblum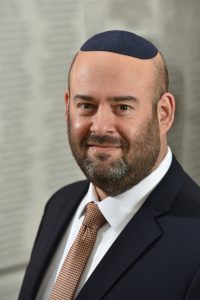 As you drive through many parts of Rockland this month, you'll likely see several hut-like temporary structures, at local homes, places of worship, and even businesses. They may be made of wood, plastic, even canvas, but all are roofed with some kind of branches. They may not be beautiful from the outside, but most are decorated and made comfortable on the inside.
They'll be gone, taken down and put away within two weeks.
What's going on? It's the Jewish festival of Sukkot, and the huts serve as a remembrance for the Jewish community to mark the sojourn of our ancestors in the desert, living in temporary shelters after the biblical exodus from Egypt.
If you have an interest in understanding many of your neighbors in Rockland, there's a bit more context to share.
The 'Sukkah', where many Jews of all denominations sit, eat meals, and even sometimes sleep, symbolizes the fragility of our experience – both as individuals and families, and as a people. When you see a family sit down in their Sukkah, that act is a very real reflection of generations of wandering and exile.
An even deeper consideration yields this thought. Many Jewish communities were so devastated by the Holocaust – still in living memory – that in many cases nine of every 10 Jews in a town or village were murdered. Some communities were entirely wiped out. You might think that memory might be enough to give an understanding of the fragility of life, but Jewish tradition is immersed in active symbolism, like the Sukkah.
Some of those lost communities are represented here in Rockland. Their descendants have spent the last two to three generations striving to get back to a remembered status quo, or to finally grow beyond it.
If you see large families, you'd find most include children named for a lost victim of the Holocaust. (Even with these large families, the world's population of Jews is about 15.5 million, not yet, even after 80 years, at the size it was before WW2)
If you see a growing number of synagogues, schools, and other institutions across the Rockland landscape, some of these are architectural replicas of burnt or destroyed synagogues in Europe.
And if you have an opportunity to encounter the good works of some of the thriving businesses established over the last six or seven decades by Jewish residents of Rockland, you'll understand that making a difference in the broader community is a part of that legacy as well.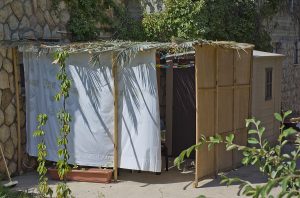 The fragility represented by the Sukkah and demonstrated by recent history is both accepted and challenged by Rockland's Jewish communities. Accepted and remembered in symbol and ritual. Challenged by the imperative to rebuild and grow despite our history.
The Rockland Jewish community is not unique in this respect. Those who are familiar with the Bronx/Yonkers neighborhood of Woodlawn Heights or McLean Avenue might recognize some of the characteristics of a closeknit community with deep ethnic and religious roots, centered around cultural and traditional landmarks, losses, commemorations, and celebrations. Church and school play an integral role in the enduring strength of the neighborhood's Irish community.
St. Barnabas' Parish, founded in 1910, continues to serve the distinct needs of the community, including Irish language instruction, religious tutelage, and social services, helping the needy and the still large numbers of first-generation immigrants in the neighborhood. It might be obvious to point out St Patrick's day celebrations, but many also commemorate the Easter Rising, or St. Brigid's day. And the Woodlawn community often acts collectively not only to build and do good works in the community, but also to advance its interests on zoning and business decisions.
Heritage, memory, loss, solidarity, rebirth,  – these aren't unique to our Jewish community, far from it. The sometimes-fleeting sense of security we all strive for in our different ways is worth holding on to, even as we embrace the symbolism of temporary, fragile shelter.
---