RCBJ-Audible (Listen For Free)
Windham Mountain Planning Huge Expansion To Round Out Seasonal Tourism
Windham Mountain plans to spend between $70 million and $90 million over the next few years to expand the resort and ski mountain into a year-round destination with townhouses, single-family homes and a hotel.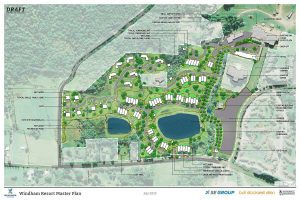 Plans include upgrading the golf course, redeveloping restaurants, as well as adding a mid-mountain restaurant and a Mediterranean restaurant in the lodge, according to Windham. To attract summer visitors, the resort is developing options for swimming, flyfishing, and racket sports.
Greene County, which is also home to Hunter Mountain 10 miles to the south, is part of the Catskills Mountains.
The proposed expansion is subject to permitting processes with the DEC and the New York City Department of Environmental Protection, an agency that owns reservoirs and vast tracts of land in the area.
In April, Windham Mountain announced it had new majority ownership after investments by the Beall family, which founded Ruby Tuesday, and Kemmons Wilson Hospitality Partners, the hospitality arm of Kemmons Wilson Companies, the founding enterprise behind the Holiday Inn hotel chain.
---
Kingstonian Timetable Remains Unclear Due To Ongoing Litigation
Challenges from Kingstonian Project opponents aligned with New York City developer Neil Bender are continuing to work their way through the legal process nearly two years after the first suits were filed. Kingston's Corporation Counsel Barabra Graves-Poller said many of the challenges have been rejected or are repeating arguments, according to the Chronogram.
The city is waiting on a ruling for the Kingstonian's site plan approval. Two Appellate Court arguments are scheduled for Sept. 13 regarding Ulster County Industrial Development Agency's greenlighting of a PILOT for the project and the city's approval of an easement.
Legal counsel for Kingstonian opponents is also perfecting an appeal concerning Kingston's Historic Landmark Preservation Council's negative determination of the project.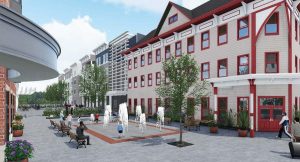 The Kingstonian received site plan approval from the City's Planning Board in October.  The development straddles the Fair Street Extension between North Front Street and Schwenk Drive, utilizing the municipal parking lot property there and the existing Herzog-owned property on the other side. The project would include 143 residential units, a hotel, commercial space, and a parking garage, along with a public plaza built over the top half of Fair Street Extension and a pedestrian bridge crossing to Kingston Plaza.
Kingstonian opponents have continued to file lawsuits against the project. Aside from a June decision that found that the city erred in making code amendments that affected the Kingstonian's approval process, something Graves-Poller said would have little impact under the new zoning code, Graves-Poller mentioned that most of the suit brought against the city and the project have been knocked back in court.
It is unclear when the project will be able to move forward free of legal challenges because of the right to appeal granted to appellants. Appellants have 180 days to perfect an appeal.
---
Open Space Institute Eyeing Preservation of Winston Farm
The Open Space Institute, a conservation organization, is eyeing Winston Farm in Saugerties to add to its vast holdings of public lands in New York State. The Institute is looking to buy roughly three-quarters of Winston Farm — the site of a contentious development project—and turn it into a state park. OSI has offered to buy 600 acres for just under $10 million dollars, according to inside sources.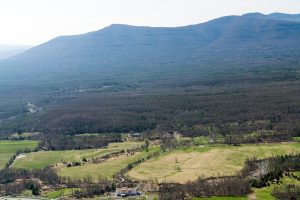 Founded in 1974 in the Hudson Valley, OSI has protected more than 2.3 million acres in the United States and Canada, including over 150,000 acres in New York. This has included adding more than 13,000 acres to Minnewaska State Park and fundraising $3 million for a visitor center opened in 2020, doubling the size of Fahnestock State Park since the 1990s and launching a major improvement plan in 2020, and adding more than 1,200 acres to John Boyd Thacher State Park in Vorheesville.
Winston Farm is owned by Saugerties residents Tony Montano, John Mullen, and Randy Richers. Josh Sommers, a representative for the property's owners, denied that any deal is under consideration, according to Chronogram.
The long-contentious development proposal of Winston Farm, a largely forested 815-acre parcel, just off exit 20 from the Thruway, hosted the Woodstock '94 concert. Montano, Mullen, and Richers purchased the land for about $4 million in 2020. At the time, Mullen said they did not have significant plans to develop the property, telling the Daily Freeman: "We don't really have a plan and that's the God's honest truth… We're just going to sit on it and improve it, cut some grass, I'm going to put some cows out there for now, and whatever comes up (is what) comes up. We don't know."
Within a year, the owners had a change of heart, proposing a mixed-use destination. The current plan calls for housing (including 272 acres of low-density residential and 74 acres of high-density residential), an indoor waterpark and hotel, an amphitheater, and a tech and business park, among other features.
The plan has garnered opposition from residents, including members of the group Beautiful Saugerties, which has raised concerns over the ecological impact of developing the wild site, which includes over 400 of nearly 1200 acres of unbroken forest, along with critical habitat for a number of grassland-breeding birds, including the endangered northern harrier. The environmental group has also raised the alarm over impacts to the Beaverkill Aquifer, which sits under Winston Farm.
Under the potential agreement with OSI, about 600 acres of the property would be sold and ultimately transformed into a state park, while a smaller development project would then proceed on the remaining approximately 200 acres.
---