RCBJ-Audible (Listen For Free)
Borscht Belt Fest Offered A Cultural Preview In Gentrifying Catskill Mountain Region; Former Nevele Resort To Become Luxe Hotel and Condo Development
By Tina Traster
As small-town street festivals go, the Borscht Belt Fest in Ellenville last weekend was a profoundly sentimental and stirring event, particularly for scores of greying baby boomers whose seminal life experiences were molded and cemented in upstate Catskill hotels and summer bungalow colonies that defined Jewish life for most of the mid-20th century.
Everywhere during the furnace-hot day, conversations were peppered with memories of bungalow days, waitressing at hotels like the Nevele Resort, the Pines, or Grossinger's, anecdotes of life-long friendships that started during those summers. There was joy and giddiness alongside a collective sense of loss and nostalgia for what once was — an era lost to airline transport, assimilation, and changing lifestyles.
The Borscht Belt Fest wasn't just a look back – it was staged to ignite future interest in Ellenville, which is slated to become the home of the Borscht Belt Museum in 2025. The festival gathered memorabilia and ephemera and performative art from the bygone era to tease what is coming. The day-long street fair included themed tee-shirts, a pickle vendor, Brooklyn Seltzer, and other novelties that nod to Jewish life. A full line-up of entertainment in Liberty Square plumbed memories, including Simon Sez, the Hula Hoop Contest, the Shul Band, the Isle of Klezbos and the Great Babka Bake Off. A raft of ticketed events on Borscht Belt Humor and New Faces of Comedy were sell-out events. Rained out at day-end was a planned screening of the iconic film, Dirty Dancing, which captured the coming-of-age essence of the Borscht Belt experience, though ironically was filmed at a lake-side lodge in Virginia.
It is the enduring emotion around this era of Jewish life that led a small, heartfelt group more than a decade ago to think about creating a Borscht Belt Museum.
"When I was a child, we stayed at the The Homowack Lodge, The Nevele, The Granite," said Robin Kauffman, a Museum Board member who grew up in Spring Valley but spent most of her adult life in Rhode Island. "I went to camp. I was a counselor. I returned throughout my college years. It was where I learned about life, about my Jewish heritage. It was the first time I talked to a Holocaust survivor and saw the tattoo on the arm. These experiences left an indelible impression."
In 2019, Kauffman organized a Catskills staff reunion weekend, which drew more than 200 people. At that time, she was invited to be part of a nonprofit group that had been toiling unsuccessfully to establish a Borscht Belt Museum for nearly a decade. Dedicated and passionate, the organization set a goal to raise more than $50 million to fund the project. But like many small nonprofits with a big idea, the organization faltered, particularly because it lacked the central anchor needed to legitimize its mission and fundraise: a building.
Stuck, the organization over the past few years voted in new leadership, professionalized its board, recalibrated its goals, rebranded, and through hard work and a fortuitous alignment of aims, found itself the owner of the former 1928 neo-Georgian Home National Bank building at 90 Canal Street in Ellenville.
"The project had stalled for many years; partly because of a lack of real estate, because we didn't have a home and it's hard to raise money for a museum that's mostly conceptual," said Andrew Jacobs, president of the Catskills Borscht Belt Museum's board of trustees. Jacobs, a New York Times reporter, has written on the bygone era and directed Four Seasons Lodge, a documentary about a community of Holocaust survivors at a bungalow colony in Ellenville that shuttered in 2008.
Driven by his own memories during the tail-end of the Catskills' heyday, Jacobs, 58, became a man on a mission when he assumed the reins of the Borscht Belt group. A mutual friend introduced him to developer Keith Rubenstein of Somerset Partners LLC, which plans to raze The Nevele Resort in Ellenville on Route 209 and replace it with a modern hotel and luxury housing. Rubenstein's ambitious plans for the 500-acre site align with the nonprofit that wants to build a museum because both need the Village of Ellenville in the Town of Warwarsing to thrive. Unlike some of its neighboring Ulster County towns and villages that have gentrified as summer havens and lured city folks permanently during the pandemic, and the City of Kingston, which is undergoing a renaissance, Ellenville is only just landing on the hipster radar. Canal Street, a lovely string of historical buildings, is set deeply in the verdant valley of the Shawangunk Mountains. Restaurants and boutiques are opening; the Shadowland Stages has always been an anchor. But there's work to do. Both the Borscht Belt Museum nonprofit group and Rubenstein see a museum as a culturally significant attraction that will serve as a catalyst for economic activity.
To make this happen, Rubenstein, who bought the bank building two years ago for $400,000 under the auspices of Canal Street Owners LLC, sold it to the Borscht Belt group in April for $470,000, according to Rubenstein, who originally envisioned a café and gallery for the location. The arrangement is a dream-come-true for a nonprofit: Rubenstein's entity will hold the mortgage for five years. Rubenstein is charging 5 percent interest on the loan, nearly half of what it takes to secure a commercial loan today. The nonprofit did not need a downpayment, nor did it have to pledge any collateral. But it will have a balloon payment at the end of five years or will have to refinance the loan.
"A lot of museums sound like a good idea on paper, but it doesn't always transfer," said Rubenstein, recalling the short-lived Sports Museum in New York City, which opened in 2008 and lasted less than a year. "But everybody has a story and emotion about the Borscht Belt. I see this as a multi-dimensional multi-generational project."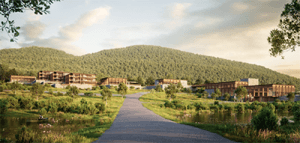 Rubenstein's Somerset Partners LLC is planning a 138-room luxury hotel, partly an inn and partly condos including ten luxury cottages, 46 single-family homes, 80 townhomes, and a 100-unit multifamily apartment complex for "workmen" housing for the resort's workforce. The proposal includes a spa, culinary garden with a farmstand and farm-to-table restaurant, sports facilities, lakeside recreation, nature trails.
The former Nevele Resort is a five-minute car ride from Ellenville's main street. Locating the Borscht Belt Museum in Ellenville is strategic for both entities.
"Placemaking is very important," said the developer. "I could have sold the bank building on better terms, but I wanted the building to be beneficial to the renaissance of Ellenville. The village is beautiful visually and architecturally. We're starting to see more businesses moving in, fewer shuttered store fronts. Ellenville was so sleepy but now it's one of the hottest little villages in Ulster County."
But "hot" villages typically mean old buildings in need of work.
The former bank, which was one of the few financial institutions that lent money to the region's Jewish hoteliers and bungalow colonies in the 20th century, needs to be gutted for accessible bathrooms, a new stairway and elevator, a screening room, archive library, and community room.
The nonprofit secured a $150,000 grant from the Naiades Fund to replace the roof. It is preparing to launch a $10 million Capital Campaign fundraiser to renovate the building and establish an endowment to get the project off the ground.
The Borscht Belt Museum also just scored a $650,000 Empire State Development grant for construction in the museum building. The grant was part of Round 12 of the Regional Economic Development Council Initiative awards.
When completed, the Borscht Belt Museum will be an interpretive and immersive cultural center with oral history, storytelling, film, audio, and visual elements. A pop-up exhibit at the bank building, Vacationland! Catskills Resort Culture 1900-1980, will welcome visitors through the end of the summer.
"This will not be a museum for ashtrays and menus," quipped Kauffman.
Jacobs said the nonprofit is actively seeking donors and grants.
"Owning a building is critical for government funding and private philanthropy," Jacobs said. "Donors want to support organizations that have a brick-and-mortar presence."
The Borscht Belt era, the Golden Age of the Catskills, shaped generations for 50 years. Jewish comics are thought to have laid the foundation for American comedy. The "Jewish Alps" were born out of necessity – created as a refuge for American Jews who were unwelcome at other resorts. At the height of the 1950s, there were more than 500 hotels and 50,000 bungalow colonies. By the early 1980s, the Borscht Belt had essentially vanished.
The museum project calls attention to the successful niche Woodstock Museum at Bethel in Sullivan County, which includes a tribute to the 1969 three-day Woodstock concert, and hosts music concerts. Woodstock, too, was a moment in time for a slice of the baby boomer generation that hailed the sexual revolution through free love and music. And drugs. But Woodstock became mythical, building upon itself, leveraging its place in history, sustaining curiosity and interest for generations to come. That will be the Borscht Belt Museum's challenge – to tap into a cultural moment that left behind an imprint that we are all curious about – even if we never spent a night in a bungalow colony or attended a comedy show at The Nevele.
---