RCBJ-Audible (Listen For Free)
St. Thomas Aquinas College Expands Campus With 4-Acre Parcel for Volleyball Center, Track & Field
St. Thomas Aquinas College has leased a 4-acre parcel from the Dominican Sisters of Sparkill for its athletic program. The site, the former St. Agnes Gymnasium and an open field adjacent to the college, will support the NCAA Athletics program. The lease is part of a continuing effort to expand the campus. The campus footprint has grown 30 percent over the past two years.
The St. Agnes Gymnasium property — formerly Hallel — has approximately 4-acres of property with 9,000 square feet of Gymnasium space and includes a parking lot and nearby fields.

The College plans to build a Volleyball Center, an outdoor Track with Track & Field facilities, as well as additional athletic amenities including golf simulators, softball and baseball batting cages, and equipment for Club, Intramural, and Summer Camp programs.
"St. Thomas Aquinas College has a long and proven legacy of providing outstanding athletic opportunities for our student athletes, who excel both in the classroom — within the top 10 percent of all NCAA Division II schools — and on the field," said STAC President Ken Daly. "We are passionately committed to the holistic development of our students and are proud to add these popular athletic offerings for our student athletes."
STAC has added Women's and Men's Volleyball programs. With the launch of our DII Women's Volleyball Program and Men's Volleyball Program anticipated to begin in the Fall of 2023 and Spring 2024, STAC leads the East Coast Conference (ECC) in NCAA sport programs, the college said.
"We are thrilled to share the news of this agreement as a continuation of the longstanding support by the Dominican Sisters. Since our founding of the College in 1952 as a teaching institution, we have developed a shared mission to 'enlighten the Mind through Truth' and are committed to the holistic development of students so that they can make a profound difference in the world," said Sister Irene Ellis, Prioress of the Dominican Sisters of Sparkill and STAC Board member.
---
Suffern based Aufgang Architects has received the NYS Empire Award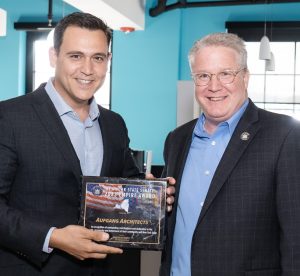 Ariel Aufgang, AIA, Principal of Suffern-based Aufgang Architects (left) is presented with the NYS Empire Award by New York State Senator Bill Weber.
The NYS Empire Award is given to companies and organizations that demonstrate unique vision, innovation and contribute to the prosperity and betterment of their communities.
Founded in 1971, the Suffern-based Aufgang has built a reputation for environmentally sustainable architecture. "The way we perceive and respond to many major issues has changed, and new ones have emerged," says Aufgang's website. "For designers, the importance of environmental sustainability must be recognized in all aspects of design and engineering. Technology now drives our approach to creating comfortable, safe, and sustainable homes. Socially, we seek to increase access to desirable housing for all."
The firm, a New York State and New York City Certified Minority Business Enterprise, works in the commercial and residential spaces.
---
Upcoming Unclaimed Fund Events: Residents Can Submit New Claims, Check Status of Existing
Rockland County will hold a series of five unclaimed fund events in each town to give residents the opportunity to see if they have unclaimed funds.
The Office of the New York State Comptroller Thomas DiNapoli reports there is $18.4 billion in lost money across the state with his office returning $1.5 million to those filing claims daily. The County of Rockland encourages residents to attend and submit new claims or check on existing claims.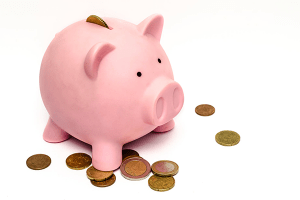 "This is something I've personally shared on social media many times because occasionally, after that reminder, at least one person out there ends up finding a few extra bucks they would never have known about," said County Executive Ed Day. "Where does it come from? Abandoned bank accounts, insurance companies, courts, and more. We urge our residents who are unsure to swing by one of the events to check if they have unclaimed funds."
Town of Clarkstown: July 24th, 10 am at Street Community Center, 31 Zukor Road, New City
Town of Haverstraw, July 24th, 12: 30 at Haverstraw Town Hall
Town of Stony Point, July 26th, 3 pm at RHO Building
Town of Orangetown, July 27th at 11:30 at Orangetown Town Hall
Town of Ramapo, July 31st at 10 am at Ramapo Town Hall
---