RCBJ-Audible (Listen For Free)
NY Bill Could Scuttle Plans To Create Hasidic Village in Orange County
A long-pending plan to form a new Hasidic village next to Kiryas Joel in Orange County could be derailed by a state bill that emerged in the final days of this year's legislative session.
A bill that changes the minimum size required for village incorporation from 500 to 2,000 residents has passed the State Senate and is poised to pass the Assembly in the final hours of this year's legislative session.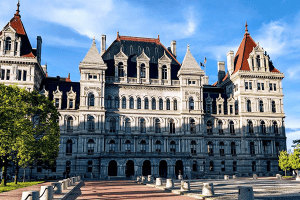 The bill would raise the fairly low bar for a village by requiring at least 2,000 people to live in the area that would be incorporated, instead of the minimum of just 500 that state law has set for decades.
This change could block an effort that began back in 2018 to create a new municipality in Orange County, known as the Village of Seven Springs, located adjacent to the existing Village of Kiryas Joel.  The creation of this new village has been a hot-button issue since the effort to incorporate the new village began back in 2018.
The bill, sponsored by State Senator James Skoufis (D, Cornwall), is said to be aimed at preventing overdevelopment.
Whether Gov. Kathy Hochul signs the bill and it poses a new obstacle for Seven Springs remains to be seen.
"Since its conception in 2018, the proposal to create Seven Springs has been a revenge-fueled effort to bend New York's antiquated and inadequate village incorporation laws," said Skoufis.  "These unscrupulous developers have cared about one thing and one thing only:  changing zoning in order to make money at the expense of our local quality of life."
Skoufis' proposal also requires a study be conducted on the fiscal, service, and taxation impacts on the residents of the proposed village, and the residents of the surrounding town, for a village incorporation to move forward.
A key provision of the bill, besides significantly increasing the number of petition signatures, is that it eliminates a provision that gives landowners who own half of the assessed property the ability to petition for village incorporation.  Under the current law, after petition signatures are collected, voters who would reside in the new proposed village would take part in a referendum vote.  If approved, a new municipality with its own government and zoning laws would be created.
Skoufis' plan would take this power away from landowners looking to create a new municipality solely to create favorable zoning laws to develop their properties. The bill does not retroactively apply to villages that have already been incorporated, but it will impact pending efforts for incorporation, like in the case of Seven Springs.
---
Resorts World Hudson Valley Casino Breathes New Life Into Newburgh Mall
Now that Resorts World Hudson Valley, New York's newest casino has opened, the Newburgh Mall is benefitting from new blood. The center is anticipating a boon from the two million annual visitors projected to pass through the casino's doors.
To take advantage of its new fortune, the mall is putting some emphasis on highlighting artisan shops where local craftsmen can build and sell their products. A redesign of the interior and exterior of the property is in the works as well.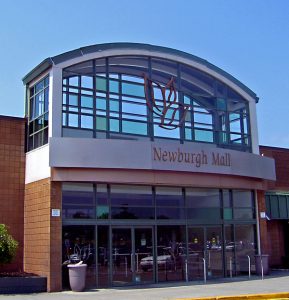 "We live in a beautiful and unique area that offers many different locally owned artisan shops, galleries, restaurants, farms, breweries, wineries, and distilleries," said Newburgh Mall spokesperson Lisa Giammattei. "We want to showcase that same uniqueness throughout the property, something you may not get by visiting a typical retail center.  This will be a tourist destination that will have the best of what the Hudson Valley has to offer under one roof."
This shift is probably a good lesson for so many area malls that are struggling under the weight of e-commerce and mall fatigue.
The mall has added a new seating lounge with public Wi-Fi, a food vending service offering selections from locally-owned  Pamela's on the Hudson, Noto's Deli, and Itzmi Japanese Restaurant, an in-use movie  production stage, and the display of some of Newburgh's Motorcyclepedia Museum's vehicles.
The mall plans to announce a handful of new tenants, including leasing out half of the former Sear's space to a national tenant, the reopening of the Newburgh Library's extension location, and the addition of ChaShaMa Art Gallery, which will include a workshop for artists, display artwork, and serve as a community event space with a 200-person capacity.
Resorts World Hudson Valley (RWHV) opened in December 2022. The 90,000 square foot state-of-the-art gaming facility is equipped with 1,200 machines and the Resorts World BET Sports Bar.
---
Adams Fairacre To Open Fifth Store

Adams Fairacre Farms, a long-time grocer in the Hudson Valley, has opened a fifth store on Route 211 in the Town of Walkill. The store was founded in 1958 in Poughkeepsie.
Store co-owner Stephen Adams said this new location is a perfect fit for their business.
"The demographics of the region seem to fit what's worked well for us and our other locations as far as population traffic count and just the neighborhood," said co-owner Stephen Adams.
Adams is also operating in Kingston, Wappinger, Poughkeepsie and Newburgh.
CEO and owner Pat Adams said "We are very excited about the launch of our 5th store and joining the Town of Wallkill/Middletown. At Adams Fairacre Farms, customers can anticipate a vast assortment of local farm-fresh produce, premium meats, seafood, specialty cheeses, and catering. We have a garden center, a greenhouse, and a nursery filled with many varieties of plants and flowers." COO and owner Steve Adams said, "You are going to enjoy our knowledgeable staff who go above and beyond to help customers find what they need and get what they love."
---