RCBJ-Audible (Listen For Free)
LCM247 President Patrick Heaphy Says He Was Looking For a Partner To Round Out His Television Production Company
By Tina Traster
"Know when to hold 'em, know when to fold 'em" – those are lyrics Kenny Rogers made famous on The Gambler album. And they ring true for those pivotal moments when a savvy business decision is needed. Take for example Patrick Heaphy, who over the past 30 years built the Pearl River-based LCM247 into a television production company to be reckoned with. But now Heaphy is taking a gamble – rather than continue the singular journey of building the digital production side of his business alone, he's folded his talent and experience into a merger with an Irish concern that has more expertise and reach in this space.
Granite Digital, a full-service digital agency based in Dublin, has acquired a 75 percent stake in LCM247's digital business. LCM247's dozen experienced digital specialists, along with Granite's team of more than 110, will form a new entity, LCM|Granite, which will have offices at Blue Hill Plaza in Pearl River, as well as in Cork, Dublin and Galway. The television production functions of LCM247 are not part of the acquisition.
Heaphy, the founder and president of LCM247, will serve as Chief Creative officer of the joint entity. This will be new territory for Heaphy, who has steered his own ship for more than three decades. But the entrepreneur is betting on this partnership because he recognized that the uphill climb to become competitive in the digital space was too steep and that it was more strategic and likely more profitable to partner in order to gain a stronger foothold in a burgeoning sector of technology.
"The chicken-and-egg question I was grappling with was how to have a team that's capable of delivering websites and digital programming at a high level," said Heaphy, explaining that it is expensive to hire software designers and website developers. Heaphy never saw the benefit of outsourcing the work, which is common practice.
"So many agencies are offshoring development to third party companies in Asia, Central America, overseas," he said. "I've never been comfortable with this. It raises issues over IP (intellectual property) protection, continuity, who we are dealing with."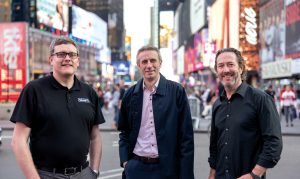 For years he's tried to build a digital team or "agency" alongside his core television and film production strengths, but he met with roadblocks including finding talent and identifying the right clients. He had to think his way into a better solution, which is what entrepreneurs are often called upon to do.
"Instead of building a team from scratch, I was looking at how I can partner," said Heaphy.
He began to search for a partner, and targeted Europe because "EU regulations appear to be a few years ahead of us in terms of regulating privacy." He stumbled upon Granite, the largest independent digital agency, and headed for Dublin. Heaphy doubly felt drawn to the Irish Isles because he has dual citizenship.
Granite Digital, founded in 2008, has done more than 1,000 web projects for large companies and institutions in Ireland, according to their company's press sheet. In recent years, the company has completed several acquisitions, including Continuum, Willows, Armour, and Connector.
"This strategic acquisition is an exciting step forward in our global expansion," said Robert Carpenter, Chief Commercial Officer of Granite Digital, who will be moving to New York. "We are harnessing the creative prowess of LCM247 to propel our growth and deliver a broader range of digital solutions to our clients worldwide. We now have a team on the ground in New York."
Conor Buckley, CEO of Granite Digital, was part of the team that inked the deal.
"The acquisition of LCM247's digital division is a transformative milestone for Granite Digital," said Buckley.
The acquisition is expected to boost Granite's revenues beyond 13 million Euros (around $14 million), according to the company's press release.
In the meantime, Heaphy's company, which will reap 25 percent of the revenues, anticipates a $2 million to $3 million boost this year, with more exponential growth in 2024. But what he's hoping for is a synergy that also allows Granite to take advantage of LCM247's success in the television production space.
"Merging with Granite rounds us out on the digital development side, but we will be able to introduce Granite to our television clients," Heaphy said.
Optimistic about its trajectory, Heaphy recently expanded his company's space at Blue Hill Plaza with an additional 2,000 square-foot buildout.
LCM247 is a creative agency and television production studio that offers a range of production and post-production services on commercials, network television series and documentaries. The company has worked with a range of bold-faced names from Hank Williams Jr. to Tupac Shakur to most recently Katie Holmes in her new film, Rare Objects. Closer to home, the production company has completed projects for Jawonio, Pfizer, and Howard Hanna|Rand Realty.
At 54 years old, Heaphy is shoring up for a new venture that will essentially be the first time in his career he will not be solely in charge.
"I have no problem giving up control," he said. "I'm looking forward to collaborating with peers. With people who have different skill sets. I'm excited I won't be the only one having to determine how to approach a project. This collaboration will make us stronger, and it allows me to focus on what I thrive on, which is the creative side of the business."
Looking back on a long career filled with leaping off metaphorical buildings, the entrepreneur says you have to identify opportunities and have the courage to seize them. He says you need to "not be afraid of failure." No doubt he's counting on a bit of the luck of the Irish, as well.
---