RCBJ-Audible (Listen For Free)
UPSTATE UPDATE
Forget the Big Mac Along The New York State Thruway
If you plan to travel the New York State Thruway, you won't be able to stop at McDonald's anymore or other fast-food establishments at nearly a dozen service plazas.
On Dec. 31, a contract that originated in 1991 between McDonald's and the Thruway Authority expired.
As a result, 11 remaining McDonald's have closed for good at the Angola, DeWitt, Guilderland, Mohawk, Ontario, Port Byron, Schuyler and Warners service plazas on I-90 and the Malden, Modena and Ramapo plazas on I-87.
But McDonald's didn't just have its own restaurants at the sites — it operated the service plazas themselves, meaning the establishments it partnered with at those locations have shut down, too.
Now, the 11 plazas are without any restaurants and instead are being served by Applegreen C-Stores selling hot foods, grab-and-go sandwiches, salads, snacks and drinks 24 hours a day, seven days a week.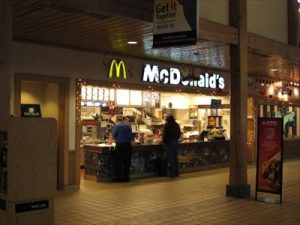 Two of the plazas that had McDonald's are completely closed for renovations, as of Jan. 1: Warners and Ramapo. Gas pumps are still open at both.
The changes are part of a $450 million project launched in 2021 to update the 570-mile highway system's 27 service plazas by 2025. Applegreen, an Irish convenience store chain, is the new operator for all of them. (Contracts with two other operators, HMS Host and Delaware North, expired in 2021.)
When finished, all the plazas will have fast-food establishments.
So far, work has been completed at Junius Ponds, which has an Applegreen store, a Starbucks drive-thru and a Shake Shack; Chittenango, which has an Applegreen store, a Chick-fil-A (closed on Sunday) and a Starbucks drive-thru; and Indian Castle, which has an Applegreen store and a Starbucks drive-thru.
Applegreen has its own slate of tenants — including Shake Shack, Chick-fil-A and Panera Bread — in some cases the company will bring back businesses that were in the service plazas before it took over.
For instance, the plan is for Cinnabon and pretzel shop Auntie Anne's to return to the Angola plaza, which is about 22 miles south of Buffalo and one of the larger sites on the route.

---
Eastwind Hotels Opens Second Catskills Region Location
Eastwind Hotels has opened a second location in New York's booming Catskills region. The brand's first ground-up build, Eastwind Oliverea Valley is characterized by a minimalist Scandinavian-inspired aesthetic that features midcentury furnishings and an organic material and color palette.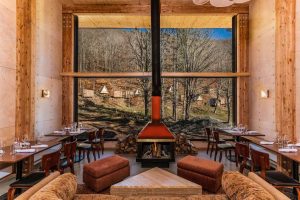 "It's the vintage furnishings and objets d'art within each of our spaces that are vital to our storytelling," said Eastwind cofounder and creative director Julija Stoliarova. "The sentiment of hygge—the Scandinavian word meaning a sense of contentment and coziness—drove the design of Eastwind Oliverea Valley. Think spacious common areas with large windows for natural light, high ceilings, clean minimalistic lines, and earth tones to complement the surrounding landscape."
Anchoring the property's communal spaces, onsite restaurant Dandelion is a full-service eatery from Eastwind cofounder and restaurateur Daniel Cipriani.
The boutique hotel's 30 guestrooms—located within individual all-weather, A-frame wood cabins—each showcase unique décor and layering. Available in four configurations, accommodations feature varying amenities including vintage desks, rain showers, seating nooks, private patios, and furnished lofts equipped with floating netting installed below a skylight.

---
Flooding Shutters Kingston's Hutton Brickyards For Winter; Management Company Exits
The Hutton Brickyards luxury resort, located a few miles from downtown Kingston on the banks of the Hudson River, has said flooding from storm surge forced it to shut down for the winter season. The site's owner says it is expected to reopen in the spring under new management.
Near the end of 2022, "massive flooding" from a Hudson River storm surge caused damage throughout the site, requiring it to be shut down, said Karl Slovin, president of MWest Holdings Inc., which owns the property.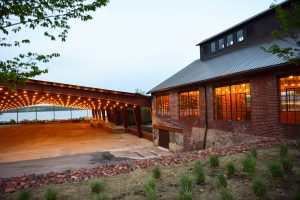 "It was a disaster," Slovin told the Times Union. "I've been told no one has seen water as far as North Street (now the Empire State trail), which runs through the middle of the Hutton Brickyards property, in many many years. I know that in the last 10 years I've been working on this project, I've never seen water up there."
All reservations at Hutton Brickyards were canceled after Dec. 23 until further notice.
At the same time as the flooding, the property's management company, Salt Hotels, parted ways with the resort for reasons that weren't immediately clear.
The resort opened in 2021 on a 70-acre riverfront property that was the former site of Hutton Brick Works Company, which operated from 1865 to 1980. A few miles from downtown Kingston, the resort has a seasonal spa, restaurant, more than 30 luxury cabins with waterfront views and hiking access. Its newest addition, Edgewood, has 12 guest rooms, including some luxury suites, and a restaurant.
A new management company with 30 years of experience is expected to take over the site in the spring when renovations and repairs are expected to be completed.
---
Historic Rhinebeck Property May Become a Six Senses Resort
Entrepreneurs Chid Liberty, the co-founder and CEO of the fair-trade apparel manufacturer Liberty & Justice and the Made in Africa label, and his model wife, Georgie Badiel Liberty — also an activist and philanthropist — have sold their 236-acre biodynamic farm in Rhinebeck for $13.75 million in an off-market deal, according to Gimme Shelter.
The recent sale was represented by broker Wendy Maitland, of Atelier by Wendy Maitland. The couple purchased the farm for $8.5 million in a distressed transaction last year. (It was originally listed for $8.5 million in 2019.) Maitland represented both the buyer and seller.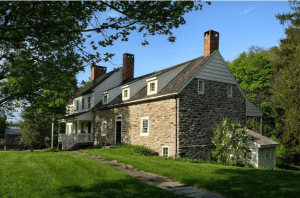 The New York Post has reported that the property is slated to become a resort under the luxury Six Senses banner, which includes locations across Asia, Europe and the Middle East. A Six Senses rep told Gimme Shelter, "No Hudson Valley project has been announced, so Six Senses is unable to comment."
"The idea was to make [the property] our main residence and do retreats there with impact organizations," Chid, who was born in the West African nation of Liberia, told Gimme Shelter. (His wife grew up in Burkina Faso and the Ivory Coast, both also in West Africa.) We did a bunch of retreats for Equity Alliance and Unreasonable Impact, and hosted our own, with yoga, hikes and horses. We loved it."
Their soon-to-be-former property was once known as Old Stone Farm before it was transformed into a private retreat named The Dutchess was a draw for big-name guests and celebrities.
The farm has a special-use permit and was also formerly an equine therapy center. The property is anchored by a stone house built in 1768 with original details. It has eight fireplaces, two bedrooms, 4½ baths and an artist's studio. It is 3,600 square feet, following two additions in the 1920s and 2000. There's also a 7,200-square-foot barn built in the 1780s that had been transformed into the 10-room inn and spa.
---