RCBJ-Audible (Listen For Free)
Tania León, Along With Gladys Knight, Amy Grant, George Clooney and U2, Feted At Washington D.C.'s Prestigious Annual Awards Event
By Tina Traster
Four household names were among the roster of stars in late December who were recognized at the 45th annual Kennedy Center Honors: Gladys Knight, Amy Grant, George Clooney and U2.
The fifth may not be a boldfaced name but she is a towering composer, conductor, and educator with an immigrant's story that embodies what is possible when you mix raw talent, nurture, and a plane ticket to America in the 1960s from Havana, Cuba.
Tania León is also Nyack's best kept secret. (I didn't know until this week that we live on the same road!)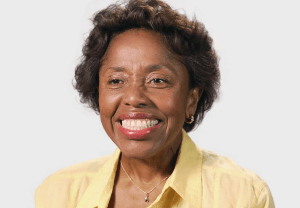 At 79, the musician has lived a storybook life built on opportunity, hard work, and pivotal moments of good fortune, and the journey continues. The Kennedy Award recipient, whose orchestral work Stride, commissioned by the New York Philharmonic and based on Susan B. Anthony's work, was awarded the 2021 Pulitzer Pride in Music – what she describes as the apotheosis of her career.
Less than a week after receiving the Kennedy Center award, León from her Nyack condo, talked about her poor childhood in Cuba, her chance to come to America (which she'd hoped would be a pitstop to get to Paris – it wasn't), the building of a career, and her move to the Village of Nyack 22 years ago from Queens.
In 1999, more than 30 years after landing in the "metropolis," and sofa surfing in the Bronx and later living in Manhattan and Queens, León put down a deposit on a condo unit that was not yet built.
"It was the trees, the open space, the birds," she said, that allowed her to gamble on living in a place that was unfamiliar and in a development that was only on paper. "I felt like I was in a state park."
"Moving up to Nyack has transformed my life," she said. "It is very quiet. I can walk by the river. Look at the trees. Watch the sunset. I bought a book that tells you about the birds on the east coast, and a pair of binoculars."

León has lived a peripatetic musical lifestyle that keeps the composer and educator on the road frequently but her home is a retreat where she meditates, reads, and composes music. She has friends in her complex and fraternizes with other musicians and nearby friends but says she does not know that many people in Nyack.
In the spring of 1967 León was one of an estimated 300,000 Cubans who left as refugees on the so-called "Freedom Flights," a program that ran from 1965 to 1973, organized by the U.S. and Cuban governments in a rare cooperative effort.
León says she grew up poor on an island eight blocks from the sea. Her mother could not read or write. Her grandfather was a dispatcher. Her father painted houses. Her grandmother was a force of nature who convinced the music conservatory to give her piano lessons. At five years old, her grandfather surprised her with a used piano.
"I remember my first recital; how my grandmother cam running down the aisle to bring flowers to the stage."

León said the her family scraped together pennies to educate both her and her brother Oscar León, a Latin jazz pianist who lives in Andorra.
In New York, León met the dancer and choreographer Arthur Mitchell, who was in the process of establishing the Dance Theatre of Harlem. By chance – she was filling in for someone – he heard her play the piano and asked her to compose music for the company. The writing of that first ballet came so naturally to León that she changed her major at NYU from piano to composition. She composed six ballets, an opera, and a broad range of instrumental and vocal music.
A founding member of the Dance Theatre of Harlem, León instituted the Brooklyn Philharmonic Community Concert Series, co-founded the American Composers Orchestra's Sonidos de las Américas Festivals, was New Music Advisor to the New York Philharmonic, and is the founder/Artistic Director of Composers Now, a presenting, commissioning, and advocacy organization for living composers.
In her early years, she received encouragement from composer Gian Carlo Menotti and studies with Leonard Bernstein and Seiji Ozawa. She taught at the City University of New York for 35 years.
Honors include the New York Governor's Lifetime Achievement, inductions into the American Academy of Arts and Letters and the American Academy of Arts and Sciences, and fellowship awards from ASCAP Victor Herbert Award and The Koussevitzky Music and Guggenheim Foundations, among others.
León has received Honorary Doctorate Degrees from Colgate University, Oberlin, SUNY Purchase College, and The Curtis Institute of Music, and served as U.S. Artistic Ambassador of American Culture in Madrid, Spain. A CUNY Professor Emerita, she was awarded a 2018 United States Artists Fellowship, and Chamber Music America's 2022 National Service Award.
León took a trip to Cuba six years ago to conduct a symphony orchestra. The world traveler and global citizen said returning to a place where her ancestors are all gone makes her sentimental.
"These people are still in my memory, in my senses," she said "Recalling their presence is very important to me. I will never forget what they did for me."
León admits that she is not attached to a specific place though she is a cultural icon. She says it boils down to nurture.
"If you have a seed you have to understand how to treat that seed to become a tree," she said. This is why I have so much adoration for the memory of those who helped me. "I was just a little girl from Cuba who met the President of the United States last week. I could not have done this if my family and mentors had not believed in me."
---