RCBJ-Audible (Listen For Free)
The Arc Rockland Debuts New Designs At HQ and Day Center In Valley Cottage, and South Mountain Residential Home in New City
Kimmerle Group, a New Jersey-based design, real estate, planning, development, and branding company has completed two separate spaces for The Arc Rockland, a nonprofit providing services to more than 600 people with intellectual and developmental disabilities.
The Arc Rockland is one of more than 600 local and state chapters of The Arc nationwide.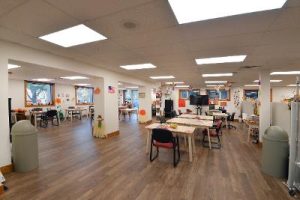 Kimmerle led a full-building renovation for The Arc Rockland's HQ and Day Center at 210 Route 303 in Valley Cottage and provided design services for the transformation of a single-family home into a six-bedroom South Mountain residential group home in New City. The design firm has begun renovations on a second, 6,000 square-foot, two-story Day Center in Nyack that will include additional day center spaces.
"We are proud of our work with The Arc Rockland to deliver its new headquarters and other essential properties that help the organization carry out its daily mission," said William Kimmerle, AIA, NCARB, a principal at Kimmerle Group. "The Arc Rockland is an important, respected organization in Rockland County. The addition of the Day Center and residential facility to its portfolio allows Arc to continue to help developmentally disabled individuals acquire the skills needed to live independent lives."
The Arc Rockland bought the 19,900 square-foot, two-story building to create a new day habitation facility for developmentally disabled adults in a space that could also double as its new headquarters. The organization formerly occupied an 82,000 square-foot centralized office warehouse at 25 Hemlock Drive in Congers.
William J. Kimmerle, a partner at Kimmerle Group. "As The Arc Rockland's programs expand, it is continuously looking for suitable and safe homes for its residents."

---
Beztak Proposed 165 Units of Senior Living In Chestnut Ridge
The Beztak Companies, a Michigan-based developer of senior living centers has set its sights on Chestnut Ridge to build 165 units of senior housing. The facility will be called "All Seasons Chestnut Ridge." The 7.41 acres parcel which sits along the New York/New Jersey border is bounded by Red Schoolhouse Road and Loescher Lane. The development will have both independent living and assisted living with 154 parking spaces.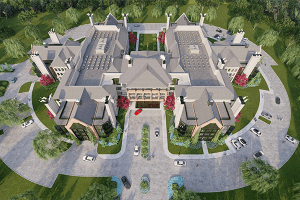 According to the developer's application, the development is a permitted, zoning compliant use in the PI/LO zoning district, though a special permit may be required. However, variances will be required for the 48-foot building height as the zoning only allows for heights of up to 35 feet. A variance for FAR is also required as the project's proposed FAR of .65 exceed the allowable FAR of .40. FAR (Floor area ratio) is the maximum amount of built square footage allowable based on the size of the lot.
The building will be just shy of 60,000 square feet. A .05 acre wetlands exists on the property. The 7.41 acre lot was part of an earlier two-lot subdivision of 10.2 acres of Saddle River Property Ventures – Horse Farm Subdivision.
Beztak owns and manages its own facilities, as well as others, and has 35,000 units under management – 15,000 of which are company owned. Beztak was selected as a 2022 US Best Managed Company. Sponsored by Deloitte Private and The Wall Street Journal, the program recognizes outstanding U.S. private companies and the achievements of their management teams.

---
Nyack-Based Business Lands On Inc. Magazines 2022 Best In Business In Marketing Category
TogoRun, a woman-owned Nyack-based global health and well-being communications, marketing, and public affairs agency, has been named to the Inc. 2022 Best in Business list in the Marketing category.
Inc.'s Best in Business Awards honor private companies that have made an extraordinary impact in their fields and on society.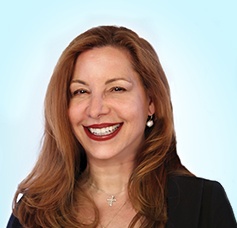 "TogoRun is thrilled to be recognized by the editors of Inc. as a 2022 Best in Business winner for our purpose-driven marketing practices," said Glo Janata, TogoRun President, CEO, and owner. "We define marketing as creating value not only for our agency and our clients, but for all of humanity. This is our North Star and this award is a testament to the commitment our outstanding team has made to each other, our clients, and society. From our pro bono work with Pure Earth and Mission Plasticos, to our partnership with Jaguar Health to develop the first Canine Cancer Registry, to our intern training program focused on closing health care disparity gaps, TogoRun is grateful for the company we keep and the commitments we share."
The 2022 Inc. Best in Business Award is TogoRun's 15th award in 2022. TogoRun also is a recipient of 12 MarCom Awards for client work in the categories of integrated marketing and communications, digital and social media, earned media, and research, and two Digital Health Awards.
"Inc. magazine is dedicated to showcasing America's most dynamic businesses and the great things they do," said Scott Omelianuk, editor-in-chief of Inc. "The Best in Business Awards shine a light on those that have gone above and beyond their original mission to make a social, environmental or economic impact, benefiting those around them."
---