RCBJ-Audible (Listen For Free)
Program Can Only Expand With Baby Steps Says Rockland Green Chairman Howard Phillips
By Tina Traster
For a couple of years, a small but scrappy group of environmentalists advocated for composting food waste. Their efforts paid off a year ago when Orangetown, in partnership with Rockland Green (the former County Solid Waste Management Authority) launched a pilot program that created a food scrap drop off in Orangetown.
A year – and 41 tons of composted food scraps later – Rockland Composters is advocating again. They want the program to continue but they hope it will be expanded to cover the entire county.
"Thanks to the initiative of Teresa Kenny (Orangetown's Supervisor) and Rockland Green, Orangetown's program is well run, clean, and easy to access," said Daniel Lombardo, a Rockland Composter member during a Rockland Green board meeting last month. "The program is clearly a success. In just under a year, participation has grown to more than 540 households."
Lombardo is urging Rockland Green not just to maintain the program in Orangetown but to expand it to the county's five towns.
"All Rockland residents deserve access to such a program," said Lombardo. "We urge you to act on this initiative and make that happen."
Rockland Green's Chairman Howard Phillips in response acknowledged the food scrap program has been "a great idea" but said the Public Authority is "walking in baby steps." He said Rockland Green plans to move forward with the existing drop off program in Orangetown but said the Authority is also exploring technologies to capture methane and to improve the coordination between digestor output and wastewater processing. Phillips did not address how the ongoing program would be funded in Orangetown or beyond.
"You have to give us more time," he added.

New York State does not mandate residential food scrap recycling from municipalities. However, as of last January, the New York State Food Donation and Food Scraps Recycling law requires businesses and institutions that generate an annual average of two tons of wasted food per week or more to donate excess edible food and recycle all remaining scraps if they're located within 25 miles of an organics recycler —namely, a composting facility or anaerobic digester.

"I have been participating in the program and, as an avid recycler, am amazed by how little garbage we have," said Town Supervisor Teresa Kenny. "I would like to make a promotional push again now that the program is going on a year old without too many glitches."
Rockland Composters are glad to see the program continue but they'd like to see more sites.
"It's just one site," said Joel Newton. "It's a bit frustrating that the program is bareboned, that there is just one site to go to."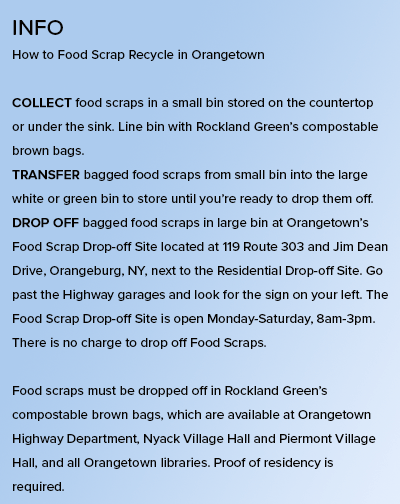 Rockland Green, which funded donation of lined paper bags and pick-up costs, has collected 82,000 pounds or 41 tons of food scraps to date. Collected food scraps are brought to Rockland Green's Co-Composting facility in Hillburn where it is composted into nutrient-rich compost.
When the program first rolled out, there was buzz about it, the Rockland Composters say, but they believe ongoing education is necessary to generate interest. Kenny includes information on the program in her weekly newsletters and Rockland Composters, a nonprofit group of about ten volunteers, helps spread the word at farmers' markets and on Earth Day. But they'd like to see Rockland Green make a bigger push to promote it beyond some basic information on the Authority's website.
Food Scraps are the single largest component in the Municipal Solid Waste stream (MSW). Decomposition of food scraps in a landfill produces methane, a greenhouse gas that is 20 times more damaging than CO2, which contributes to warming the planet. Food scraps are valuable materials that if properly collected and composted can help reduce pollution. Food scraps are processed into compost, rather than being transported of to a landfill 320 miles from Rockland County.
Rockland Composters credit Kenny with jumpstarting the program. They said that when they first approached Rockland Green, they had been told they should direct their campaign efforts to the town supervisor, which they did.
"Orangetown has an Environmental Committee, which Teresa sits on, that includes the community," said Lombardo.
Over the past year, Lombardo has taken his proposal to the Town of Clarkstown, where he lives. Town officials he met with told him there's interest in the program but nothing specific is in the works.
There is interest, however in the Villages of Nyack and Piermont.
"At least half of the drop offs come from Nyack's zip code," said Nyack's Village Administrator Andy Stewart. "We are looking into setting up a drop off in the village. We don't know where yet but we'd like to move forward because the village has a strong bias toward sustainability."
But how the program would be funded is still an open question.
"It would be nice if Rockland Green could underwrite it," he added.
---