RCBJ-Audible (Listen For Free)
American Cruise Line Planning To Increase Day Trip Tours to Nyack On Next Year's Hudson River Cruises
By Tina Traster
The Village of Nyack is not typically thought of as a "port-of-call," though it became one by serendipity earlier this autumn when a cruise line integrated a village daytrip into its eight-day Hudson River cruise.
Turns out the strategic pairing was a big splash for both the cruise line and for the Hudson River village, which has been working steadfastly over the last decade or so to boost its tourism profile.
The idea began with Robert Yonskie, who operates Yes Tours NYC, and subcontracts with American Cruise Lines. Due to a COVID-19 cancellation, Yonskie scouted for a daytrip replacement for tours that span New York City to Albany over a week.
"Some of our tours shut down for COVID and we were looking to find and create new tours in the Hudson region," said Yonskie. "We wanted to find ports that would offer local shops and restaurants, as well as history and local culture."

Inquiries that began with the Historical Society of the Nyacks and The Edward Hopper House led to the creation of two walking tours that nearly 500 tourists from throughout the country sampled over the course of 16 bus excursions from Alpine, New Jersey.
An hour tour with Joey G. Food Tours gave tourists a taste of Nyack's food scene, while a second 90-minute tour that began with Historical Society of the Nyacks, culminated with a visit to the Edward Hopper House.
"This has been quite a game changer for Nyack," said Thomas Schneck, president of Visit Nyack, a nonprofit that raises money to promote the Village. "We are looking for a sustainable, programmatic approach to attracting tourists so that we are not dependent on street fairs and festivals. We know that Nyack and Rockland have a ton to offer but they have to be packaged in the right way. We have raw assets that are attractive to tour operators."
Most of Visit Nyack's promotional dollars have been targeted regionally and to New York City. American Cruise Line draws people from the entire country. Typical cruise passengers are in their 70s, retired and affluent, Youngsky said.
"We are always struggling to find decent ports," he added, using the word "port" liberally. Literally, Nyack doesn't have a suitable port for large ships to dock because the waters are too shallow.

But even if Nyack is a port-of-call reached by bus, Yonskie says plans to bring more tourism are going full steam ahead. The number of tours for next September will likely double to more than 30. In 2024, the cruise line is planning to run cruises in both the Autumn and in June.
"Nyack was a hit," he said. "It was a well-received port-of-call. It's charming, filled with history, as well as shops and restaurants.
Rockland's river towns are not set up for cruise passengers to alight from a ship to land but all the river villages have the kind of assets cruisers look for: Piermont is a bustling walkable village; Haverstraw has the Brick Museum and outstanding Victorian architecture, and Stony Point has an historic Revolutionary era battlefield.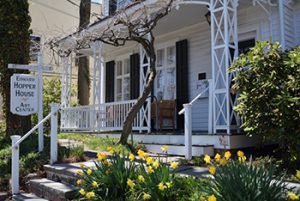 Kathie Bennewitz, director of the Edward Hopper House Museum and Study Center, said "the tour enabled us to have a strategic partnership with the Historical Society of the Nyacks. Mike Hays, the Society's president, wrote content for the cruise line's tour.
"Michael was able to integrate Nyack's history with that of the Hopper House," said Bennewitz. "Hopper's life and work dovetailed with the history of Nyack. The history and the stories resonated with the audiences. We've reached a group of people we would not otherwise reach who will go back to their homes across the country and tell people about what they saw. And this will help make Nyack a destination."
Joey Garreffa, who runs Joey G's Nyack Food Tours, brought tourists from Burd Street, once the site of theaters and hotels to Main and Broadway for a visit to the RCC Culinary Center. From there, cruise passengers visited Scott & Joe's Fine Cheese (which Joey and his partner Scott own) and Tree of Chocolate, both on South Broadway.
"Most of the people were from California, Texas, Tennessee, out west," said Garreffa. "This successful program shows us that there's a market for people to come and explore this unique town."
The American Cruise line tours bolstered Garreffa's business.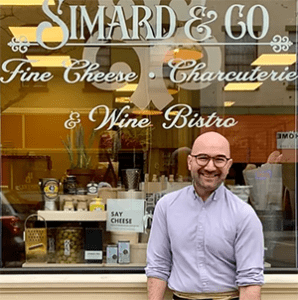 "This time of the year people are busy with other seasonal things like apple picking," he said. "I did not have regularity with scheduling. Continuity with tours from a big cruise operator is a real boost to my business."
Last January, Rockland County handed out 22 tourism grants totaling $205,000, for mostly nonprofits to boost tourism countywide. In 2022, as in past years, Visit Nyack led the pack with a $25,000 grant, a tick up from the $20,000 it received in 2021 but only half of the $50,000 it received in 2020. The Edward Hopper House scored a $10,000 grant.
The county has made tourism a priority.
The average household in Rockland County would have to pay an additional $422 in property taxes annually to maintain current services if not for tourism-generated sales and local taxes.
"Tourism continues to generate economic benefits to the county," said Lucy Redzeposki., the county's director of economic development and tourism. "Nyack provides an excellent opportunity for cruisers to visit Rockland County. We're looking forward to welcoming them back in 2023.
---