RCBJ-Audible (Listen For Free)
Rockland Fashion Week Culminates In Gala Runway Show on Nov. 5 at Palisades Center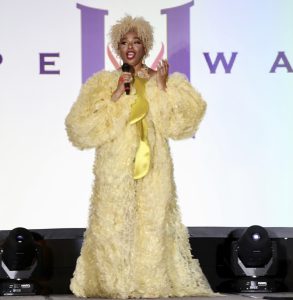 Rockland Fashion Week 2022, in its third year and produced by Nyack's Hope Wade Designs, culminates with a gala runway show set for Saturday, November 5 from 5:30 to 8:30 at the Palisades Center at 1000 Palisades Center Drive in West Nyack.
The main runway event "Your Bridge to Fashion" will showcase the work of ten local designers, including Hope Wade's couture line. Entertainment includes saxophonist Herve Alexandre and MC Qui Talks. The runway will be set up in front of the H&M store on the first floor of the mall.
As a warm-up to the runway event, Palisades Center will host a special show of designer accessories November 4 from 7 to 8:30.
"We're proud to present the amazing creativity of local artists in this annual celebration," said Wade. "It showcases the wealth of talent we have right here in our local communities, and inspires all of us, including our young people, to explore opportunities in this fascinating industry."
Tickets for the big show are available here: Get Tickets. The VIP ticket choice includes an exclusive cocktail hour prior to the show at Picanha Brazilian Steakhouse, priority front-row seating and a swag bag brimming with valuable gifts. Guests are encouraged to dress to show their personal 'fashionista' style. Hotel Nyack, a sponsor, hosted a launch party on Friday evening.
Rockland Fashion Week has been produced in partnership with The Breast Center at Montefiore Nyack Hospital, which will bring five fierce cancer survivors to the runway as models. Khloe Berry, a ten-year old with Dravet Syndrome, will also grace the runway, supported by R2M Realty.
The program includes a special donation to the Center for Safety and Change, a community-based non-profit offering life-saving, life-changing services to victims of domestic violence and other crimes.

---
St. Thomas Aquinas College Honors Program Adds Opportunity To Study At University of Oxford in UK
The Honors Program at St. Thomas Aquinas College, which is growing, offers students the opportunity to study at University of Oxford. The experience allows Honors Program students to spend three weeks studying at the University of Oxford during the summer before senior year under a full scholarship provided by the College.
"We are proud to have welcomed our largest Honors class earlier this fall," said Dr. Meghan De Witt, Honors Program Director. "Honors students at STAC lead the school in service opportunities, academic success, and leadership throughout their four years of study. They experience unique classes, culminating in the amazing opportunity to study at Oxford. This experience provides a paradigm shift for our students as they experience a global learning environment and are exposed to ideas and experiences that are life-altering and unforgettable."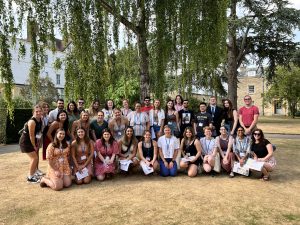 Along with taking classes at one of the most prestigious universities in the world, Honors Program students immerse in the culture and history of the United Kingdom, traveling throughout England and visiting sites such as the British Museum, Stonehenge, The Prime Meridian, and Big Ben. To supplement their studies, they also visit notable literary landmarks, touring the homes of Shakespeare, Rudyard Kipling, and J. R. R. Tolkien, and the Charles Dickens Museum.
STAC Honors student Katherine Cording, class of '23, said the summer Oxford trip was a once in a lifetime opportunity.
"I'm so grateful for the STAC Honors Program for giving me the chance to go on this amazing trip," she said. "I spent three weeks studying Shakespeare's works and was able to travel both to Stratford-upon-Avon to see the Royal Shakespeare Company Perform and visit the Globe in London. As an English major, it was a dream come true."

---
Hudson Gateway Association of REALTORS® Awards Gail Fattizzi of ERA Insite Realty Services in White Plains as its 2022 'REALTOR® of the Year'; Paul Adler Receives Humanitarian Award
At its 106th Annual Meeting held October 24 at the Sleepy Hollow Hotel & Conference Center in Tarrytown, the Hudson Gateway Association of REALTORS® (HGAR) awarded Gail Fattizzi, Regional Manager of Insite Realty Services in White Plains as its "REALTOR® of the Year" for 2022. Brian Tormey, President of TitleVest Agency in Manhattan was named the 2022 HGAR "Affiliate Member of the Year."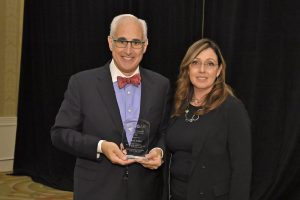 And Rockland County's Paul Adler of Rand Commercial in New City was given the Stephanie Crispinelli Humanitarian Award. The award is named for a brave young woman who was a victim of the 2010 earthquake in Haiti, where she had been volunteering to help families in need. Adler has played a vital role in supporting numerous non-profit organizations throughout the years. He and his wife established the Paul and Mary Adler Charitable Fund for Good.
Fattizzi served as the 2020 HGAR President, guiding the Association through the Pandemic. She currently serves as the President of the Hudson Gateway REALTOR® Foundation, as well as a Board Member of Furniture Sharehouse, which provides furniture for local families in need. In addition, she has served on the Advisory Board for The Bridge Fund of Westchester, as well as Back-to-School Clothes for Kids.
"Congratulations to all of our winners for their extraordinary contributions to this organization and to their communities," said Richard Haggerty, HGAR CEO. "They are truly an inspiration for us all."
Additional award winners included:
Albert P. Schatz Legislative Advocacy Award: Katheryn DeClerck of Howard Hanna Rand Realty in Goshen.
Edward I. Sumber Memorial Award:  Harding Mason of Houlihan Lawrence in Katonah.
DEI Champion Award:  Crystal Hawkins-Syska of Keller Williams New York Realty in White Plains.
Extra Mile Award:  Vlora Sejdi of Keller Williams New York Realty in White Plains.
Spirit Award:  Kimra Pierre of Corcoran Legends Realty in Briarcliff Manor.
President's Award:  Richard Haggerty, HGAR CEO in White Plains and Goshen.