RCBJ-Audible (Listen For Free)
Landowner Eric Bergstol & NJ Developer Efrem Gerszberg Propose 450,000 Square-Foot Distribution Center Off Beach Road
By Tina Traster
A landowner and developer are awaiting direction from New York State on an environmental cleanup of a former construction landfill before they can move forward with an application before the Village of West Haverstraw Planning and Zoning Boards to build a distribution center.
Applicants Eric Bergstol, a local landowner, and New Jersey developer Efrem Gerszberg are working with New York State Department of Environmental Conservation (NYSDEC) to determine the scope of cleanup and remediation needed on the 34-acre vegetative site sitting in the crook of Railroad Avenue and Beach Road. The site, owned by North Rockland Associates since 1969, was an active construction landfill through the mid-1990s, according to Bergstol. Before that, the site was a clay pit quarry used when Haverstraw was a brick-making center. In 2019, the North Rockland Associates site was transferred to a new entity, Grassy Point Bend LLC, owned by Bergstol.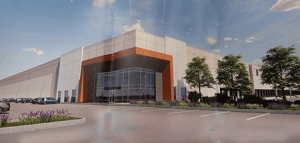 The North Rockland Associates site, as it was known, is listed on the NYSDEC's Solid Waste Site Mitigation and Remediation Priority List. The applicants are waiting for remediation recommendations from the NYSDEC.
"We've submitted all our testing and we're wrapping up our final closure plan to the DEC," said Bergstol.
The applicants are proposing a 450,000 square-foot, 76-bay warehouse distribution center that would operate 24/7. Bergstol said the footprint of the warehouse would likely cover about 30 percent of the site, with parking and vegetation making up the balance. He said the DEC looks for solutions like this to capped landfills.
"It was a C&D landfill," said Bergstol, using the acronym for construction and demolition debris. "It's been closed for 30 years. It's been sitting vacant and unused. We are turning this into a cleanup operation and re-use for a ratable."
In the early 2000s, the Town of Haverstraw considered acquiring the property, remediating, and using it for sporting fields, but did not secure the grants it sought to offset the costs of remediation. According to the DEC, the site accepted construction and demolition debris from 1962 to 1986 at which time it closed.
C&D landfills typically receive roadwork material, excavated material, demolition waste, and other castoffs from building projects.

Village officials have raised a raft of concerns including truck and tractor trailer traffic, noise, and the impact to the narrow Ecology Road, which demarcates the northern border. One village official said warehouses like this "belong on I-287 or state roads not in the back corner on a one-lane road in the small village." Among the concerns are frequent flooding along Beach Road.

The warehouse sits in a Planned Light Industrial district on the edge of the Village and abuts sites in the Town of Haverstraw including the Joint Regional Sewage Authority, the former Haverstraw Town Landfill, and a newly built warehouse that Haverstraw Town Supervisor Howard Phillips is angling to purchase under the auspices of Rockland Green to create an animal shelter.
The warehouse proposal does not need a use variance but is subject to a State Environmental Quality Review Act (SEQRA) review, and possibly a detailed Environmental Impact Statement (EIS)  if the Planning Board gives the application a "positive declaration." The Grassy Point Bend project is before the Village's Planning Board and will need to go before the Village Zoning Board of Appeals for several variances, including approvals for a 42-foot height in a zone that allows 35 feet, according to public officials. Code requires 908 parking spaces for a 450,000 square foot warehouse. The applicant has asked for a variance for only 342 spaces.
The site is close to Cedar Brook Pond to the east and Minisceongo Creek to the south, which feeds into the Hudson River. The general vicinity is a mixture of industrial uses, such as Rockland Green's transfer station on Beach Road and other industrial warehouses. But it also abuts Peck's Pond park.
Environmental Concerns
According to the most recent update to the NYSDEC Inactive Landfill Initiative (ILI) dated July 2022, the Grassy Point site is awaiting groundwater testing by the NYSDEC. Under the ILI Program, the NYSDEC takes inventory and evaluates inactive landfills within New York state for potential drinking water and/or groundwater impacts.
The ILI Program is designed to identify, mitigate, and remediate any solid waste site that may impact public health, and to establish a comprehensive plan to mitigate and remediate impacted sites. This priority list represents the solid waste sites and inactive landfills that have been shown to impact drinking water sources.
Landowner Bergstol is better known in the world of golf than warehouse development. He is the founder and visionary behind Empire Golf Management, which sold Donald Trump the property that became Trump National Golf Club Hudson Valley in Dutchess County. Bergstol also developed Hollow Brook Golf Club in Cortlandt as well as numerous clubs in New Jersey.
In 1989, he bought property to develop the Minisceongo Golf Club. Bergstol sold the golf course two years ago to Mount Ivy LLC of Monsey, which bought a majority stake in the 60-acre course for $32 million. The limited liability company owns a 78 percent stake while Lindifrim Pomona Limited Partnership owns a 21 percent stake, according to property records.
Bergstol is hoping to get development approvals needed for the warehouse development before selling to Gerszberg, president of 2020 Acquisitions, a real estate development and holding company in Edison, NJ.
Gerszberg and Bergstol share a passion for golf.
Gerszberg owns Titan Golf, a joint venture between Robert Weiss, President of Weiss Properties and his company 2020 Acquisitions. Titan Golf works with financially challenged private golf clubs to expand the longevity of the golf club. For more than 15 years, Gerszberg has developed residential and commercial projects; 2020 Acquisitions is underway with more than 7 million square feet of warehouse space in New Jersey.