RCBJ-Audible (Listen For Free)
Wayne Kleinman Asks Rockland Green Chairman To Stop Confusing Public About Petition Asking Boulders To Use Noiseless Fireworks; Petition Did Not Ask For Hi-Tor Animal Shelter To Be Relocated
By Tina Traster
Howard Phillips, in his capacity as Chairman of Rockland Green (former Rockland County Solid Waste Management Authority), is actively negotiating to purchase a newly built warehouse on Beach Road in Haverstraw to house a future animal shelter designed to be shared by all the county's municipalities. But the Authority is disregarding its own specific published directives on how it goes about acquiring real property.
Phillips, who is also the Supervisor of the Town of Haverstraw, has repeatedly said publicly that he is in talks with Bruce Smith, who owns Environmental Construction Inc. in Stony Point, to buy the developer's 15,000 square-foot warehouse at 427 Beach Road priced at $4.2 million. But according to Rockland Green's "Guidelines for Acquisition of Real Property by the Authority," which is a set of written directives available on Rockland Green's website, the Authority has failed to fully undertake and/or at least publicly document steps that should have been adhered to before commencing an active negotiation with a commercial seller.
To begin, when the Authority sets out to buy a building for a specific purpose, it is required to review all county-wide government-owned real estate to determine if there is a property that can be acquired by intermunicipal transfer. If it fails to locate one, the Authority is to undertake a public search that includes advertising, reaching out to commercial brokers, or to solicit parcels directly through third-party owners.
Once the agency identifies a "short list," of suitable parcels, according to its guidelines, the Authority has to undertake a rigorous environmental evaluation of all of the parcels and choose the one that is most suitable to the Authority's needs. Most importantly, these steps are supposed to precede any negotiations with the seller but it is remains clear that the extensive due diligence on one or more parcels, including 427 Beach Road, has not been undertaken even though the Authority has already set it sights on this building. A municipally owned site in Torne Valley in Ramapo, next to Rockland Green, had been considered and rejected, according to several public statements but it remains unknown as to what level of analysis had been done on this site or any others.
In Rockland Green's monthly meeting last week held at the Town of Clarkstown town hall, several people who spoke during the public comment session raised issues over environmental concerns around 427 Beach Road, including its proximity to an uncapped construction landfill that is listed on the DEC's Environmental Remediation Site database and has a pending application before the Village of West Haverstraw to become the future site of a 450,000 square foot distribution warehouse. Also, concerns were raised about flooding, odors from the Joint Regional Sewage Authority, inaccessibility to a public road compared to Hi-Tor Animal Shelter in Pomona, which is right off the Thruway.
Phillips repeatedly said there is much research to be done. He said the building is in a "beautiful location" but many times during public comment, he said "we don't have all the answers."
He also said, "We're in the process of talking to a number of consultants."
However, before a property negotiation gets underway, the Authority is required to conduct a study with outside engineering consultants on all considered properties including impact on wetlands, flood plains, proximity to environmentally compromised areas, proximity to schools, residences, other facilities, surrounding zoning, road access, parcel history, market availability, brokerage arrangements, and the parcel's owner, to name just some of the criteria.
Smith purchased the Beach Road warehouse for $678,000 in 2019. After building the warehouse, Smith listed the property for $4.2 million about six months ago, according to his broker at Keller Williams. The building is 60 feet by 250 feet with 25-foot ceilings and has eight ports.
The windowless, brick-faced building, on the narrow Ecology Road, is directly across the road from a proposed 450,000 square-foot, 76-bay warehouse on a former construction debris landfill on 34 acres in the Village of West Haverstraw. The Grassy Point Bend project is before the Village's Planning Board and will need to go before the Village Zoning Board of Appeals for several variances. The project site requires an environmental cleanup. Village officials have raised a raft of concerns including truck and tractor trailer traffic, noise, and the impact to the narrow Ecology Lane, which sits directly across from where the town supervisors are considering siting the animal shelter.
When asked about the proximity of this proposed distribution center, Phillips was dismissive, saying "who knows if this will ever get built."
Phillips also mentioned that the Authority would need to get two appraisals on the Beach Road property, but the Guidelines say the Authority is tasked to first undertake two appraisals before entering into a negotiation with an owner.
"Of course that makes sense to get an appraisal first," said a commercial real estate broker in Rockland County who preferred to speak off the record. "An appraisal might very likely show that at roughly $200 per square foot, the going rate for commercial warehouses of that size, the property might be worth closer to $3 million. Seems backwards to negotiate a price first before knowing what it's really worth."
The Authority's guidelines also say if negotiations fail, the Authority "could seek to take the property by eminent domain." A municipality must pay fair market value if it takes a property by eminent domain.
Rockland Green has been planning on taking over Hi-Tor Animal Shelter in Pomona for nearly two years. The Authority got approval from New York State to amend its charter and last week adopted a resolution to create a wholly-owned nonprofit subsidiary to manage an animal shelter. The initiative is a cumulative effort among the five town supervisors who have expressed their concerns and displeasures over the operations at Hi-Tor over the last several years, as well as complaints about their fiscal contributions to the shelter which have not increased in the last five years.
Over the past year, Phillips and Town of Clarkstown Supervisor George Hoehmann have publicly repeated that Hi-Tor is incapable of managing the shelter. The Hi-Tor Board has not pushed back publicly and continues to struggle as donations have been drying up. Hi-Tor depends in part on fees from the towns to keep the shelter operating. The current intermunicipal contract ends Dec. 31. There have been no meaningful negotiations for funding going forward even though the prospect of a new shelter being built is likely to be at least two or more years away.
In making its argument to build a new shelter away from the Hi-Tor location, where the rebuild had been planned, Phillips has repeatedly said that 3,000 people have signed a petition asking for the shelter to be relocated because of the fireworks from the nearby Clover baseball stadium.
But the author of the petition publicly asked Phillips during the Authority's meeting last week, to stop confusing the public. Wayne Kleinman's petition, which has drawn more than 3,000 signatures, was a plea to the New York Boulders to stop using noisy fireworks, and to reconsider fireworks that are either silent or low noise. The petition says nothing about relocating the animal shelter. And Shawn Reilly, the Boulders team president, has publicly stated that the stadium plans to reduce noise in the coming season.
Nixie Gueits, during Rockland Green's meeting last week, voiced concern over the Authority's presumption that it can build a shelter for much less than the $18 million that had been floated and rejected by the Rockland County Legislature. Gueits, a former Hi-Tor board member and head of the nonprofit Four Legs Good, told the Authority's board that animal shelters are complicated buildings with all kinds of special requirements for air ventilation, seamless flooring with drainage to deal with urine and feces, the necessity for light. The proposed warehouse building is a monolithic block with no windows, she pointed out.
"Just to renovate the warehouse without all of these considerations will just result in building another holding facility," said Gueits, referring to the terrible architecture of Hi-Tor. "You're first looking at buying a building for $4 million and then who knows how much to make it into a modern shelter."
Gueits, who along with her husband Wayne who ran a factory in the Bronx for decades, also told the Authority that 25-foot ceilings and the cost to heat a building like that doesn't make sense for an animal shelter. "Taxpayers are going to be on the hook for this."
An email sent to Rockland Green's attorney Teno West regarding questions about adherence to the Authority's Guideline protocols remains unanswered.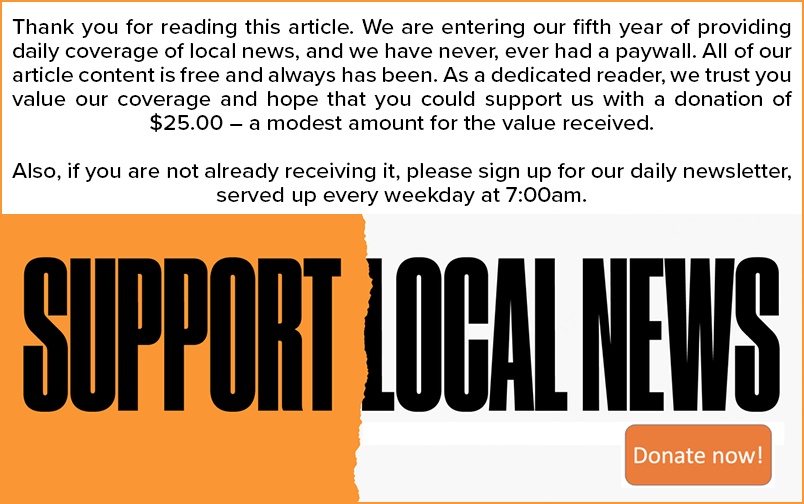 ---
---