RCBJ-Audible (Listen For Free)
Kate Buggeln Brings Strong Business Background Along With Artist Sensibility To New Role
By Tina Traster
Kate Buggeln became a student of economics at the age of 12 after her parents divorced and her mother moved the family full-time from suburban New Jersey to Ship Bottom on Long Beach Island. Back in the mid-1970s, the rhythms of LBI pulsed like an accordion, swelling to 100,000 summer people, shrinking to less than 10,000 in the cold months. The young Buggeln stepped up to keep the home fires burning, babysitting, cleaning houses, waitressing, whatever could be done to earn money during the money-making season.
Deep-seated lessons about opportunity and scarcity, the economics of supply and demand, the mechanics of hardship and hustling, laid the foundation for a life driven by entrepreneurial instinct and a nose for business. After a long career in fashion, consultancy, and international philanthropic endeavors, Buggeln's skills and energy are now focused on elevating Piermont's profile as a Hudson River jewel.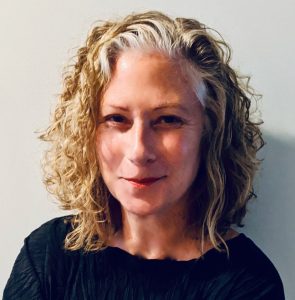 Meet the the newly named president of the Piermont Chamber of Commerce, who has made a rousing first impression with the recent unveiling of permanent historic panels and a wayfaring sign in Gair Memorial Park in the heart of the village. Buggeln, along with Barbara Scheulen, Chairperson of the Piermont Historical Society, spearheaded the $20,000, 18-month project designed to tie together the village's commercial history with its present-day business district to give visitors a sense of place when they land in Piermont.
This project, says Buggeln, is the first step toward steering an already alluring and visually blessed village to meet its greater potential. The Chamber president believes the Village needs more robust event programming, a greater diversity of retail, and ways to tie together the downtown shops and restaurants with the Pier, the Marina District, and river access. Aiming to continue former Chamber president Peter Helou's vision, Buggeln says the organization is working on leveraging day-tripping synergy with Nyack and Sparkill, two nearby villages that also draw tourists and is in favor of an Airbnb-friendly environment.
"Increasingly Piermont is all about food and drink," said Buggeln. "But we are so much more than that. We don't have an arts center or full-time recreation on the river. We need a greater diversity of shops. And we need wayfaring to get people to move around the village, which is carved up into three areas. A visitor can go to the restaurant Pier 701 but have no idea there's a vibrant downtown just down the road. They can come downtown to shop or eat but be unaware they can hop into a kayak and get onto the creek that leads out to the Hudson River."

The Chamber president wants to unify the business community to build on the Village's momentum by broadening its offerings and by using social media to broadcast its assets.

Chambers of Commerce play a unique role in shaping communities. Some focus on downtowns, others build their mission around a particular event or two. But Buggeln believes her Chamber must work with the Piermont Civic Association, the Piermont Historic Society, and other Village organizations to define a vision for making Piermont a successful hub for businesses. The Chamber president believes businesses are integrally connected to every aspect of how a village thrums and succeeds.
Buggeln, who is also a late-career photographer and co-director of the Piermont Flywheel Art Gallery, feels a visceral connection to Piermont because it reminds her of her coastal upbringing, the sound of gulls, the whiff of the tide, long-time families who've passed along houses to sons and daughters, the presence of tourists. She and her husband Steve Kulovits, a retired Montefiore Health System administrator, moved to Piermont six years ago because they were looking for "a village that had a real downtown and the DNA of a real village." The couple yearned to put down roots in a place where they could make a difference. They arrived at a time when stores were closing, long-time vacancies persisted, the community market was still shuttered. Buggeln said she worried about a lack of diversity in the retail base. The once-popular Abigail Rose boutique, a destination store, closed shortly after she arrived.
The Turning Point, the Chamber president says, is still a big draw. But the Village needs more than that.
Buggeln spent years working her way up through the retail chain, beginning a career at Bloomingdale's, and ultimately serving on the boards of Five Below, Ex Officio, The Vitamin Shoppe, The Timberland Company, the Ascena Retail Group, to name a few.
For many years, the couple travelled internationally for the Business Council for Peace, which promoted business opportunities and better social outcomes in impoverished regions. Buggeln also gave her time to the Kandahar Treasure, a nonprofit that employs women artisans from Kandahar to develop an economic base for the province and support the advancement of women throughout Afghanistan.
In their sixties and putting roots down in Piermont, the couple wanted to make a difference at home.
"At that point," said Buggeln "I was old enough to know that making big changes in small places can have more of an impact than trying to move boulders on the international level."
Now, the Chamber, which has 30 members, is undertaking a $7,000 fundraising campaign for wayfaring signs to be installed throughout the Village — another project that will combine the efforts of the Chamber and the Piermont Historical Society. There is effort underway to get businesses more interested in using social media to promote both the Village via Visit Piermont and Piermont Proud Facebook groups.
"Businesses have a story to tell," she said. "We can do a better job at that."
Piermont has heightened its profile through its Octoberfest and Bastille Day events but the Chamber hopes to create year-round programming with smaller thematic events or to possibly use an upper floor in Village Hall for gallery space. "Wouldn't it be wonderful to have concerts on the Pier?"  she said. Buggeln is hoping to recruit someone with event planning background to the board.
Thinking back on her childhood, Buggeln was greatly influenced by her grandmother, who lived on LBI with her grandfather full-time. She taught elementary school but was a naturalist who instilled her granddaughter with an appreciation for the natural world. Today, Buggeln bristles when she thinks of the overdevelopment that has conquered LBI. In Piermont, she sees a balance of economic vitality, a respect for history, and a river-inspired beauty that takes her breath away. Buggeln has found new home fires to tend.
---