RCBJ-Audible (Listen For Free)
Union Road in Spring Valley Sites Sold For Redevelopment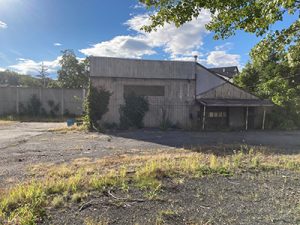 MF Monsey Management of Monsey purchased 53 and 61 Union Road in Spring Valley from Valente Enterprises of Spring Valley. The purchase price for the two parcels was $4.65 million. 53 Union was the former location of a towing and tire shop. The two parcels (50.78-2-44 and 50.78-2-45) total 1.12 acres.
The parcel at 53 Union Road is zoned R-3 (Medium High Density Residential) which allows for multi-family dwellings.
The parcels were purchased with a mortgage in favor of Levon NY LMXXII LLC of Jackson, NJ for $2.8 million.
The Union Road corridor has seen new housing development, including homes along Zwill Court directly opposite 53 Union Road. Six bedroom, four bathroom semi-attached homes on Zwill Court recently sold for over $900,000.

---
Two West Nyack Commercial Lots Sell For $1.9 Million
Two parcels at 168 and 170 Route 303 in West Nyack sold for $1.9 million. The property was purchased by J&J 168 Realty LLC of Blauvelt. The two parcels total 2 acres. The property has had several commercial uses over the years.
The Clarkstown parcels are zoned "M," which allow for a variety of industrial uses including related offices and showrooms for manufacturing and distribution, as well as research and testing laboratories, warehouses, offices, and health clubs. Retail sales and night-time trucking are not allowed in the "M" zone. Use as an animal kennel is permitted by special permit.

---
Washington Mews Secures Construction Loan of $12.5 Million For 60 Units In Suffern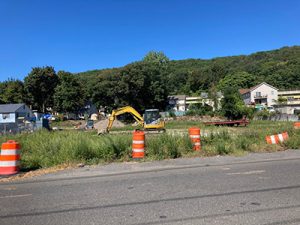 Washington Mews LLC of Suffern secured a $12.5 million dollar construction loan to construct 60 market rate apartments at 15 Washington Avenue in Suffern. With all approvals in place, Washington Mews LLC, led by Don Brennan, is prepared to break ground on a 65,000 square foot apartment structure on 1.36 acres, zoned MR-50, and estimated to cost $15 million dollars to construct.
The developer sought and received tax benefits through the Rockland IDA, including approximately $157,000 in mortgage recording tax exemptions, and $586,000 in sales and use tax exemptions.
The development is considered to be a "Transit Oriented Development" (TOD) because of its proximity to the Suffern train station and village center. Numerous variances for lot coverage, FAR, and parking were granted, and the original plan for 48 units was increased to 60. Only 23 units were allowed as a matter of right under the original zoning.
The construction loan was obtained through Columbia Bank of Fair Lawn, NJ with the Rockland County IDA acting as "Agency" for the purpose of the recording tax exemption.
---
---

---